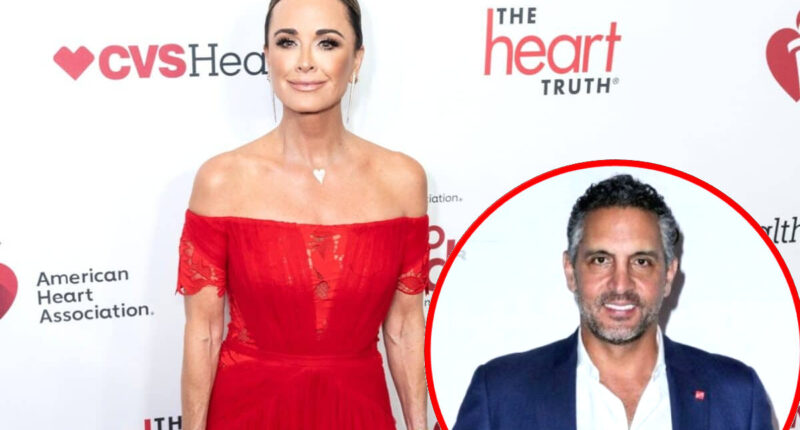 Kyle Richards recently "liked" an Instagram meme that spoke of the "pain" one sustains when being "ignored" by a loved one.
Amid her reported separation from husband Mauricio Umansky, 53, who is currently preparing for his debut on next week's premiere of Dancing With the Stars season 32, the Real Housewives of Beverly Hills star, 54, "liked" the post and offered an update on her relationship with sister Kim Richards.
On Tuesday, in a couple of posts shared to her Instagram Story, Kyle wished Kim a happy 59th birthday.
"I love you," read a caption of one of her September 19 posts, which included a throwback image of the two of them.
Then, with a second pic, taken at the wedding of Kim's daughter, Whitney Davis, and her now-husband, Luke Graham White, Kyle told her sister, "Hoping your day was magical."
As RHOBH fans may recall, Kyle made amends with sister Kathy Hilton, 64, during their trip to Aspen for Whitney and Luke's wedding in June, and she was also seen enjoying time with Kim.
Also on Instagram, Kyle was caught "liking" the message about being "ignored."
"Psychology says: When you are ignored by a person whose attention means the most to you, the reaction in your brain will be similar to physical pain," the Love Quotes meme, shared by Bravo Snark Side on Instagram, read.
In the months since Kyle and Mauricio confirmed they were going through their most challenging year of marriage, but insisted they weren't yet divorcing, Kyle has been spending tons of time with rumored flame Morgan Wade, 28. In fact, the two women, who have denied they are dating, are currently together in Paris, where they were said to have enjoyed a "very intimate" coffee date over the weekend.
Although Kyle and Morgan continue to be seen together, the RHOBH cast member said earlier this month on Amazon Live that she and Mauricio "care about each other a lot."
As for Mauricio, he told Entertainment Tonight days ago that he and Kyle are working on their marriage.
"We're hanging in there, we're working through all of our things, which everybody knows about, and we're just taking it day by day," Mauricio revealed. "We're trying not to let the press influence us and all of the social media and all of the stuff that's going on. So we're trying to just ignore that and figure that ourselves."
"I can tell you we are both happy," he added.
The Real Housewives of Beverly Hills season 13 is expected to premiere on Bravo sometime later this year.


Post source: RB