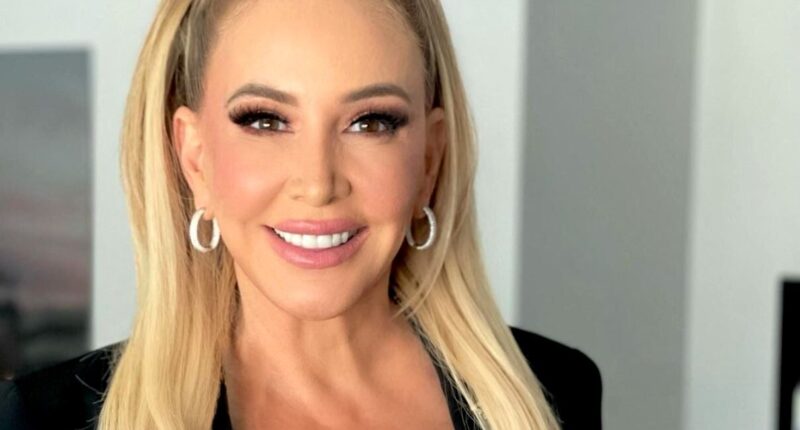 Shannon Beador will reportedly enter rehab following her DUI arrest in Newport Beach on Saturday night.
According to a new report, the 59-year-old Real Housewives of Orange County cast member was met with a major "wake-up call" when she was arrested on misdemeanor charges of DUI and a hit-and-run after clipping a house in the area while intoxicated.
While Shannon did significant damage to the home, as seen in photos and a video of the incident, she and her team have not yet reached out to the people who reside in the duplex.
"No one has reached out from their end," Gaby Noelle told Radar Online on September 19, adding that she and her boyfriend have given images of the damage to their landlord and forwarded his information to authorities.
As Gaby revealed, she was home when the crash occurred and saw the car, later confirmed to be that of Shannon, driving away while leaving a trail of oil behind.
She also said that she does not yet know if and when someone will visit the home to assess the damage. However, she acknowledged that it "will be fixed" before pointing out that luckily, "everyone is fine from this end."
As RHOC fans have surely heard, Shannon, who is mom to three daughters, Sophie, 22, and twins Stella and Adeline, 18, ventured out on Saturday night with her dog, Archie, to retrieve her cell phone from a local restaurant, where she'd been spending time earlier in the day prior to her accident.
"Shannon plans to enter rehab after her DUI arrest was a huge 'wake-up call' for her," an insider revealed to Daily Mail on September 19. "Shannon has spent the past several years running from her problems and she does not realize who she has turned into. Her cast mates and her friends have told her that she needs to get help, and this was before the DUI."
Shannon has "not fully decided on if she will do in-patient treatment or out-patient, as she has a family to care for, a dog who needs her and her work projects," the source added.
After learning of Shannon's arrest, Kelly Dodd, 47, said she hopes she will "learn from" the arrest and become a "better" and "stronger person." Meanwhile, Gina Kirschenheiter, 39, who Shannon infamously shaded for her own DUI, chose not to address the matter publicly.
"Shannon trashed Gina for her DUI on the show and her words are coming back to bite her in the a** now. Gina is taking the high road and is not going to do the same thing to Shannon that she did to her. Her silence speaks volumes about how far she's come since her own DUI," the insider went on.
According to Radar Online, a mugshot of Shannon was taken after the arrest, but it will not be released.
As for whether or not Bravo cameras will pick back up to film the moments that follow the arrest, an NBCUniversal spokesperson confirmed they will not.
Following the incident on Saturday, Shannon's attorney, Michael Fell, shared a statement.
"Shannon is extremely apologetic and remorseful. We will be awaiting the official information on this case as it becomes available, and Shannon is prepared to accept full responsibility for her actions."
The Real Housewives of Orange County season 17 airs Wednesdays at 8/7c on Bravo.
Post source: RB