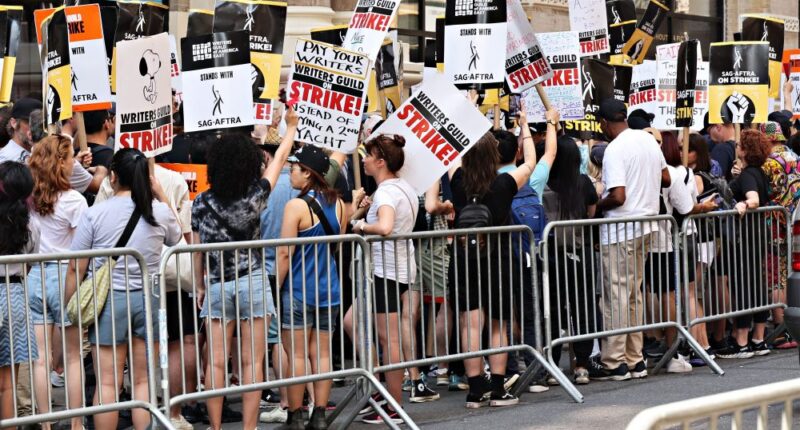 Lead negotiators for SAG-AFTRA and the Alliance of Motion Picture and Television Producers will head back to the table on Monday, Oct. 2, after a bitter concurrent strike led by the Writes Guild of America was resolved on Tuesday.
"SAG-AFTRA and the AMPTP will resume negotiations for a new TV/Theatrical contract on Monday, Oct. 2. Several executives from AMPTP member companies will be in attendance," SAG-AFTRA said in a statement.
SAG-AFTRA negotiations lead Duncan Crabtree Ireland and union president Fran Drescher are expected to convene with the producers with renewed fervor, as the creative community and innumerable intersecting business breathed a sigh of a relief that the WGA's 146 day war with the studios and streamers ended on September 26. Backchanneling between Crabtree Ireland and the four prominent media CEOs who helped broker the WGA deal — Disney's Bob Iger, NBCUniversal's Donna Langley, Warner Bros. Discovery's David Zaslav and Netflix's Ted Sarandos — stated immediately after the writers reached a tentative agreement, sources said.
The AMPTP and SAG-AFTRA have not resumed bargaining in good faith since the union, consisting of roughly 160,000 members, declared a strike on July 14. Collateral damage has been considerable, in some cases for the worldwide box office and certainly in regards to the fall film festival cycle. With star talent prohibited from promoting work made by a "struck" company, red carpets in Venice, Telluride and Toronto were ghost towns.
A lucky few film and TV projects have been recipients of a SAG-AFTRA interim agreement, which allows productions to keep rolling or permits stars to participate in promotion. Those films include Michael Mann's "Ferrari," Sofia Coppola's "Priscilla" and forthcoming holiday release "The Iron Claw," starring Zac Efron and Jeremy Allen White.
While Crabtree Ireland and Drescher have been adamant about their desire to come back to the table, the union has also been busy with other strike matters. On Monday, the union voted overwhelmingly to cease work for 10 major video game companies.
"After five rounds of bargaining, it has become abundantly clear that the video game companies aren't willing to meaningfully engage on the critical issues: compensation undercut by inflation, unregulated use of AI and safety," Crabtree Ireland said of the new battle.
Post source: variety