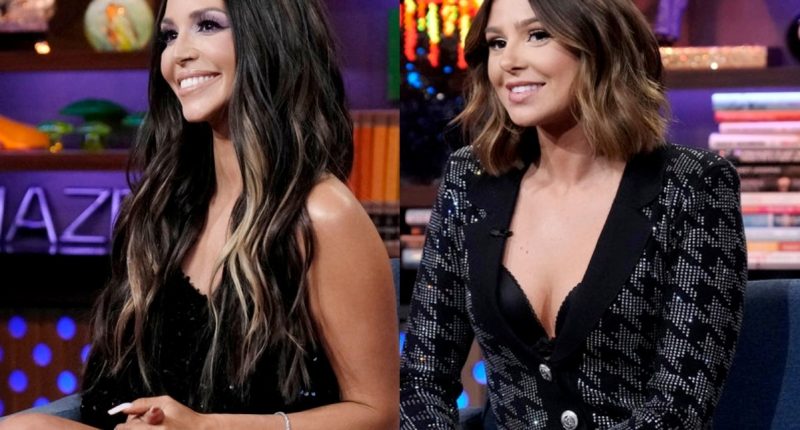 Scheana Shay doesn't understand how she didn't catch on to Tom Sandoval's affair with Raquel Leviss amid production on the 10th season of Vanderpump Rules.
As Lala Kent admitted she's been "very hard" on herself in the months since Ariana Madix discovered Sandoval was cheating on her with her best friend, Scheana admitted to feeling the romance had gone down "in front of [her] face" as she explained why she doesn't regret being a "good friend" to Raquel.
"The amount of things I wish I could take back that I said. But that is the thing — I don't want to have any regrets because I was a good friend," Scheana said in a May clip from Hayu, via Us Weekly. "I stand by [the fact] that I had her back. I was duped but I was a good friend."
During another interview, Scheana admitted it's been "insane to relive" the moments leading up to the shocking reveal of Sandoval and Raquel's affair.
"It's like nothing normal about this life that we live in front of the world," Scheana said during a recent interview with E! News. "But more than that, you never get the opportunity to hop in a time machine, go back in time and watch someone else's exact perspective. It just has been very wild, more than any other season to relive and watch back."
"There's been so many things that watching it back, I'm just like, 'How did I miss all of this,' when it was right in front of my face?" she added.
Meanwhile, also speaking to E! News, Lala said Scheana has been "really hard" on herself, which she understands due to the "parallel" of how she was with former fiancé Randall Emmett and how she "didn't see things."
"Scheana and I have had many conversations, where it's like, you do become mortified by the things that you said that were kind of backing up this person that you thought was amazing—and I understand that. But I've told Scheana, that's how you're supposed to defend your friend," Lala noted.
"You're not supposed to be looking at your best friend with a side eye, thinking that they are capable of doing something like this, otherwise you wouldn't be their friend," she continued. "There were moments—like now that I'm watching—where I wasn't part of a lot of these scenes and I'm like, 'Wow.' There's so much that's so mind-blowing."
According to Lala, she was most shocked by how Sandoval and Raquel behaved among the group and "things they felt comfortable saying," despite the fact that they were having an affair.
"It's like a whole different level of just psychological mind f–kery," she stated.
Vanderpump Rules season 10 airs Wednesday nights at 9/8c on Bravo.
Post source: RB