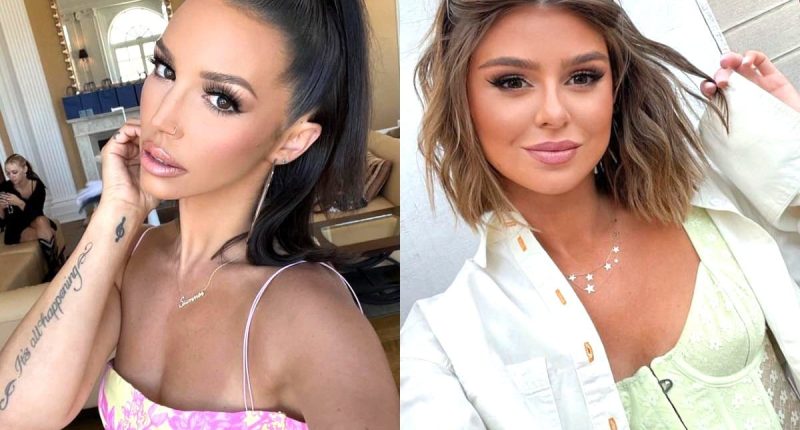 Scheana Shay and Raquel Leviss were due in court on Tuesday to determine whether to make Raquel' temporary restraining order against Scheana permanent — but only one of them showed up.
Days after Raquel "served" Scheana with documents that had "no legal meaning" at the Vanderpump Rules reunion, and allegedly requested the court take their hearing off the calendar, Scheana's attorney confirmed the order has been dismissed — but admitted that Scheana did put her hands on her co-star.
"This isn't reality TV. This is the real world and Rachel's actions have real consequences. Rachel filed a false police report, a false medical report, and a frivolous petition for a restraining order," Scheana's attorney, Neama Rahmani, told Reality Blurb, via email, on March 29. "Scheana didn't punch Rachel. Rachel didn't get a black eye. Scheana pushed Rachel but only after Rachel grabbed her wrist, and Rachel did not suffer a concussion."
According to Neama, Raquel decided not to show up to court after realizing she didn't have a case against Scheana.
"We were prepared to expose Rachel's lies, but instead she will have to live knowing that she betrayed two of her best friends: Scheana and [Ariana Madix]," he continued, giving a nod to Raquel's affair with Ariana's now-ex, Tom Sandoval. "Instead of accepting responsibility for her actions, Rachel shamefully tried to misuse our justice system to shift blame to Scheana. We are happy that Scheana is now vindicated."
Meanwhile, according to an insider close to Raquel, the Pump Rules cast member stands by her accusations, even though she didn't attend the court hearing.
"Scheana's attorney has been notified by email that Raquel is not moving forward with the RO. The court has been notified by Raquel's counsel that she will not be attending and is not moving forward and have filed the paperwork requested by the court clerk which is stamped received," a source close to Raquel told Radar Online on March 29. "If Scheana's lawyer chooses to grandstand for press that is his prerogative but he is already aware that Raquel is not moving forward."
"However Raquel stands by her initial statement that Scheana punched her in the face supported by photos of her bruised eyebrow bone and slashed eyebrow — Not the dark circles that Scheana is trying to deflect towards," the insider added.
As Pump Rules fans may have heard, Raquel accused Scheana of assaulting her in New York City, where they appeared on Watch What Happens Live together, after learning she had engaged in a months-long affair with Sandoval.
Vanderpump Rules season 10 airs Wednesdays at 9/8c on Bravo.
Post source: RB