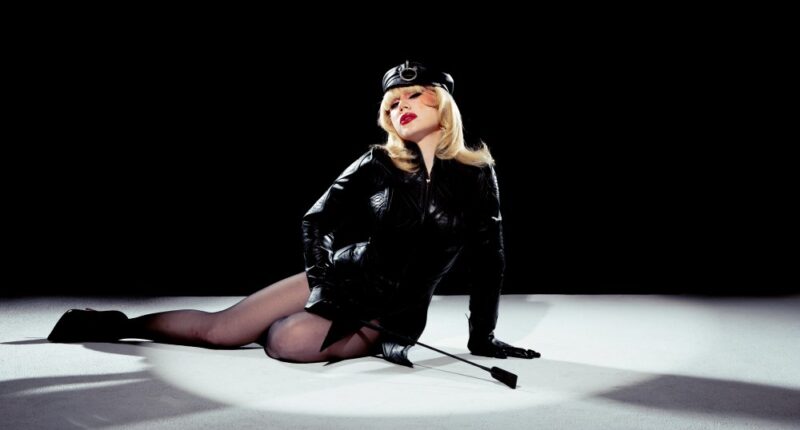 She's not just Hollywood's new mistress — Slayyyter is officially Hollywood's "Starfucker." 
One of pop music's best-kept secrets, Slayyyter has been chasing new levels of stardom since 2018 when the now 26-year-old first started releasing self-made hyper-pop tracks on SoundCloud. Five years later, she's taken on the self-proclaimed title of "Hollywood Starfucker," a campy moniker she uses to reference her tumultuous ascent in the social hierarchies of Los Angeles.
"Starfucker" is also the title of Slayyyter's sophomore record (out now via Fader Label), a 12-song collection that sees her transcending her pop-centric roots to expose the gritty realities of nightlife and a heightened sense of awareness about fame over racy club tempos. The album opener, "I Love Hollywood," paints the scene with references to Beverly Hills' infamous zip code (90210), the Chateau Marmont on Sunset Blvd, fancy dinners and drugs over a dark, techno-imbued beat.
"Oh, thank God I sold my soul," she sings. "Glitter, smoke and rock and roll."
"I wanted to do something that was dramatized," Slayyyter tells Variety over Zoom. "I was watching a lot of Brian De Palma movies and all these different things that memorized L.A. in a specific way, and I wanted to make music that could reflect that. I feel like Hollywood in a general sense is glamorous but it's also dirty and I wanted to have the sound reflect those different sides."
Below, Slayyyter strips down some of the details and stories that make up her new album "Starfucker." 
You've said the album is inspired by nightlife. Are there any artists that you pulled references from in the nightlife scene when creating this album? 
I pull from a lot of pure club producers. I wasn't really listening to a lot of pop music other than Kylie Minogue and Madonna, [instead] I was listening to a lot of German club techno that I would hear when I was touring in Europe and 80s post-punk artists that have dark 80s baselines.
I loved listening to Justice and Peaches — electro-clash erotic sex music. 
This is your sophomore album, and the visuals you've created for the project are so strong. What is the key to crafting such detailed scenery to match the sound?
I always try to embody what my interests are and what I'm inspired by, so a lot of the time that's things that are very sexual in nature.
I feel like no matter what era I'm in, I always try to make it really sexy, fun and [fashionable], but [in a way that] it never takes itself seriously. I fell into a lost period with my last record (2021's "Troubled Paradise"), and for this one, I really wanted to go into it and be like I'm back to blonde, it's a red lip, a cigarette and a martini. I knew from the sound palette everything that I wanted to visually do.
We have to talk about the video for "Erotic Electronic." What was it like walking about Hollywood naked?
It was so crazy. The adrenaline rush I got… I understand why people are nudists or streakers. It was pretty insane.
We shot it around 11 p.m. and I had a robe on hand where every time we shot enough and saw police, I was like "Oh give me the robe." I was actually naked, and I feel like I didn't get harassed as much as I thought. Hollywood at night can get very seedy, so I was a little nervous, but it went off very well and I love how it turned out.
Would you say that video encapsulates the essence of this album — to capture everyone's attention? 
Yeah, definitely. The [lyric] "three more seconds till I get naked"… has a lot to do with it. But also, I've been struggling through this album process to secure a big popstar budget, so I don't have a lot to work with. I [did] have my birthday suit to make something really compelling.
Is that what you're trying to do as an artist, approach the industry in such a bold way to ensure that you stand out? 
I always like to do things that I don't see other people doing.
I feel like when you're a female in this industry, the comparison is constant to other people that are doing similar things in your lane — girls who are also blonde, girls who also make pop music — and the album is me doing my little Slayyyter thing. I don't really take inspiration from other people and I don't actively try to stand apart, but I like to do things that other people aren't willing to do… which is be disgusting and naked.
Your fans really pick up on that. In the comments of your social posts, they're always praising you for knowing your fanbase and delivering what they want to see.
I feel like I am my target audience. When I was in high school, I always loved the pop stars that were standing in gay spaces with the queer community. Me and my friends would go see Marina and the Diamonds and [I said] if I ever made music one day, that's the kind of artist I would be like — someone that makes music for the clubs and queer spaces. 
I also speak their language, I'm definitely an internet baby and I understand meme culture. There's a connection past being some pop figurehead — they feel like I'm one of the girls. I think that's a really special connection that not a lot of people get to experience. 
The record touches on the concept of fame, but there are also vulnerable tracks like "Tear Me Open," which is essentially you confessing your fears surrounding love — why was it important for you to include these raw tracks on the album that divert from the sound of a "Miss Belladonna" or "Out of Time?"
"Tear Me Open" was the very first song I wrote for this project and I had just started seeing someone. I was so nervous and we ended up dating for two years, moved in together and did the whole thing. But all the entire time we were dating, I was also creating this album.
My career slowly started to get busier as COVID led up and I noticed my personal life falling apart while I was having these successes and growth as an artist. I was making all these club songs and it was always about being left in the club by yourself, crying and having a relationship fall apart — it all stemmed from what I was going through. I would make the party song but then the next day, I'd be like, 'Okay, well we're about to break up, so here's a crying on the dance floor track.'
Are there any other personal experiences that influenced that side of the album? 
I feel like when you see people at the height of their career, their personal life isn't really that together. I always think about the Katy Perry movie ("Katy Perry: Part of Me") when she's about to go on stage and Russell Brand had just texted her that he wants a divorce and she's just sobbing. Then, almost like a robot, she has to turn it on and go perform for so many people.
I feel that on a smaller scale for myself. It's a similar thing where you have these people watching and you're making this music, and there's just no time for personal life.
With big pop girls that I look up to, I always [think] it's kind of interesting [that] the love aspect [of their lives] always falls apart. Everything was about me every single day, and it's hard to lend yourself to another person that way. It's a narcissistic job to have.
You're going on your "Club Valentine" tour this October. Are you going to be carrying over this nightlife, Hollywood aesthetic into the visuals for the tour?
Absolutely. I want to do interludes that play on old Hollywood-like infomercials. I'm trying to make a really big vibe show in a small club setting. I'm going to be playing some old stuff that I haven't played in a really long time — I'm phasing in some of my mixtapes that I'm excited to perform again.
Fans can expect me as a more seasoned performer, too. I've been on the road non-fucking stop for the past year and as a 26-year-old, I have really bloomed into a well-seasoned performer. 
Post source: variety