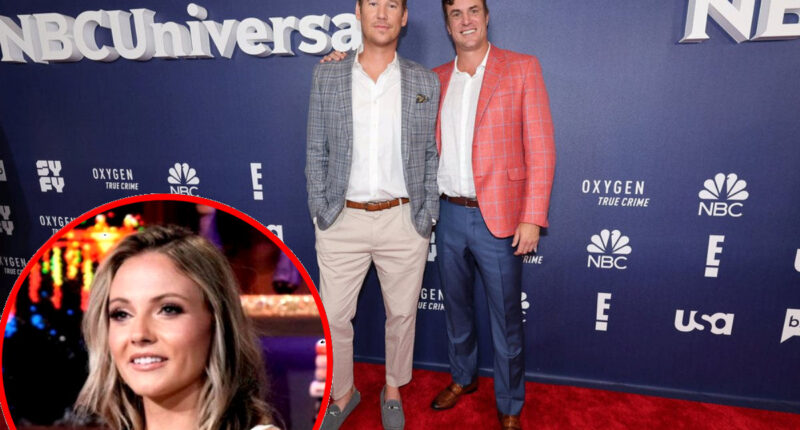 Shep Rose is speaking out about Austen Kroll's hookup with Taylor Ann Green.
As their love triangle plays out on Southern Charm, Shep, 43, shaded Austen, 36, for crossing lines with his 28-year-old ex-girlfriend, offered an update on where their friendship stands now, and discussed his recent communication with the Real Housewives of New York City star Brynn Whitfield, 36, who called him "cute" during an episode of Watch What Happens Live in July.
"When I saw that, I thought it was very flattering," Shep told Page Six on September 14, admitting that he proceeded to slide into her DMs.
"I sent her a nice message — a very benign nice message — 'Thank you, look forward to meeting you,' and she's like, 'Yeah, me too,'" he revealed.
The two also discussed where one another lived.
"'I'll let you know if I'm in town, otherwise I'll see you at BravoCon,'" Shep recalled telling the RHONY cast member, giving a nod to the November fan convention in Las Vegas.
Although Shep said he's not "terribly" keen on dating another reality star and confirmed viewers of Southern Charm "won't find me flaunting any relationships" anytime soon, he confessed to being open to seeing where things may go with Brynn.
"Never say never — should I go for it?" he wondered. "Oh my God, I wonder what my mom would say if I dated a 'Real Housewife!'"
During a more recent appearance on WWHL, Brynn also spoke of her back and forth with Shep on social media, telling host Andy Cohen, 55, "He's very sweet. He's very smart. And it's all PG."
Amid a second interview on Thursday, Shep told PEOPLE that when he learned of Austen and Taylor's hookup, "It was a tough pill to swallow."
"I couldn't help but think, to be honest, that Austen should have known better. She was vulnerable, she was hurt, and they were very close friends because of me, and he's got to know better," he noted.
That said, he didn't want "to throw away" his and Austen's friendship. Instead, he hopes Austen "learned a lesson."
"I wouldn't trust him very much around a girl I liked in the near future and beyond," Shep stated. "I hope he crossed an honesty threshold and has changed. And maybe we'll be closer for it. At the time, we're pretty close, at the current moment we are. I don't want to seem like a weakling by not holding him to task, but you'll have to watch this season."
Southern Charm season 9 airs Thursdays at 9/8c on Bravo.
Post source: RB