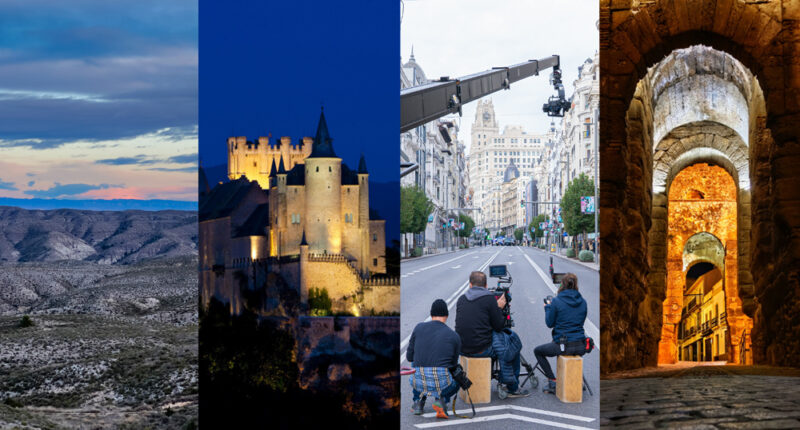 Spain's extraordinary landscapes, omnipresent historical heritage and geographic sweep –  from lush forests and snow-capped Pyrenees mountains in the north to Almería's scrub desert and Canary Island volcanoes and black sands – have inspired artists, tourists and now ever more international productions looks for a new place to shoot. 
As the search for uniqueness in a more standardized broadcast-like streaming landscape becomes crucial, real life locations are likely to become more, not less, important. 
Introduced in 2023, incentives offered by Spain rate among the most muscular in the world, now capped at €10 million ($10.9 million) per TV episode, €18 million ($20 million) in the Canaries and at up-to-70% deductions in Bizkaia.
Spain's lengthy history as a major and often fissiparous European power is seen in its landscapes. Look upwards to a crag in much of northern Spain, and there's a semi-ruined castle topping it. Smaller than the state of Texas, mainland Spain has a compactness to its locations and superb modern communications.   
Little wonder that Spain has begun to host its own annual locations showcase, Shooting Locations Marketplace. The third edition is slated for Oct. 17-18 at the Feria de Valladolid. 
Below, Variety breaks down over 40 top locations across Spain, and just a few, often recent, major shoots in their region, city or area:    
Tabarca Island, Alicante

The only populated island off Alicante's coast, a 25-minute ferry ride from Alicante, on Spain's Mediterranean coast, with a near perfectly preserved 1950s style Spanish village, embattlement walls, big sunsets, a marine reserve. Alicante, a bustling port-resort, also houses the reopened Ciudad de la Luz film studios.  Shoots: "La ley del mar" (Alberto Ruiz Rojo), "Route to Bethlehem," and "Sharks" (Xavier Gens), the Netflix series which used the Ciudad's water tank.

Puerta Monaita, Granada, Andalusia

Image Credit: MLT

Find prime Moorish architecture in Granada, site of the stunning Alhambra and nearby Sierra Nevada, where J.A. Bayona's "Society of the Snow" shot snow scenes. Pictured the Puerta Monaita, built in the 11th century and one of the oldest still-standing gateways into Granada's once Moorish old quarter. Recent Andalusia shoots: "Berlin," "1992," "We Were the Lucky Ones."   

Ampriu-Cerler Road, Aragon

One of Western Europe's loveliest drives, surrounded by the highest Pyrenees and down the valley, the homely country town Benasque. Little wonder Aragón is increasingly popular production destination. Shoots (Aragón): "Kaos," (Charlie Covell), "The Climb" (Jason Momoa, Chris Sharma), "Vampire Academy" (Julie Pliec, Marguerite MacIntyre). 

Spain's 'Yellowstone,' Valley Lake Route, Somiedo Natural Park, Asturias 

A gentler alternative to Asturias' rugged Picos de Europa, Somiedo was dubbed "Spain's Yellowstone" by newspaper El Pais for its cliff bluffs – though limestone, not volcanic – verdant valleys, lakes and brown bears. Here, Somiedo's Valley Lake Route. Shoots: "Infiesto" (Patxi Amezcua), "Alma" (Sergio G. Sánchez)

Iconic Medieval City Walls, Ávila

Stretching a mile and a half, the town is home to some of the best-preserved medieval defense structures in the world, plus other attractions such as on its outskirts the Four Posts, a small hermitage of four granitic Doric columns. Recent shoots include the Antonio Banderas-Penélope Cruz starrer "Official Competition."

Balearic Islands

A Mediterranean archipelago off Eastern Spain with its biggest island, Majorca, the summer retreat of Spanish royalty, known for its Gothic cathedral's altar canopy designed by architect Antoni Gaudi. Also: Stunning coastlines, beaches, some reached by hairpin roads. Ibiza is renowned as a party island. Menorca and Formentera are less frequented. Shoots: "The Crown" (Peter Morgan), Adam Sandler's "Hustle," Indian blockbuster "Pathaan," Taylor Sheridan's "Special Ops: Lioness" for Paramount+.

Dos Calas Coast Road, Benidorm

Image Credit: Credit: Cristina Gomez – PowerHouse Hub

A two miles road cut off from normal traffic and cut into cliff faces with Benidorm's distinctive skyline behind. Shoots include Studiocanal's "The World Is Yours," Nadie Es Perfecto's "The Cover," and Isabel Coixet's "It Snows in Benidorm."

Stalactite Pozalagua Cave, Carranza, Bizkaia

Image Credit: david herranz

Just over an hour's drive from Bilbao's Guggenheim Museum Bilbao and San Juan de Gaztelugatxe, Dragonstone in "Game of Thrones," the still little-filmed Pozalagua Cave contains the eye-popping greatest concentration of eccentric stalactites in the world. A highlight in Bizkaia, building as a film-TV hub, thanks to up-to-70% deduction incentives. Key shoots (Bizkaia): "Games of Thrones," "House of the Dragon," Basque Netflix hits "Intimacy," produced by Txintxua Films, and Basque Films' "The Platform."

Palacio de Castilfalé, Burgos

Image Credit: Credit: Paco Santamaria

A majestic 16th century Renaissance palace opposite Burgos' grand Gothic Cathedral. It is home to the Municipal Archives. Built in Renaissance style, it has ornate interiors and subterranean passages. It is one of many well preserved historical sites in Burgos. Shoots: Amazon series "El Cid," starring Jaime Llorente, Vicente Aranda's "Amantes," Ficcion Producciones-Beta Film's "3 caminos."

Black Sand Montaña Bermeja Beach, Lanzarote, Canary Islands

Lanzarote provided the paradisiacal beaches and Mars-like volcano-strewn landscapes of Netflix thriller "Welcome to Eden." One jewel in the crown of Spain's biggest big shoot destination, drawn by the Islands' extraordinary incentives and landscapes and tried-and-tested talent. Shoots (Canary Islands, 2022): Apple TV's "Foundation," "Jack Ryan 4," from Skydance, Paramount Television Studios and Amazon Studios, The Mediapro Studio's "The Head" Season 2 and Secuoya Studios' "Zorro."        

Waterfront, Bahía de Santander, Cantabria

Image Credit: Credit: Miguel Angel de Arriba

The elegant, blowsy bay of Santander, tucked into a region ofSpain's often rainy north that boasts lush forests, craggy peaks and the astonishing Paleolithic Altamira Cave paintings. Shoots: "The Others," (Alejandro Amenábar) "Altamira" (Hugh Hudson), "Seventeen" (Daniel Sánchez Arévalo).

Puerta de Sevilla, Carmona

The historic Puerta de Sevilla, Carmona is a robust, strategic cinematic backdrop, backdrop for many tales, from ancient epochs to modern times. The night lights play with the cobbles and arches, bringing an irresistible romance to the streets. Shoots: RTVE-Boomerang TV's "A Different View"; Edgar Ramírez-starrer "The Liberator," "Manolete," with Adrien Brody and Penelope Cruz.

Ermita de Belén, Lietor, Castilla la Mancha

Declared an artistic historic monument, the hermitage in south-east central Spain was painted over 1734-35 with naif pop baroque retablos which pack the whole simple building, now looking like part of a religious graphic novel. Close to Madrid, Castilla la Mancha has hosted part of many of Spain's biggest shoots, from milestone Netflix blockbuster "Money Heist" to "Zorro" and José Luis Cuerda's "Dawn Breaks, Which Is No Small Thing." 

Las Médulas, Castilla y León

Image Credit: Credit: Alamy Stock Photo

Once the Roman Empire's biggest open-pit gold mines, Las Médulas is now an arresting mix of orange sandstone pinnacles, bluffs and aqueducts cut into stone, surrounded by chestnuts and oak trees. Shoots: "The Beasts" (Rodrigo Sorogoyen), "Money Heist" spinoff "Berlin" (Esther Martínez Lobato, Alex Pina), and "James Marton's Spanish Adventure."

Castell de Miravet, Catalonia

Image Credit: Credit: Rafael Lopez-Monné

Overlooking the Ebro, Castell de Miravet showcases Catalonia's beauty and history. The Knights Templar took the former Islamic fortress to build what is seen today. This blend of history and natural beauty has attracted multiple filmmakers. Shoots: Netflix series "Who Is Erin Carter?," Movistar Plus+'s "La Mesías," from Los Javis; Netflix's "Bird Box Barcelona," produced by Nostromo Pictures, and Filmin series "Autodefensa."

Trujillo Plaza Mayor, Extremadura

The main square of frozen-in-time Trujillo, one of Spain's quaintest small towns, is a mash-up of Roman, Muslim and medieval architecture, and birthplace of multiple conquistadores such as Francisco Pizarro. Shoots: "House of the Dragon," Prime Video's "Citadel," with Richard Madden and Priyanka Chopra, and Sundance hit "Piggy" (Carlota Pereda).   

Spain's Oxford Street, the Gran Vía, Madrid City

Madrid's Oxford Street was immortalised as eerily empty by Alejandro Amenábar in "Open Your Eyes," and now a key location for Daniel Calparsoro's "All the Names of God," Spain's big new actioner bowing Sept. 15. Madrid hosts several dozen of the biggest Spanish shoots every year, including for global streamers "Cable Girls," set in the Telefonica Building at the top of the hill, once the highest skyscraper in Madrid. Recent shoots: "Hildegart" (Amazon Studios), "Cerrar los Ojos" (Victor Erice), "Championext" (Javier Fesser).  

Buitrago de Lozoya, Madrid Region

Image Credit: Credit: Maria Latova Gonzalez

North of Madrid, the town houses superbly preserved Moorish walls, hugged by the River Lazoya. Part of a shoot-friendly Madrid region  that's played host to many down the years from Charlton Heston's "El Cid" to Wes Anderson's "Asteroid City." Other shoots: Davis-Universal-Sony's "The Blacklist," Alex de la Iglesia's "30 Coins" for HBO.

Malaga's Cobblestoned Old Town: Calle San Agustin

Calle San Agustin is an iconic street shot by Malaga native Antonio Banderas in his directorial debut, "Summer Rain," with cobblestones, grilled windows, restaurants and tea shops leading to the city's Cathedral. Shoots: "The Crown," Netflix's "Warrior Nun," John Madden's "Operation Mincemeat."

Mallorca's Classic Seascape: Mirador del Colomer, Formentor

Mallorca's most famous seascape, Formentor's lookout is perched above a 650-foot sheer drop to the sea, reached by a road, however impossible that it might seem, affording vistas of the island's wild north coast and sunsets. Shoots: 'The Crown,' Seasons 5 & 6; "Special Ops: Lioness"; "Hustle."

Cala Pregonda, Menorca

Menorca's Cala Pregonda is a scenic Mediterranean paradise for filmmakers. Rock formations dot the bay and low green vegetation sit behind a curve of sand with a unique red hue. Shoots: "El Faro," with Hugo Silva; David Desola's "El padre de todos nosotros," Giovanni Bognetti's "Ricchi a tutti il costi," "Favàritx," a Spain Film Commission best location award winner at June's Conecta Fiction.

Monegros's Wild West

A semi-arid Aragón steppe, Monegros features Wild West-like landscapes with vast stretches of land. East of Zaragoza, the region is characterised by its contrasting terrains, from drylands to wetlands, making it a diverse backdrop. Shoots: Bigas Luna's modern classic "Jamón Jamón," "007 The World Is Not Enough," Jacques Audiard's Western "The Sisters Brothers."

Abanilla Badlands, Murcia

Image Credit: Credit: Belen Campillo

Murcia, in southeast Spain, offers cathedrals, orchards and a semi-desert interior crowned by lunar-landscaped Abanilla Badlands. Water, wind, and time have had their way with the soft rock of the Badlands, creating sharp and pinnacled vistas. This unforbidding landscape has been embraced by sci-fi in particular.  Shoots: Sony Pictures' Tom Holland-Tom Hardy starrer "Venom 3," "Terminator: Dark Fate," Paul Greengrass' "Green Zone," Ridley Scott's "The Counselor."

Baztán Valley and Zugarramurdi Caves, Navarra

The mystical Zugarramurdi caves are a fusion of legends and natural allure, with high-arched rock walls opening out to woodland. Witchcraft, natural majesty, and a stone's throw from the comforts of Biarritz and San Sebastian. An easy sell to any producer. Shoots: Netfix's Baztán Trilogy, Alex de la Iglesia's "Witching & Bitching."

Paseo de Ronda, Peñíscola 

Image Credit: Credit: MPRO360

A vantage point that provides stunning views of the coast. The Castellón town, renowned for its Renaissance-era walls and an imposing castle, stood in for the city of Meereen in HBO Max's acclaimed "Game of Thrones." Pivotal scenes with the lead actors of the fantasy epic series were filmed on these steps leading to Paseo de Ronda. Peñíscola also served as the backdrop for "Game of Thrones" scenes featuring a multitude of extras playing soldiers, slaves, and so on.

Ourense

A Galician city in northwestern Spain, known for its iconic Ponte Romana bridge and its graceful arches that span the Minho river; its neoclassical fountain with thermal waters, the Burga de Abajo; the 12th century Ourense cathedral and its iconic Gate of Paradise. Shoots: "Fire Will Come," "Elisa & Marcela," Alfonso Zarauza's "Malencolía," Xavier Bermúdez's "Olvido and León."

Illa de Arousa Bridge, Pontevedra

The big draw is a 1.2 mile prestressed concrete bridge connecting the fishing village of Arousa, in the middle of its Ria, to the mainland. Recent shoots in the province of Pontevedra include Bambú-produced series "Un asunto privado," starring Jean Reno, and high-end hit drama "Fariña," plus Ficción-Prime Video miniseries "Operación Marea Negra."

Peñas de Islallana, Iregua Valley, La Rioja

Inaccesible limestone crags soaring sheer for 1,200 feet from the Iregua Valley, hypnotising visitors. Catch them in Isabel Coixet's "Un Amor," playing main competition at September's San Sebastian Film Festival. 

Plaza Mayor, Salamanca

Image Credit: Credit: Teresa Isasi

The august university city's Plaza Mayor served as a backdrop to the celebrated opening scene of Alejandro Amenabar's Civil War drama, "While at War," as it did to reality show, "Master Chef." CW's "Star Crossed," a teen romance between a human girl and an alien boy also shot here. Founded in the 1100s, the city is renowned for its Baroque sandstone architecture and its two Cathedrals, fused together, which combine Romanesque, Gothic and Baroque styles.

Donostia Bay, San Sebastian-Gipuzkoa

San Sebastian's Donostia Bay, declared one of the treasures of Spain, a Belle Epoque waterfront dazzling monarchy, Franco, Luis Buñuel and San Sebastian festival goers, who, if lucky, are put up at its Hotel de Londres. Shoots in San Sebastian and Gipuzkoa: Woody Allen's "Rifkin's Festival," "Game of Thrones," The Mediapro Studio-ViX co-pro "Pelotaris, 1926."

St. James Way City: Santiago de Compostela

Catch the view at night of the medieval city of Santiago de Compostela from its ornamental Alameda Park, dominated by the floodlit baroque Western facade of its Cathedral. Spain's towering achievement of Romanesque art, it marls the end of all Ways of St. James. Shoots: "The Way" (Emilio Estévez), "The Skin I Live In" (Pedro Almodóvar), "The Mess You Leave Behind" (Carlos Montero).

The Alcazar, Segovia

Image Credit: Credit: Cristina Gomez – PowerHouse Hub

Was this Walt Disney's inspiration for his own iconic castle? Segovia's world-famous 12th century medieval castle, the Alcazar, commands dramatic views of a city also renowned for its Roman aqueduct still in use, medieval walls, Romanesque churches, and not least, its traditional cuisine of roast suckling pig and lamb. Shoots: Miloš Forman's "Goya's Ghosts," with Javier Bardem and Nathalie Portman;  Bambu's "The Summer We Live" with Blanca Suárez, Mario Casas-starrer "Palm Trees in the Snow," from Nostromo.

'Star Wars' Plaza de España, Seville

Image Credit: Credit: Anibal Trejo

Where Amidala (Nathalie Portman) and Anakin Skywalker (Hayden Christensen) took a walk in "Attack of the Clones." Lucas took advantage of the revivalist renaissance, Moorish and Baroque architecture. This heady mix, created for the Ibero-American Exposition of 1929, gives filmmakers scope to conjure other worlds. Shoots: "Game of Thrones," "The Crown," "Lawrence of Arabia."

Cala Fonda, Sitges 

With its Saint Sebastian church and whitewashed old part on the hill behind, this is one of a string of sandy beaches at Sitges, set apart by their crystalline clear shallow waters, in a swish beachside town, home to its Fantastic Film Festival, and just 40-minutes drive south of Barcelona. Shoots: Netflix-Sony Pictures Television's "Who Is Erin Carter"; "30 Coins" Season 2.

Landing strip, Soria

Image Credit: Credit: Conrado Angel

Providing access to rarely visited locations in lush Soria, known for its deep forests and mountainous terrain, and beloved for Segovia city's medieval streets, Romanesque architecture and 12th-century Santo Domingo Church. Mediaset España's comedy "El pueblo," Movistar Plus+'s action thriller "The Unit" and doc-feature "Suerte de pinos" have shot here. 

Art Nouveau Masia Freixa, Terrassa

A unique art nouveau building with sinuous and unadorned lines which is apt to recreate elegant and classy settings. The city of Terrassa, strategically located near Barcelona, the Mediterranean and the Pyrenees, hosts the Parc Audiovisual de Catalunya, a now expanding studio complex. Netflix's "Who Is Erin Carter" and "Bird Box Barcelona" plus Nostromo-Fabula's "Rich Flu" recently filmed there. 

The Futuristic City of Arts and Sciences, Valencia 

Like something out of a sci-fi production, the majestic futuristic building captivates filmmakers worldwide including those for Disney-George Clooney's "Tomorrowland." Sequences for the BBC series "Doctor Who," the Delos headquarters in HBO's "Westworld" and the newest "Star Wars" adventure "Andor" also lensed there.

A Medieval Brigadoon: Xàtiva Castle, Valencia Region

Image Credit: Credit: Peter Gluck

Valencia twins monumental modernity and historical heritage, such as the well-preserved double Xàtiva Castle. It is believed the son of Hannibal was born here in 218BC, and the thread of history has been unbroken from there onwards. The site formed part of the shoot this Spring of "Star Wars'" "Andor" Season 2, starring Diego Luna. Shoots just in 2023: "Andor," Season 2; "Citadel," Netflix's "Black Mirror." 

Plaza Mayor, Valladolid

Image Credit: Credit: Carlos Saez

Valladolid's heart, its Plaza Mayor is a grand square, historically significant and beautifully preserved. Flanked by uniform, red-hued buildings and bustling with life, it stands as a testament to Spanish Baroque architecture and the city's vibrant culture. Spain's first great Plaza, a style that travelled far. Shoots: El Estudio's "Voy a pasármelo bien," Zebra Producciones' "Memento Mori," Control Z's "Honeymoon."

Ultra-Modern Vigo University Campus, Vigo 

Proclaiming the institution's recent constitution in its modern design, but nestling set in rural Galicia, Vigo U's campus. Shoots (Vigo): "Mondays in the Sun" (Fernando León de Arena), "A Private Affair" (Ramon Campos, Teresa Fernández-Valdés, Gema R. Niera).

Palacio Eskoriatza-Eskibel, Vitoria-Gasteiz

Placed in the heart of Vitoria-Gasteiz its grandeur and architectural splendour make it a living testament to the city's rich historical tapestry. Just a short distance from the bustling urban landscape of Vitoria-Gasteiz, the palace stands as a silent observer of the city's evolution. Its cinematic appeal has not gone unnoticed. Shoots: "Irati" (Paul Urkijo), "El cuarto pasajero" (Alex de la Iglesia), "Maixabel" (Icíar Bollaín).

Planas del Sur, Zaragoza

South of Zaragoza, Planas del Sur provides a panoramic vista crowned by wind turbines and semi-arid vistas beyond. Peaking above everything is the 2,100 foot peak of Torrecilla, giving more visual interest to this region beloved by mountain bikers and location scouts alike. Shoots in the Zaragoza region: Nacho G. Velilla's "Menudas Piezas," Guy Ritchie's "The Covenant," Peacock's "Vampire Academy."
Post source: variety