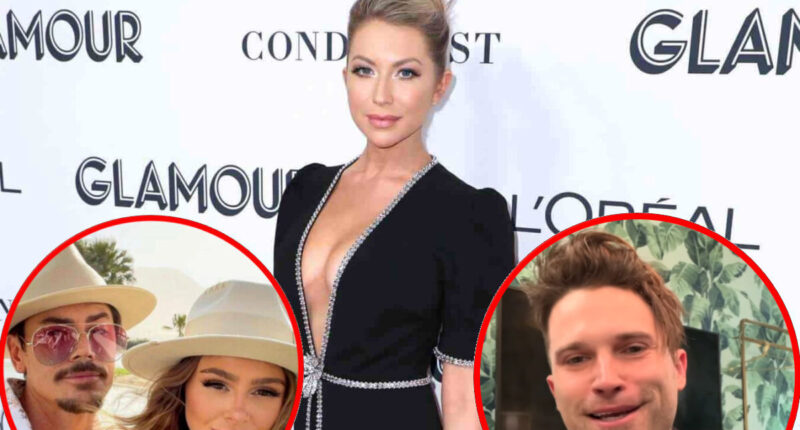 Stassi Schroeder is weighing in on the highly teased Vanderpump Rules "twist" that Bravo has been dangling in front of viewers ahead of part three of the season 10 reunion.
The surprising revelation supposedly has to do with the timeline involving Raquel Leviss and Tom Sandoval's illicit affair as it's been reported that the timeline "evolves." And that's exactly what the Pump Rules alum is predicting will go down.
While making an appearance on her recent tour, Stassi bluntly stated that whatever comes to light during part three of the reunion won't be shocking enough to make them walk away from their "giant f—cking paycheck[s]."
"I can't think of anything that would make the cast be like, 'You know what? I'm done with this giant f—king paycheck!' I, literally, can't see anything," Stassi stated.
Continuing, Stassi added that the hype over the revelation is being overplayed.
"I think it's going to be a 'nothing burger,'" she theorized. "But I think that it'll probably, if I had to gamble on it, I'm not a gambler, but if I had to [guess] I feel like it would be that this has been going on really f—king long time. Like, not just seven months."
"[I think] there's way more to it, like that's the only thing I can think of," the author and podcast host said.
Stassi's co-host, Taylor, also hypothesized that Sandoval and Raquel's affair spans all the way back to when Raquel ended her engagement to James Kennedy.
"That would make sense," Stassi agreed in a video shared by Instagram account @stassifanclub.
In related news, during an episode of her podcast, Straight up with Stassi, Stassi revealed that she recently met up with her former co-star, Tom Schwartz, and she grilled him on why he was "riding so hard for Sandoval."
"I saw Tom Schwartz over the weekend. I feel like I am going to get in trouble for saying that. But we hadn't seen him in five months, and he came by to see us. I was like, 'Schwartz, when we are on tour, if I bring you up, I get booed by my own listeners,'" Stassi began.
"I was like, 'Can I give you some f—king advice? Stop doing everything that you're doing. You literally have done everything wrong. I understand you were put in a really tough situation because of your friend. You need to take a look at why you're riding so hard for someone who has f—ked you over and over and over,'" she continued. "And he seemed to really realize that, but I was like, 'Schwartz, it is time for you to take accountability. Kiss the ring. Bend the f—king knee. You are wrong.'"
Schwartz has faced public backlash and scrutiny after he seemingly has taken Sandoval's "side" amid the "Scandoval" fallout.
The Schwartz & Sandy's co-owner participated in a critically panned interview with Andy Cohen for Watch What Happens Live, where he continually rambled and tried to ease the audience's criticism of Sandoval.
"Tom, I know the whole world hates you. But I'm not going to abandon you, old buddy. I'm not going to abandon you," Schwartz said at the time. "He knows he's a monster for what he did. If you see him, maybe give him a hug. Even if he doesn't deserve it, give him a hug. He's down bad."
Raquel will join the rest of the Pump Rules cast for part three of the Vanderpump Rules season 10 reunion, airing Wednesday, June 7, at 9 p.m. EST on Bravo.


Post source: RB