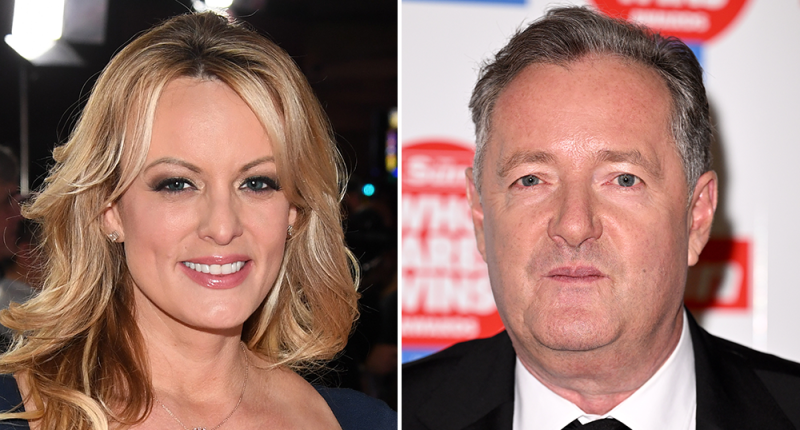 Stormy Daniels has pushed her interview with Piers Morgan due to "security issues," Morgan revealed on Friday.
"UPDATE: Unfortunately, Stormy Daniels has had to suddenly postpone our interview tonight due to some security issues that have arisen. Hope she's OK," Morgan wrote on Twitter announcing the news.
Details for when the interview (which was originally slated to air on "Piers Morgan Uncensored" Friday night) will be rescheduled have yet to be released. Reps for Morgan have not yet responded to Variety's request for comment.
The exclusive interview was meant to come just one day after a New York Grand Jury voted to indict former President Donald Trump for his role in allegedly paying hush money to Daniels in 2016. As previously reported, the exact charges remain unknown.
At the time, a spokesperson for Manhattan District Attorney Alvin L. Bragg shared the news with a statement reading: "This evening we contacted Mr. Trump's attorney to coordinate his surrender to the Manhattan D.A.'s Office for arraignment on a Supreme Court indictment, which remains under seal. Guidance will be provided when the arraignment date is selected."
Though he's denied any wrongdoing in the investigation, the indictment makes Trump the first US President to receive criminal charges. The investigation fell just before his try for a second term in the 2024 election.
Daniels responded to Thursday's indictment news on social media saying, "Thank you to everyone for your support and love! I have so many messages coming in that I can't respond…also don't want to spill my champagne 😜 #Teamstormy merch/autograph orders are pouring in, too! Thank you for that as well but allow a few extra days for shipment."


Post source: variety