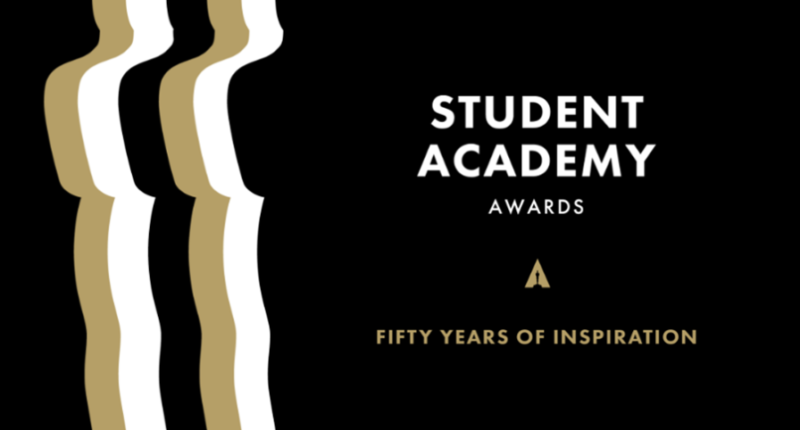 The winners of the 50th Student Academy Awards competition have been announced by the The Academy of Motion Picture Arts and Sciences. The Academy voted 14 students out of 2,443 entries to win awards across four categories. They will be honored at an in-person award ceremony on Oct. 24 at 7:30 p.m. at the Samuel Goldwyn Theater in Beverly Hills.
Leo Behrens of the American Film Institute won the award for alternative/experimental film for "Skin."
Gabriel Augerai, Romain Augier and Yannick Jacquin of École des Nouvelles Images in France won an animation award for "Boom." Other animation winners include César Luton, Achille Pasquier and Clémence Bailly of MoPA 3D Animation School in France for their film "Diplomatie de l'Éclipse." Lisa Kenney of the National Film and Television School in the UK also won in the animation category for "Mum's Spaghetti."
In the documentary category, Lyuwei Chen of New York University won for "Duet." Other documentary winners are Jean Chapiro of Columbia University, who won for "Hasta Encontrarlos (Till We Find Them)," and Giorgio Ghiotto of New York University who won for "Wings of Dust."
Finally, in the narrative category, Mark Gerstorfer of Filmakademie Wien in Austria won an award for "Invisible Border." Iain Aigin Stronach Forbes of Den Norske Filmskolen in Norway won for "Revisited." The third narrative winner is Tamara Denić of Hamburg Media School in Germany, who made the film "Istina (Truth)."
All of the student winners are eligible to compete for 2023 Oscars in the Animated Short Film, Live Action Short Film or Documentary Short Film categories.
The Student Academy Awards ceremony is free and open to the public; tickets can be obtained at oscars.org.
K. Asher Levin's Mystery Comedy "Helen's Dead" Acquired by Screen Media
K. Asher Levin's mystery comedy "Helen's Dead," which stars Emile Hirsch and Dylan Gelula, has been acquired by Screen Media.
"Helen's Dead" will spotlight the story of Addie (Gelula) who finds out that her boyfriend is sleeping with her cousin, Helen. Reeling the effects of the betrayal, Addie prepares to confront them both when she stumbles upon Helen's murder scene.
Alongside Hirsch and Gelula, Emile Hirsch, Annabelle Dexter-Jones, Tyrese Gibson, Dylan Gelula, Oliver Cooper and Matilda Anna Ingrid Lutz are set to star in "Helen's Dead." 
"I have always dreamt of making my very own freewheelin', one crazy night movie," said Levin.  "It's truly a blessing to have assembled such an amazing cast and found such a supportive company in Screen Media to release the film."
"Helen's Dead" was written by Amy Brown Carver from a story by Levin and Carver. Levin, too, produced alongside Daniel Cummings, Robert Dean, Roy Scott MacFarland and Todd Lundbohm. MacFarland negotiated the deal on behalf of Tetrad Studios and Stoked Film Group, with Madison Karsenty and Lisa Califf providing legal services via Donaldson, Califf & Perez.
Steven Spielberg, Kate Capshaw Donate $1.5 Million to Support Workers Impacted by Hollywood Strikes
Since the Hollywood strikes began back in May, Steven Spielberg and Kate Capshaw have donated a collective $1.5 million to writers, actors and other industry workers who have been negatively impacted by the WGA and SAG-AFTRA strikes.
Capshaw and Spielbergs generous donations have gone to the Entertainment Community Fund as well as the SAG-AFTRA Foundation's Emergency Financial Assistance Program.
The ECF, which was previously known as the Actors Fund, said in a statement, "Thanks to the transformative support from Kate Capshaw & Steven Spielberg, along with numerous other generous donors, the Fund is helping film and television workers in need with emergency financial assistance to cover basic living expenses (rent, groceries, health insurance, medical bills, etc.), mental health support and more."
The SAG-AFTRA Foundation reports that since the work stoppages began, they have been processing up to 100 applications for financial assistance every day, which go toward rent and mortgage payments, food and medical needs.
They added in a statement, "This significant donation from Kate Capshaw and Steven Spielberg to the Foundation's Emergency Financial Assistance Program will not only help meet the current and overwhelming demand for financial assistance, but will continue to support the SAG-AFTRA community who will be faced with long term financial hardships and challenges for years to come."
Spielberg and Capshaw are just the latest of those making large donations to striking workers. Shonda Rimes, Seth MacFarlane, Meryl Streep, Matt Damon, Oprah Winfrey and George Clooney are just some of the previous A-list stars who have helped raise money for writers and actors since the strikes started in May.
2023 Gotham Awards to Present George C. Wolfe's "Rustin" With the Icon and Creator Tribute for Social Justice
The upcoming Netflix film "Rustin," produced by Barack and Michelle Obama's Higher Ground, will be honored with the Icon and Creator Tribute for Social Justice at the 33rd annual Gotham Awards Ceremony on Nov. 27 at Cipriani Wall Street in New York City.
The Icon and Creator Tribute "was created for this year's Gotham Awards in order to recognize cultural icons and the filmmakers responsible for bringing that icon's story to life." This year's Icon and Tribute for Social Justice will honor activist Bayard Rustin, who was an organizer of the 1968 March on Washington and won the Presidential Medal of Freedom. The accolade will also celebrate director George C. Wolfe and the work he put into bringing Rustin's story to life on screen.
"This beautifully crafted and moving film shines a light on the visionary contributions of a proud gay Black man on the heels of the 60th anniversary of the March on Washington," said Jeffrey Sharp, executive director of the Gotham Film and Media Institute.
"Rustin" stars Emmy Award winner Colman Domingo in addition to Chris Rock, Glynn Turman, Aml Ameen, Gus Halper, CCH Pounder, Da'Vine Joy Randolph, Johnny Ramey, Michael Potts, Jeffrey Wright and Audra McDonald. It will be released in select theaters on Nov. 3 and stream on Netflix on Nov. 17.
Eddie Alcazar and Steven Soderbergh Unveil Trailer for Sci-Fi Film 'Divinity'
The trailer has been unveiled for Eddie Alcazar's sci-fi feature "Divinity." Executive produced by Steven Soderbergh, the film stars Scott Bakula, Stephen Dorff, Moises Arias, Jason Genao and Karrueche Tran. "Divinity" is set to premiere in New York theaters on Oct 13.
Per the official synopsis: "Set in an otherworldly human existence, scientist Sterling Pierce (Bakula) dedicated his life to the quest for immortality, slowly creating the building blocks of a groundbreaking serum named Divinity. Jaxxon Pierce (Dorff), his son, now controls and manufactures his father's once-benevolent dream. Society on this barren planet has been entirely perverted by the supremacy of the drug, whose true origins are shrouded in mystery. Two mysterious brothers (Arias and Genao) arrive with a plan to abduct the mogul, and with the help of a seductive woman named Nikita (Tran), they will be set on a path hurtling toward true immortality."
Watch the "Divinity" trailer below.
Abramorama Promotes Karol Martesko-Fenster to CEO, Co-Chairman and Evan Saxon to President, Head of International Distribution
Richard Abramowitz, founder of film distribution company Abramorama, announced that Karol Martesko-Fenster has been promoted to chief executive officer and co-chairman, and Evan Saxon has been promoted to president, head of international distribution.
"Karol, Evan and I have worked closely together for years, with their partnership driving unparalleled results in the Event Cinema world," Abramowitz said. "Their decades-long experience in the music and social impact film genres makes me confident that they will take the company to the next level and continue to dominate, innovate, and lead the way as the industry continues to evolve."
As CEO, Martesko-Fenster will lead the expansion of Abramorama's footprint and partnerships in the filmed entertainment realm, among other duties. Saxon will helm music-focused engagements, direct-to-consumer campaigns and international theatrical distribution and marketing activities.  
Abramorama is a release partner that has relationships with companies like National Geographic, HBO, Hulu, Apple, Amazon and more. Up next, Abramorama will premiere the documentary "UnCharitable" directed by Stephen Gyllenhaal on Sept. 22.
Brooklyn Horror Film Festival Announces 2023 Lineup
The Brooklyn Horror Film Festival, which will run from Oct. 12-19, has announced their upcoming lineup of films for this year's iteration of the festival.
Alix Austin and Kier Siewert's debut feature "Kill Your Lover" will open the festival. Other films premiering at BHFF include Jaco Bouwer's "Breathing In," Aimee Kuge's "Cannibal Mukbang" and Tyler Chipman's "The Shade." Horror director William Lustig will be presented with the inaugural Leviathan Award at a 35th anniversary screening of his film "Maniac Cop," which will be followed by a conversation with Lustig. Jenn Wexler's "The Sacrifice Game" will close the festival.
All of the BHFF screenings will take place at Nitehawk Cinema's Williamsburg and Prospect Park locations. Festival badges are on sale now and limited tickets go on sale here on Friday at 12 p.m. ET.
Academy Names Erica Eng and July Jung as the 2023 Gold Fellowship for Women Recipients
The Academy has revealed Erica Eng and July Jung as their latest recipients of the sixth annual Academy Gold Fellowship for Women. Presented in partnership with Chanel, the Gold fellowship is awarded to one international and one U.S. female filmmaker each year, providing them with $35,000 and networks via the Gold Alumni program to help support their projects and film endeavors.
"We are honored to advance the work of Erica and July – two extraordinary filmmakers. The Academy's Gold Fellowship for Women is a crucial part of the Academy's goals to inspire up-and-coming artists, create engaging film industry opportunities for underrepresented communities, and develop the next generation of diverse and dynamic film talent," said Kendra Carter, the Academy's SVP of impact and global talent development.
Eng is a Chinese American director raised in Oakland, Calif. and now based in Los Angeles. Her upcoming film "The Ghost" is set to premiere on Disney+ as part of Disney's Launchpad shorts program. Previously, her 2021 short "Americanized" screened at numerous festivals across the country, garnering 25 awards.
Jung is a South Korea native who has been working as a screenwriter and director for over a decade. Her 2014 debut feature "A Girl at My Door" was screened at the 67th Cannes Film Festival and her 2022 sophomore feature "Next Sohee" closed the 75th Cannes Film Festival Critics' Week.
Post source: variety