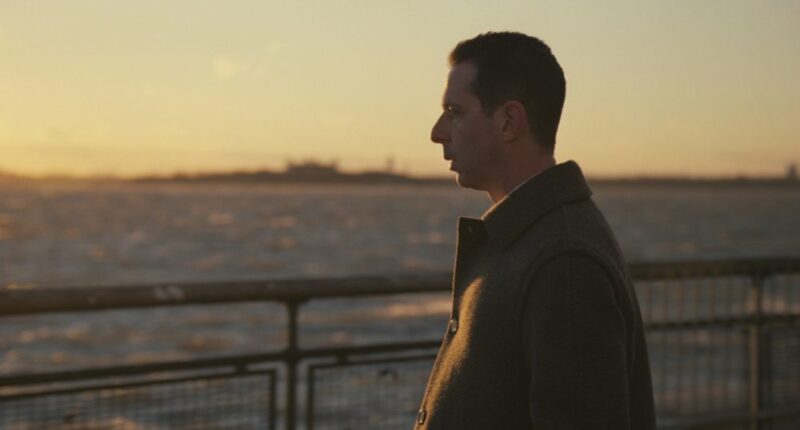 SPOILER ALERT: This review contains spoilers from "With Open Eyes," the series finale of HBO's "Succession," now streaming on Max.
"Succession" ends in a place it's been countless times before: with Kendall Roy, alone and adrift by a body of water. "With Open Eyes," the feature-length conclusion to the Roy family saga, has many such full-circle moments. Some series finales radically break from their show's typical rhythm, flashing forward to show us the full span of the characters' lives ("Six Feet Under") or transforming into a different concept altogether ("Girls"). But despite its length, "With Open Eyes" is the distilled, concentrated essence of "Succession," even as it builds to a decisive break between the Roys and the company that's no longer theirs — a union that's otherwise informed every second of the series' events.
Like every season finale before it, "With Open Eyes" takes its name from John Berryman's poem "Dream Song 29" and takes place, at least in part, in a foreign country. Like most episodes of "Succession," it revolves around a seismic event that forces most of the cast into a single room. (In the past, that gathering place could be a wedding or a funeral or a corporate retreat — but this time, it's a board vote, just as it was in Season 1's "Which Side Are You On?".) And like the last hurrahs of many TV shows, it brought back small supporting players for a fond-ish farewell, a tradition "Succession" has honored all season. They didn't get screen time like Nan Pierce, but Lawrence Yee and even Ratfucker Sam got to take their bows.
But for "Succession" in particular, doubling down on its long-established DNA has its own, singular significance. The show could buck cliché when it wanted to, yet built itself around a pair of truisms: first, history repeats itself; second, hurt people hurt people. Logan Roy, the monstrous, Murdoch-esque founder of Waystar Royco, was the product of a tragic and harrowing childhood. "Succession" always implied this, working in allusions to Logan's imposing uncle Noah and shots of scars on his back, and confirmed it with his brother's eulogy in penultimate hour "Church and State." Logan then passed on that lack of stability and support to his own children, who in turn were stuck in an emotional maze of their father's making.
A long stretch of "With Open Eyes" sees Kendall allied with his younger siblings Roman and Siobhan, inducing a dizzying state of déja vu. This is, after all, where "Succession" started the season: with the three working together, first to found their own media venture and then to acquire a Waystar rival. The circumstances are slightly different this time; Logan is dead, and they're trying to take over Waystar rather than forge their own path. But the Roys keep finding their way back to the same handful of arrangements and alliances. Forward momentum is almost impossible, as "Succession" demonstrates by returning to the same conflicts, setups and comic beats ad nauseam. The show was a boomerang that always hit its mark.
Shiv, in the end, has the perspective to zoom out and state plainly what's always been obvious from the outside. "I don't think dad gave a fuck about anything more than putting one foot in front of the other," she says, understanding what it truly means that Logan promised the company to all three of them at some point or another. And Shiv, in the end, chooses to free her family of its burden and approve a sale in a decisive board vote, a gift Kendall is fundamentally incapable of recognizing as such. "I am like a cog built to fit only one machine," he pleads. He can't help trying to seize his birthright, over and over and over again.
Such repetition means that "With Open Eyes" won't necessarily stand out in retrospect among the 38 episodes that make up "Succession." It doesn't feature outlandish props like the birth canal from Kendall's birthday party, or introduce a memorable new character like the Pierce matriarch. It does, however, state a few fundamental truths with startling candor, as if the characters have been ground down to the most unvarnished version of themselves. "I am the eldest boy," Kendall bellows. As Shiv points out, this isn't literally the case. (Poor Connor, always forgotten when it counts.) But it's the purest expression of why Kendall really thinks he deserves the job, far more than optics or an MBA. 
Similarly, Tom Wambsgans barely has to bother justifying a betrayal of his wife to maintain proximity to power — yet another scenario recycled from an earlier juncture, in this case the Season 3 finale. Except this time, Tom has no problem stating plainly that Shiv would do the same thing to him if given the case, and in fact has. "Once you've said and done the worst things, you're kind of free," Shiv suggests at the episode's beginning. By its end, she's tentatively, ambivalently reunited with the father of her child and Waystar's new puppet CEO, like "The Graduate" with a chauffeur and tinted windows. The ugliest aspects of their relationship admitted outright, they can now settle into a pattern.
Kendall, on the other hand, retreats from the light at the worst possible moment. Coming clean about his manslaughter of a waiter helped cement his bond with Roman and Shiv; denying it as Shiv weighs her vote severs the connection, probably for good. (This from the man who once planned a performance of Billy Joel's "Honesty"!) Like Shiv, Roman has achieved a bluntly articulated emotional clarity — "We are bullshit," a nepo baby's words of anti-affirmation — that signals some kind of growth, however stunted. But Kendall, always the character who has most fully expressed the themes of his show, has marooned himself on an island of denial, where he'll almost certainly remain. 
"With Open Eyes" doesn't extend much beyond depicting the titular event of "Succession." It also doesn't have to. After GoJo CEO Lukas Matsson has signed the papers making his acquisition official, we don't learn what becomes of the Roy siblings in future, or even find out who won the nailbiter of a presidential election from two episodes ago. Yet we're left with the certainty that divesting themselves of their father's company hasn't liberated them from the trauma that makes up their true inheritance. Look no further for proof than the final shot. This isn't the first time Kendall has stared into the abyss, and it won't be the last.


Post source: variety