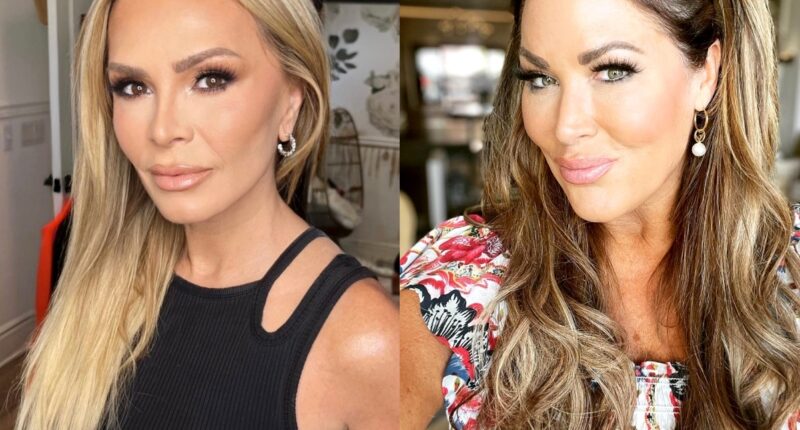 A fan just leaked an alleged DM from Tamra Judge, which seemingly disproves her claim on the season finale that she never said Emily Simpson was not a practicing attorney.
This season on Real Housewives of Orange County, Tamra was continually questioned over her one-on-one conversations in which she allegedly spoke negatively about the cast.
On the day of the finale, fan account @blndhairblckhrt wrote the following, via @allabouttrh on Instagram: "Apparently on tonight's episode it's revealed that Tamra told Heather [Dubrow] that Emily's not a real attorney. Tamra denies it. This is a message I got from Tamra in 2021."
The account then posted a screenshot of Tamra's alleged DM: "Between me and you. Do you really think she's a practicing lawyer?"
The message seems to prove that Tamra was less than truthful at the dramatic party.
In the comments, fans reacted to the receipt.
"[Tamra] talks about everyone and when it comes out she denies it every time," wrote one user. "She also starts half the fights and sits back and watches everything unfold. She's calculated … always has been always will be. What she did to Jen [Pedranti] just to be relevant is sad."
Another expressed, "Tamra is an absolute clown ? She is the most mean spirited and vindictive person, she doesn't care about anybody, she has NO LOW — she's dangerous because she is the BIGGEST liar of the bunch and doesn't care if her words hurt people, hurt famil[ies] or cause destruction."
A third fan added, "This is the same old Tamra behavior…anything to try to stir the pot and stay relevant. Interesting thing is that she did this for years and got 'paused' so why would she conduct herself in the same manner?!"
A different viewer wrote, "Tamra shak[ing] her head uncontrollably while screaming at another woman after setting them up is typical Tamra."
The Real Housewives of Orange County season 17 airs Wednesday at 8/7c on Bravo.


Post source: RB