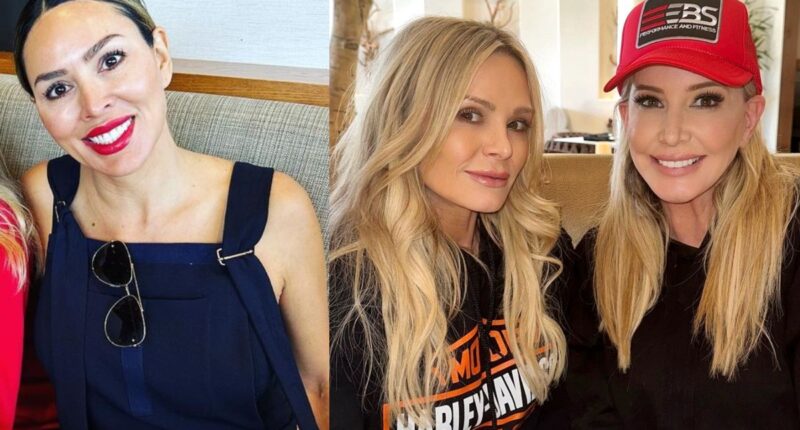 Kelly Dodd claimed Tamra Judge is not being a "good friend" to Shannon Beador in the wake of her DUI arrest, after the Real Housewives of Orange County star allegedly clipped a house and drove away while intoxicated.
After reports of the arrest surfaced, Tamra took to her podcast and immediately addressed the situation, claiming she felt like vomiting.
According to Kelly, the situation helped restore her own relationship with Shannon, after formerly feuding, and revealed their message exchange following the incident.
On their YouTube show, "Rick & Kelly's Daily Smash," shared by @byewighellodrama via Page Six, Kelly indicated that Tamra is not being a "very good friend" to Shannon right now, though she didn't clarify how. Kelly revealed she herself brought Shannon lasagna and stuffed peppers, and called the situation "heartbreaking."
"Imagine if that was you, and there was paparazzi hanging outside your door," said Kelly, who indicated that this is exactly what's happening to Shannon. "That would be horrific."
The alum also shared a message she received from Shannon, who allegedly claimed she had a long conversation with their mutual friend Jeff Lewis, who shared that Kelly was hurt after Shannon's shady interview on Watch What Happens Live.
"'We are both hurting each other and I would like it to come to a stop,'" Shannon allegedly wrote. "'The last thing I want to do with anyone is arguing. It is my hope that we can start to rebuild. I am your new neighbor … Let me know if you are willing to move forward in a positive way."
Kelly responded at the time, "'Of course. Thank you for reaching out. I miss our friendship and our talks. How about lunch next week? … I would really like that.'"
Kelly took to Instagram around the same time, filming her driver while joking, "There's no DUIs happening over here!" As of now, it's unclear whether the video was taken before or after her reconciliation with Shannon.
In an interview with Daily Mail, Kelly shared her hope that Shannon will "learn" from the incident, and expressed sympathy for Shannon's three children.
The 47-year-old claimed Shannon is "remorseful."
"I dropped off food for her yesterday and despite our differences over the last couple years I'm rooting for her and believe she'll come out of this a stronger and better person," said Kelly.
The Real Housewives of Orange County season 17 airs Wednesdays at 8/7c on Bravo.


Post source: RB