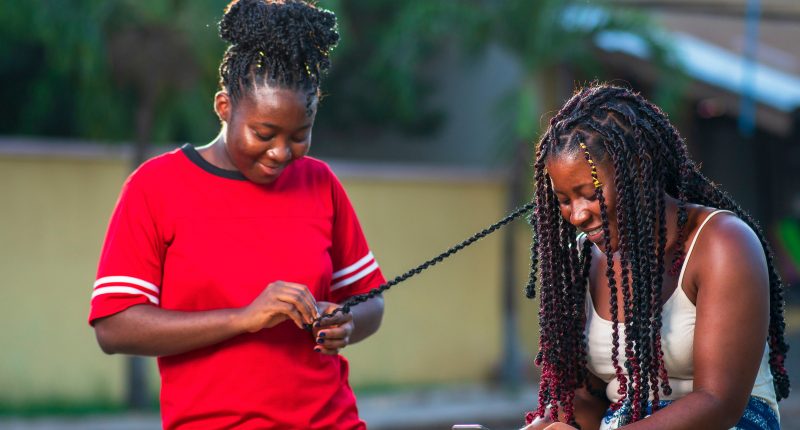 Yaw Niel/Shutterstock
Black hair textures are incredibly versatile in that they can adapt to various hairstyles that other hair textures may not be able to do so easily. From braids to wigs, there are several creative ways to style Black hair, like 4B curly hair.
As well as being able to shape shift to different hairstyles, Black hair textures are also vast in the different types of curl patterns and thicknesses they naturally have. Despite this, the one thing that unites these textures, regardless of their curl pattern, is that at their core, they all still crave protective hairstyles from time to time. This encourages healthy hair growth and prevents breakage. 
Low manipulation is key to protective hairstyling, according to Afrocenchix. Having a style that you don't have to touch too often or causes little friction is what makes for the best protective hairstyles. This is because it allows space for your hair to relax and grow without much tension. So without further ado, here is a list of some of the best protective hairstyles for Black hair textures.
Head wraps for Black hair
Olesia Bilkei/Shutterstock
Head wraps are a great protective hairstyle option because you can tie your hair under it in so many ways. You can also choose head wraps with different patterns depending on your mood. One thing to consider if you choose this style, is the type of material the head wrap is. Cotton can draw out moisture from Black hair textures. 
Instead, it's ideal to use a head wrap made from satin or silk. Ellisha from Twists and Turbans notes that another benefit of using head wraps is that you limit damage from daily styling your natural hair.
Box braids for Black hair
Aaronamat/Getty Images
According to celebrity hairstylist Dr. Kari Williams, who spoke to Good Housekeeping, box braids can last up to six weeks. You can style them in different ways, whether you choose to have them up in a bun one week, or flowing down freely the next. Dr. Williams also notes that box braids can have added benefits such as helping to reduce your chances of getting diagnosed with traction alopecia. 
However, make sure that when performing box braids, they are not too tightly applied as this can cause breakage.
Bantu knots for Black hair
Frazer Harrison/Getty Images
Bantu knots have a rich history in that it is said to stem from Zulu tribes in Africa. Celebrities such as Rihanna, who has curly hair, has been seen sporting their natural locks recently, including with the Bantu knots hairstyle. This has helped to popularize the style more in America, too. 
The reason Bantu knots is such a great protective hairstyle is that your hair is wrapped into itself from root to tip, therefore leaving little to no room for manipulation and friction after application. This allows space for your hair to grow uninterrupted.
Post source: The List