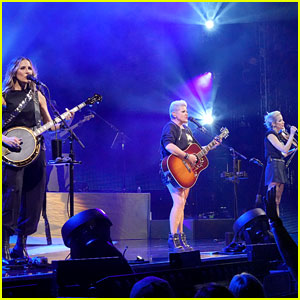 The Chicks kicked off their 2022 tour last week and though the trek was temporarily interrupted this past weekend, they'll be on the road all summer long!
Martie Maguire, Natalie Maines, and Emily Robison are visiting more than 30 cities in North America during the tour, which will be supported by Patty Griffin.
The Chicks are performing some of their greatest hits, along with songs from their fifth studio album Gaslighter, which was released in 2020.
During the show on Sunday night (June 19), the group left the stage after less than 30 minutes of performing. Fans speculated that there were allergy issues because of the Indianapolis climate. The group ended up postponing a few more tour dates because they need to be on vocal rest.
Click inside to see the set list for the tour…
Check out the set list below…
1. Sin Wagon
2. Gaslighter
3. Texas Man
4. Julianna Calm Down
5. The Long Way Around
6. Hope It's Something Good
7. Sleep at Night
8. Travelin' Soldier
9. Wide Open Spaces
10. Tights on My Boat
11. Cowboy Take Me Away
12. Lubbock or Leave It
13. Long Time Gone
14. Landslide
15. Don't Let Me Die in Florida
16. March March
17. For Her
18. White Trash Wedding
19. Everybody Loves You
20. Young Man
21. Not Ready to Make Nice
22. Goodbye Earl


Post source: Justjared