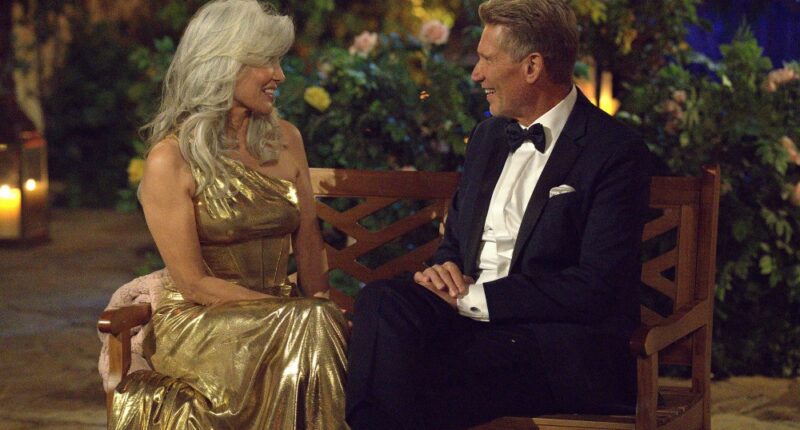 ABC's "The Golden Bachelor" seems to have reenergized "The Bachelor" audience as the show opened to solid ratings on Thursday night, delivering the strongest debut performance from a "Bachelor" franchise series since 2021.
Produced by Warner Bros. Unscripted Television in conjunction with ABC, the more mature take on the dating show debuted to an audience of 4.36 million total viewers. That's a significant lift from the Season 27 premiere of "The Bachelor," which raked in just below 3 million total viewers and a slight jump from the June premiere of "The Bachelorette" Season 20, which recorded just below 2 million total viewers. In the key adults 18-49 demographic, the show pulled ahead of the night's competition during the 8 p.m. hour block with a .62 rating according to Live+Same Day figures from Nielsen.
Season 25 of "The Bachelor," which premiered on Jan. 4, 2021, and featured Matt James' historic run as the leading man, opened to 5.23 million total viewers and 1.33 rating in the adults 18-49 demo.
"The Golden Bachelor" aired both on ABC and is available for streaming on Hulu, meaning these numbers were recorded without multiplatform viewing taken into consideration. So, the viewership figure will likely grow in the coming days.
That figure dropped during the next hour on ABC with the new episode of CBS' "Big Brother" leading the 9 p.m. block. Nielsen's fast national data shows a drop in the "Bachelor" audience with the Season 9 premiere of "Bachelor in Paradise," which opened to 2.17 million total viewers. The show managed a rating 0.3 in the adults 18-49 demo while "Big Brother" earned a .49 rating with an audience of 2.66 total viewers. With a new episode of "The Challenge: USA" closing out the primetime block, the network averaged a .31 rating for the night.
Fox averaged a .43 rating for the night, coming in second overall among the Thursday night competition with the season debuts of "Hell's Kitchen" and "Lego Masters." Meanwhile, NBC recorded a .28 average rating on Thursday night, airing "People's Country Choice Awards" from 8-10 p.m. which scored a .33 rating.
Post source: variety