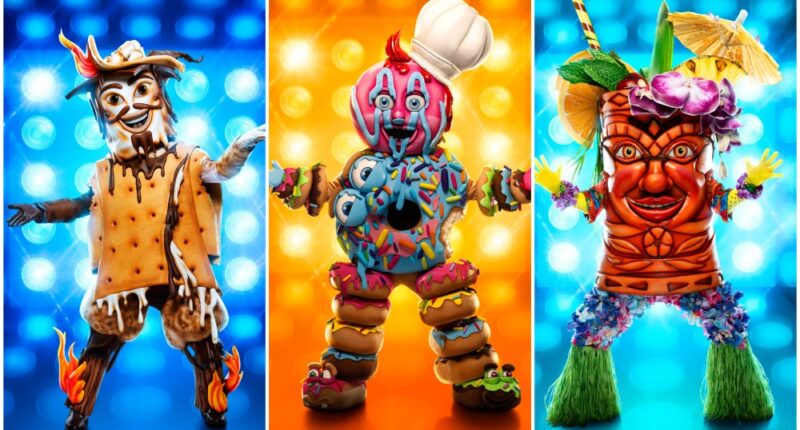 Fox's "The Masked Singer" is taking to the streets next Saturday, Sept. 23, in Los Angeles, offering up freebies throughout the city. Dubbed "Masked Mania," the show has partnered with ten businesses to offer up free food and other items, as well as the opportunity to see some of the show's costumes up close.
"As we approached the 10th season of The Masked Singer, we knew we had to do something exceptional for our fans," said Jean Guerin, exec VP, publicity & corporate communications & talent relations, Fox Entertainment. "Masked Mania is a celebration of this show-stopping hit series and our way of bringing the spectacle and joy of 'The Masked Singer' to the Los Angeles community. We're offering fans a chance to enjoy show-inspired giveaways they won't want to miss ahead of our premiere on September 27."
Here's the roundup of participating businesses:
Los Angeles Ale Works — The brewery's tasting room in Culver City will be offering a special BOGO deal on their rotating selection of beers. Guests who buy one beer will get the second beer for 10 cents. (Also, the Llama from "The Masked Singer" Season 3 will be on display.)
Sweetfin Poké — The restaurant's Santa Monica location will be selling $10 "Masked Mania Spicy Tuna Poké Bowls" with an extra helping of complimentary avocado fanned out on top. Avocado from "The Masked Singer" Season 8 will be onsite.
Trejo's Donuts will feature "The Masked Singer" new Season 10 Donut costume at the pink Hollywood and Highland donut shop, where fans will receive a free "Berry Bomb Donut."
Fred Segal – The retailer's West Hollywood location on Sunset Boulevard will feature a display of Queen of Hearts from Season 6, along with free "Fred Segal ❤ ️The Masked Singer" tote bags. Inside some of these totes are Fred Segal gift cards valued at up to $100. Two winners will also find a pair of tickets to a live taping of "The Masked Singer."
Healthy Spot – Pets visiting the location at Fairfax and Santa Monica in West Hollywood will receive a complimentary bag of "Mind Body Bowl" freeze-dried packaged treats and bandana from "The Masked Singer." On hand will also be a photo op with Rottweiler from Season 2.
Kreation – Anyone who purchases any of the LA juicery's smoothies at its location on 3rd Street will receive a free "Bouncing Berries Smoothie" from "The Masked Singer." Banana from the show's Season 2 will make an appearance.
Trejo's Tacos – Danny Trejo's performance as Raccoon on The Masked Singer will be memorialized at his taco shop's Mid-City location on La Brea. The eatery will pass out a free "Raccoon Taco," made with a choice of beef barbacoa, chicken tinga or mushroom asada. Trejo's Raccoon costume from Season 3 will be on display.
Hard Rock Cafe – TMZ and the Hard Rock Cafe in Hollywood will hand out free purple milkshakes, tied to Milkshake from the show's Season 8, and the show promises a "special surprise" for guests on the TMZ Celebrity Tour.
goodr Cabana – The Venice cabana will hand out a pair of "Pineapple Painkillers" sunglasses for free for the first 500 people who stop by. The goodr Cabana will also display Pineapple from Season 1.
Magnolia Bakery – The bakery on 3rd Street will give away free cupcakes swirled with purple buttercream. Cupcake from Season 6 will be onsite.
"The Masked Singer" returned with a special episode this past Sunday (featuring the unmasking of Demi Lovato). "The Masked Singer" is back for its regular Season 10 on Wednesday, Sept. 27 at 8 p.m. ET.
Back are panelists Ken Jeong, Jenny McCarthy Wahlberg, Nicole Scherzinger and Robin Thicke, and host Nick Cannon. "The Masked Singer" will include a new format this season, with three groups followed by Battle Royale semi-final episodes. The season also includes the return of Wild Card contestants, with one Wild Card introduced to each group, and the "Ding Dong Keep It On Bell" is back in the Battle Royale semi-final episodes, where the judges can choose to save one contestant from elimination and move them directly to the finale.
With sixteen total celebrity singers, Season 10 features new costumes including "Donut," "Anteater," "Hawk," "Hibiscus," "Diver," "Gazelle," "Royal Hen" and a life-size "S'More." Also returning to mark the show's 10th are celebrities who have been previously unmasked since the show began.
The season's themed episodes will include a tribute to Elton John; a "Trolls Night" tied to the November release of DreamWorks Animation's "Trolls Band Together"; a "Harry Potter Night" airing the week of Halloween; "NFL Night"; "One Hit Wonders"; "Disco"; "2000s Night"; "I Wanna Rock"; and "Soundtrack of My Life."
Post source: variety