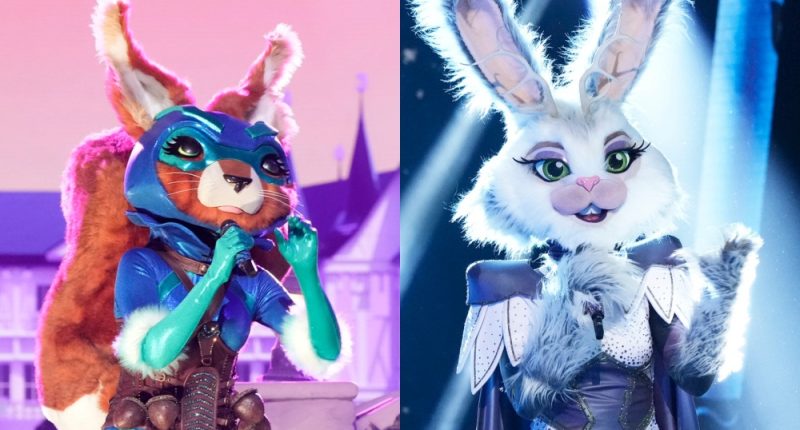 SPOILER ALERT: Do not read ahead if you have not watched the Season 9, episode 5 of "The Masked Singer," which aired March 15 on Fox.
Two more celebrities were unmasked on Wednesday's edition of "The Masked Singer": Actor/comedian Malin Akerman and social media star Lele Pons were revealed to be Squirrel and Jackalope, respectively.
For Squirrel, Jenny McCarthy Wahlberg got it right, naming Malin Akerman. Robin Thicke guessed Heather Graham. Ken Jeong thought it was Katherine Heigl. Nicole Scherzinger picked Kate Hudson. Guest panelist Jennifer Nettles said Anne Hathaway.
As for Jackalope, Scherzinger quickly figured out it was Lele Pons, and Thicke agreed. McCarthy Wahlberg said Jenna Ortega. Jeong went with Selena Gomez. Nettles picked Camilla Cabello.
It was "Sesame Street" night, and the episode opened with Elmo singing "What's The Name of that Song" (or in this case, "Show") before turning it over to Big Bird, Cookie Monster, Grover, the Count and other characters singing "Dynamite" by BTS. Yeah, this show continues to be so weird! (I mean, the chryon introducing host Nick Cannon identified him as "Father to Many Sesame Street Fans." The fact that "The Masked Singer" leans hard into Cannon's fatherhood is always astounding.)
This was also the episode, teased earlier via news reports, that Buffalo Bills player Damar Hamlin dropped by the set. Hamlin recorded the appearance just weeks after he collapsed on field during a January 2 game. On the episode, he's introduced by his little brother Damir.
"My brother, that's my world," Hamlin said of why he made an appearance. "I put family first. And he loves 'Sesame Street' more than most things. So, we had to make it tonight."
Also on hand as guest panelist was singer Jennifer Nettles, host of Fox's "Farmer Wants a Wife," which airs right after "The Masked Singer."
Like last season, "The Masked Singer" has once again adopted a "Champion of Masked Singer" format. Each episode, three costumed celebrities will perform, but only one will win and move on to compete again the following week. After each round, three finalists will compete in the semi-finals.
That means one contestant will be unmasked midway through the episode, with the top two singers facing off in a "battle royale." After Akerman as Squirrel was first to be unmasked, that left Jackalope and Fairy to face off with "On Top of the World," by Imagine Dragons. Jackalope received fewer votes and was unmasked as Pons. The Fairy moves on to next week's episode.
New this season is "Ding Dong Keep It On." In the new twist to the competition, panelists will have the opportunity to save a singer from looming elimination, but the bell can only be rung three times during the first three rounds. Those three singers will then face off on a special episode in a battle to rejoin the competition. On Wednesday, the bell was not rung.
"The Masked Singer" enters Season 9 with 21 contestants include "Mustang," "Axolotl," "California Roll," "Dandelion," "Moose," "Gargoyle," "Jackalope," "Doll," Polar Bear," "Night Owl," "Rock Lobster," "Gnome" and more to be announced. Tim Chappel is this season's costume designer.
Lele Pons as Jackalope and Malin Akerman as Squirrel join Michael Bolton as the Wolf, Grandmaster Flash as Polar Bear, Debbie Gibson as Night Owl, Howie Mandel as Rock Lobster, Sara Evans as Mustang and Dick Van Dyke as Gnome as the celebrities unmasked this season.
The Season 9 contestants "boast a combined 28 Emmy nominations, six Grammy wins, 10 gold albums, four Golden Globe nominations, five medals, 26 books, two Tony Award nominations, five Lifetime Achievement Awards, four stars on the Hollywood Walk of Fame and a combined 95,231,000 records sold."  Season nine will introduce all-new themed episodes, including "ABBA," "New York," "DC Superheroes," "Sesame Street," "80s Night," "Movie Night" and more.
Here were the contestants and their performances on night five:
The Fairy (WINNER)
Song: "You're No Good," by Linda Ronstadt
Panel guesses: Tracee Ellis Ross, Angelina Jolie, Rashida Jones
Clue: Cookie Monster holds up a paper plate that says "Endless Love"
Package voiceover: "Making my debut on 'Sesame Street' night makes me feel right at home. Because I grew up on these streets. Some might say I'm a bit of a nepo-fairy, I mean, while other kids had allowances, I made my pocket money charging the neighborhood kids to come over and see my dad just hanging out at home. I definitely could have taken a more direct route to fame, like some of the friends that I grew up with. But I chose a more divergent path, prioritizing my education and traveling the world. Eventually my destiny led me back to the limelight of Tinseltown. I guess office work just wasn't for me. I got to pursue two of my loves: Singing and acting. Now it's time for me to sing a song from my favorite 'Sesame Street' resident. Because why he may be grumpy, he's an old friend."
Jackalope (LELE PONS)
Song: "Whenever, Wherever," by Shakira
Clue: The Count holds up a sign that says, "30 Under 30." "Donald Glover, Emma Stone and Michael B. Jordan. It is an honor to be on the same list."
Panel guesses: Lele Pons, Jenna Ortega, Camilla Cabello
Package voiceover: "I'm so excited to step into the ring on 'Sesame Street' night because I also love entertaining audiences of all ages. While I'm known to have a lot of influence, you'd be surprised that I wasn't very social. Talking as a kid wasn't my jam. So, growing up, I pioneered other ways to express myself through music and dance. Pretty soon, people all over the world began connecting with me and what I do because this Jackalope don't lie. Posting about your problems to millions of strangers may seem crazy, but being vulnerable gives me strength. I've created a modern family of outcasts and together we've defined an industry. My kind of notoriety has its fair share of trolls. But I've learned to have a thick skin in my arena. So, my competition better watch out because this bunny's moves shine brightest on Wednesdays."
Squirrel (MALIN AKERMAN)
Song: "Just the Two of Us," by Grover Washington Jr., feat. Bill Withers
Panel guesses: Katherine Heigl, Kate Hudson, Malin Akerman, Anne Hathaway
Clue: Buffalo Bills player Damar Hamlin brings out a football with Jeong's face on it. Said Squirrel: "Ken, this is not the first time we've worked together. But it is the first time you've had more lines."
Package voiceover: "My coming out as the squirrel last week was nuts. I had some tough competition, but I knew if I got into the battle royale I could tap into my inner rock star and really show what I'm made of. Now that I'm sitting in the champion seat, I'm feeling a new fire. I'm working hard to make sure no one's going to take this title from me, especially not on 'Sesame Street' night. I'm dedicating my performance to the Count because my kid is his number one fan. That guy's got some style. Just like this new clue. [A wedding gown]. Say yes to the guess."
Previous song: "Try," by Pink
Previous panel guesses: Naomi Watts, Katie Holmes, Renee Zellweger, Margot Robbie, Uma Thurman


Post source: variety