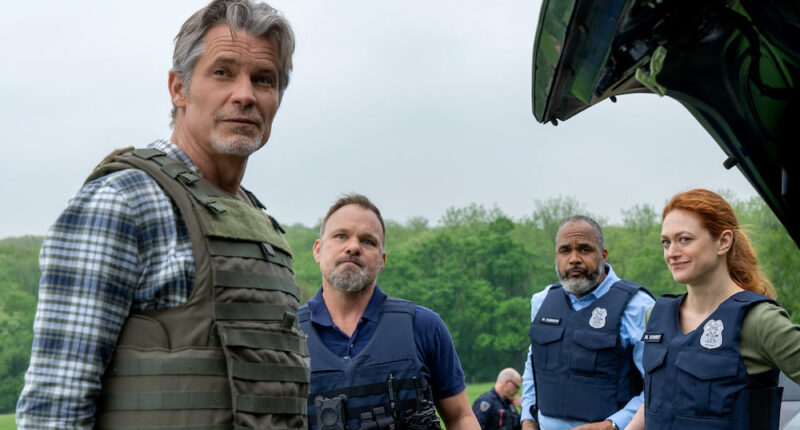 "Justified: City Primeval" returns to FX this July, 13 years after the original hit series "Justified" ended its run. So is this a one-off, or would star Timothy Olyphant be up for more? "I'd show up. I had a good time. Every time we've done this I've had a good time," he told the audience Thursday during ATX TV Festival's opening night in Austin, Texas.
"Justified: City Primeval" made its world premiere Thursday during ATX TV Festival's opening night in Austin, Texas. Cast members Olyphant, Boyd Holbrook, Adelaide Clemens, Vivian Olyphant were joined by executive producer Sarah Timberman.
"If he shows up I show up, we all show up," Timberman added.
Not present, due to the writers strike, were writers/exec producers Dave Andron, Michael Dinner and Graham Yost. But non-writing exec producer Sarah Timberman read a prepared statement from the writers: "'City Primeval' was a work of love… We got to play in Elmore Leonard's universe again. But because of the standoff in negotiations between the WGA and the AMPTP. we cannot be with you to honor the actors and collaborators who are dance partners. We are members and supporters of the WGA. The members deserve a new contract and a fair deal, as do the members of the DGA and SAG-AFTRA. We look forward to the near future when these issues will be resolved."
"I hope those fuckers get everything they're asking for," Olyphant said. "They deserve it. None of this exists without writers."
Big laughs on the panel came from the relationship between the Timothy and Vivian Olyphant, the real life father and daughter who also play father and daughter on "Justfied: City Primeval." Vivian said she hadn't watched "Justified" — actually, she hasn't watched most of her dad's work, besides the animated film "Rango."
"We never watched my dad's work my siblings and I because it's kind of strange," she admitted.
Quipped Timothy Olyphant: "My wife and I talked about it. We knew we were going to be shooting over the summer and she needed a job… Working with her on the audition, I thought, 'this would be a fun person to work with.'"
"Justified" aired for six seasons on FX from 2010 to 2015. The new limited series will follow Olyphant's Deputy U.S. Marshal Raylan Givens and is inspired by Elmore Leonard's "City Primeval: High Noon in Detroit."
The eight-part limited series takes place 15 years later. Givens has left Kentucky, now living in Miami working as a U.S. Marshal and taking care of his 15-year-old daughter. Per the official description, "A chance encounter on a desolate Florida highway sends him to Detroit. There he crosses paths with Clement Mansell, aka The Oklahoma Wildman, a violent, sociopathic desperado who's already slipped through the fingers of Detroit's finest once and aims to do so again. Mansell's lawyer, formidable Motor City native Carolyn Wilder, has every intention of representing her client, even as she finds herself caught in between cop and criminal, with her own game afoot as well. These three characters set out on a collision course in classic Elmore Leonard fashion, to see who makes it out of the City Primeval alive."


Post source: variety