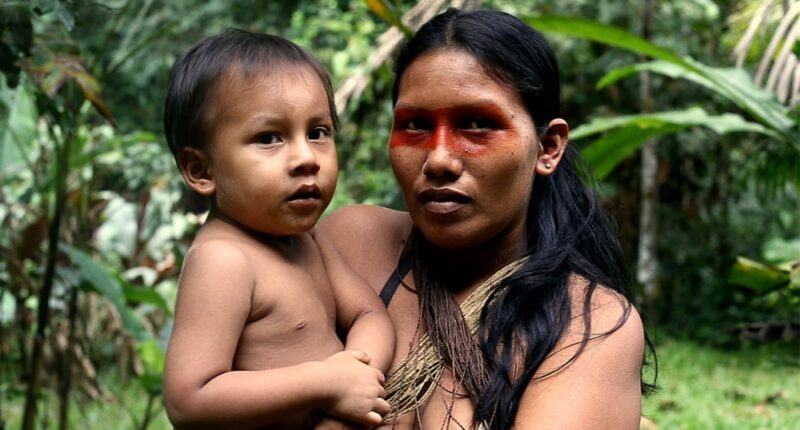 Environmental short documentary "Waorani: Guardians of the Amazon" is aiming to spread its message further with an awards season push beginning with FallDocs.
For thousands of years, the Waorani women of the Ecuadorian Amazon have lived in the biodiverse Yasuni area and coexisted within a delicate ecosystem, which has allowed them to flourish while preserving their unique customs and traditions. A decision to drill for oil in a protected area of the Yasuni National Park was rejected by 60% of Ecuadorians in August.
"Waorani Guardians of the Amazon" follows the journey of Ecuadorian director Luisana Carcelén as she ventures deep into the heart of the Waorani women's community in Ecuador. She unveils the testimonies of women who have assumed leadership roles and stand as steadfast guardians of their habitat and families, facing down the corporate and governmental powers that seek to demolish their home and silence their voices.
The cause has found plenty of celebrity support. Ridley Scott said: "The Waorani documentary is an impressive introspection into the cosmovisión of the Waorani tribe defenders of the last Eden on Earth called Yasuni." Woody Harrelson added: "A living embodiment of unwavering strength, Waorani unearths the remarkable resilience of indigenous women they valiantly shield their Amazonian abode from the encroachment of corporate interests – a testament to their enduring bond with the land."
Julia Stiles said: "A fascinating and crucial documentary. The Waorani shows us a radically different way to interact with the natural world. We could learn so much from their way of life. The very least we can do is not destroy what they have nurtured." Billy Zane added: "Responding to Ecuador's resounding call, the movie embraces the rallying cry of the #YesToYasuní movement and unites with Waorani in a resolute stance to shield our world's invaluable array of life and marvels, as we collectively champion the preservation of our planet's extraordinary diversity."
The documentary is part of the FallDocs series, which will take place from Sept. 19 through Nov. 16, with in-person screenings in Los Angeles at The Culver Theater and virtual screenings through the International Documentary Association's Eventive streaming platform. "Waorani: Guardians of the Amazon" is selected as part of the IDA's support for independent filmmakers from historically excluded communities pursuing a film awards campaign with the Awards Campaign Access Initiative.
The film is co-directed and creatively produced by Jamaicanoproblem. The production company is Paracas Independent Films in association with Waorani Woman AMWAE. It is co-produced by Manuel Cardenal and associate producers include Xavier Guerrero, Lily van Ghemen and Debbie Vandermeulen.
Post source: variety