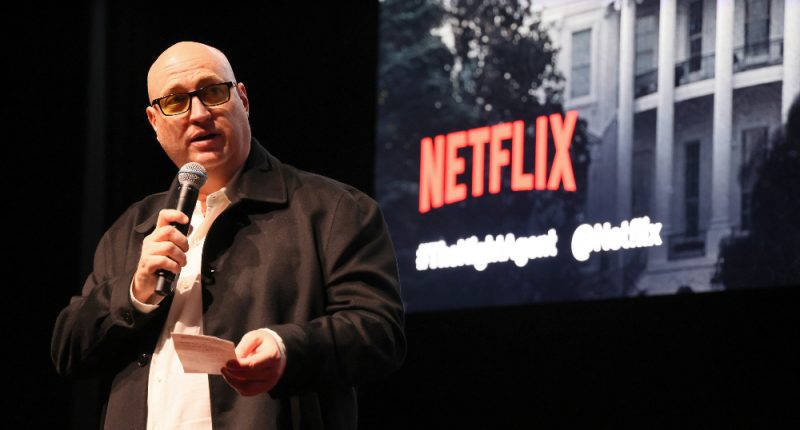 Fans of Matthew Quirk's novel "The Night Agent" might be surprised to see a few creative changes in Shawn Ryan's series adaptation on Netflix. For instance, not only is there the addition of several new players — including Eve Harlow, who portrays Ellen, an opposing cutthroat spy — but Ryan, who serves as showrunner and executive producer, said Rose (Lucianne Buchanan) and Peter's (Gabriel Basso) love story will be deeply explored throughout the political thriller's 10 episodes.
The series follows FBI agent Peter Sutherland, who while working in the basement of the White House monitoring an emergency line that rarely rings, answers a call that plunges him into a deadly conspiracy involving a mole in America's executive mansion.
When asked what inspired him to pursue the relationship angle at Monday night's red carpet premiere, Ryan revealed the storyline wasn't something he originally planned, but instead grew organically from the characters' shared traumas.
"Movies have had a lot more success in the genre than TV shows, but one of the things that I think movies have a hard time with is having this love affair that happened super quick. So, a romantic relationship wasn't at the center of our attention," Ryan said. "As writers, what we said was, 'Let's put these two characters together. Let's have them go through this crisis together — what's happened is shared trauma — and as we go episode by episode, let's see what happens. And if something does happen, let's have it organically.' So it was taking that approach that, making a 10-episode season for Netflix, you can really be patient and take your time and sort of earn any moments like that."
Quirk's 2019 New York Times bestseller got a series greenlight from Netflix in 2021. But it was the popularity of the story coupled with Ryan's involvement that was the catalyst for multiple cast members to board the project, including Basso, D.B. Woodside and 2023 Oscar nominee Hong Chau.
Like her counterparts, Chau acknowledged that she, too, was a fan of Ryan's previous work and was certainly intrigued by the idea of working in this fictional universe that he was giving the Hollywood treatment. But there was a specific selling point from Ryan that made it a no-brainer.
"One of the questions that I asked Shawn Ryan initially was why he wanted to work on this project, because it does veer quite a bit from the book that it's adapted from, and he gave a very interesting answer," Chau said. "It was his desire to explore the different dynamics between men and women in a professional work environment, how they differ, how they come to work together, move forward and make progress. I thought that was a very sensitive question to always have in the back of our minds as we were shooting the show."
"The Night Agent" is a step away from the work Ryan's done in the past, which he said was a purposeful move. According to the showrunner, who is best known for shows like "Timeless" and "The Get Down," his desire to tackle a genre he hadn't approached before is what ultimately attracted him to the project.
"I'm always trying to do something different than what I've done before," he said. "I've never done a show like this before, a real serialized political thriller. I really set it as a challenge for the other writers or myself: Can we make you feel at the end of each episode, 'Hey, I have to be at work in seven hours. But I can't go to sleep not knowing what happens next?'"
Ryan added, "The writers did a great job and just came up with a story that I think it's just so fun to watch. There's some bad stuff that happens, but it's kind of enjoyable to watch, and there's some twists and backstabs. But, also, there's a great relationship story at the center of it. Peter and Rose are two main characters. They don't know each other at the beginning of the show but they become very important in each other's lives by the end of the first season. I think there's something that the husbands and wives will want to watch together and that their teenage kids might enjoy watching with them."


Post source: variety