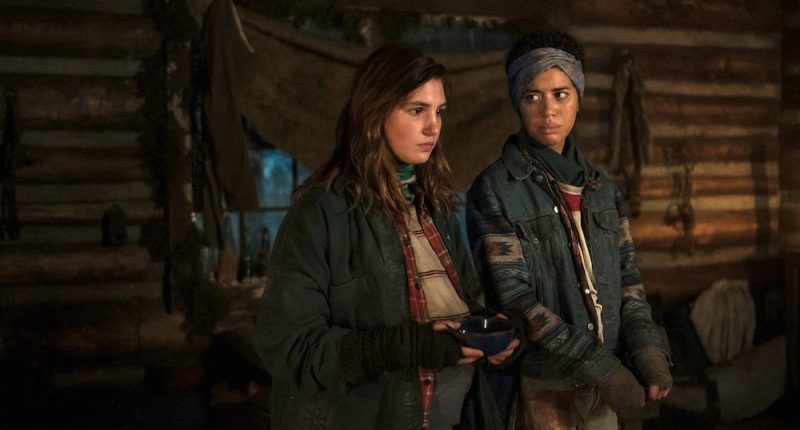 Showtime's buzzy, bloody drama "Yellowjackets" finds itself in a most precarious position going into its second season. Trying to top a successful first season is always a challenge, particularly when the maiden voyage earns six Emmy nominations, including one for Outstanding Drama. But the inherent pressure to maintain the momentum is acute for "Yellowjackets," a puzzle-box show that teases supernatural elements. Recent television history is littered with the wreckage of similar shows that started out tense and intriguing, then collapsed once it became clear that the storytellers built an ornately beautiful box but forgot to put anything rewarding inside it.
Creators Ashley Lyle and Bart Nickerson, along with showrunner Jonathan Lisco, solved that issue by stuffing their puzzle box to the brim with two harrowing serialized stories. In one story, members of a high school girls' soccer team survive a plane crash en route to a tournament only to face an unforgiving, wintry wilderness and what could be a malicious supernatural entity pushing them toward madness. In the other story, set 25 years later, the Yellowjackets who survive the woods are freighted with trauma, and desperate to conceal the grave choices they made as kids.
With so many characters in two timelines, "Yellowjackets" became a Swiss Army-knife show, capable of shifting between genres and tones from episode to episode and scene to scene. The wilderness flashbacks are grisly survival horror, but they never lose sight of the sweet coming-of-age elements required of a teen drama, even one with the occasional cannibalistic feast. Season 2 finds the survivors in an increasingly dire situation as supplies dwindle. They're no better off emotionally, still coping with the death of Jackie (Ella Purnell), who remains a spectral presence both in the wilderness and in a refreshed version of the show's excellent opening titles.
When focused on the adult characters, "Yellowjackets" splits into a narrative parfait. The top layer is Shauna (Melanie Lynskey), a listless suburban mom who welcomes a threat to reveal her forest secrets as an opportunity to return to a time when courting death made her feel most alive. Her husband, Jeff (Warren Kole), gets an expanded role in Season 2 as they work to conceal a murder Shauna committed from the police, and from their suspicious daughter Callie (Sarah Desjardins). Even as the noose tightens, Shauna's storyline is consistently hilarious, playing like a morbid version of the many mumblecore comedies on Lynskey's resume.
Considering how bleak it is, "Yellowjackets" maintains a startling sense of humor throughout its storylines. The comic leavening is a blessing when the show delves deeper into psychological terror. Taissa (Tawny Cypress) should be riding high after her winning campaign for state senator, but instead is piecing together the mystery of her feral alter ego to win back her terrified family. Natalie (Juliette Lewis) was moments away from dying by suicide until she was kidnapped by cultists at the direction of Lottie (Simone Kessell), whose post-rescue life looks nothing like what her old teammates imagined. Then there's Misty (Christina Ricci), currently television's most terrifying character, whose citizen detective work intensifies when she teams up with kindred spirit Walter (Elijah Wood).
"Yellowjackets" is spinning a whole lot of plates, and as of six episodes into the second season, none of them has dropped yet. But while the show does an impressive job of servicing its many, many characters and plot threads, the nested cliffhangers of the Season 1 finale made a mess that takes time to tidy up. The core characters are trapped in siloed storylines that keep them mostly separated for the first half of the season. And because each plot thread varies so much in tone and temperature, the scene transitions feel bumpier than in season 1. As fun as Misty and Walter's quirky buddy-cop dynamic is, for example, it doesn't feel of a piece with the tense reunion of Taissa and her estranged wilderness girlfriend Van (Lauren Ambrose). Because its characters share a space and a purpose, there's often a greater urgency to the survival storyline despite it taking place 25 years ago. Besides, the show's juiciest mysteries lie in the past, in the truth of the unspeakable horrors the Yellowjackets endured.
Lyle, Nickerson, and Lisco have been refreshingly candid and definitive about their Season 1 choices, choosing not to play coy about Jackie's fate or the identity of the "Antler Queen." Their transparency instills a sense of trust that will prove vital to the show's continued success given that Season 2 surpasses the insanity and brutality of its predecessor. The first instances of cannibalism are shown early on, in scenes even weirder and more tragic than anyone could have anticipated. It's nice to know deliberative professionals are manning the ship as the story grows ever more shocking.
The trust factor is also important because "Yellowjackets" is leaning harder into its potential supernatural elements, and the show is at its least convincing when it's inviting questions about the mysterious symbol or Taissa's visions of a "man with no eyes." If the show explores the paranormal as thoughtfully and confidently as it does teen cannibalism and sticks the landing again in the season finale, "Yellowjackets" will vault to the top of the puzzle-box ranks. But with a show this daring, a fiery wreck always feels moments away.
"Yellowjackets" streams on March 24 on the Showtime app, and premieres on Showtime's linear channel on March 26.  


Post source: variety