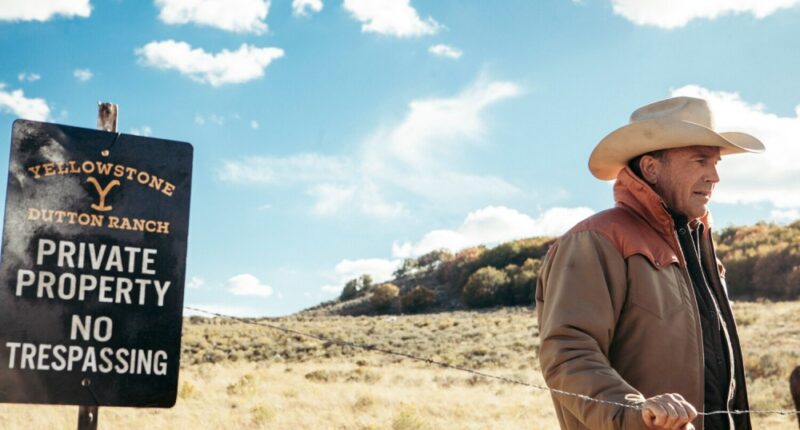 Observing a helicopter zip across a mountainous skyline accompanying a fleet of cowboys on horseback, running at full speed below is a jarring visual. It's as if time and space have suddenly fused. In an instant, the past and the present meet in the middle to produce something that is at once familiar and entirely unexpected. Some 60 years removed from Western films dominating the box office, fans of the genre can now turn on their televisions weekly, diving into Taylor Sheridan's neo-western "Yellowstone." The series originally debuted in 2018 on the basic cable channel Paramount Network, spawning an enormous fandom and two spinoffs, "1883" and "1923," on corporate sibling streamer Paramount+. Now, amid the ongoing WGA and SAG-AFTRA strikes, which have generated a sparse fall TV lineup, "Yellowstone" is getting a big platform boost and a new home on the Paramount-owned broadcast network, CBS.
Audiences aren't entirely unfamiliar with neo-Westerns. The Coen Brothers' Oscar-winning "No Country For Old Men," many of Quentin Tarantino's films and Sheridan's own "Sicario," presented varied viewpoints of these lawless communities. Yet, in our current political climate, few modern middle-American conservative-leaning shows have been as well-cast, massive and intricate as "Yellowstone." The series first gained traction in more rural areas, garnering huge ratings amid the pandemic lockdown that brought viewers from coastal cities into this cowboy-filled world. 
Though the politics within the show aren't quite overt, Sheridan has long cast himself as a Hollywood outsider. Having written every single episode of "Yellowstone" and its spinoffs, the prolific writer and showrunner has been lambasted in the press for his criticism of the WGA's demands for a minimum number of writers in rooms. "The freedom of the artist to create must be unfettered," he told The Hollywood Reporter. "My stories have a very simple plot that is driven by the characters as opposed to characters driven by a plot — the antithesis of the way television is normally modeled." He added, "So for me, writer's rooms, they haven't worked."
Personally, the American Western has never appealed to me. Envisioning cowboys as the heroes never quite aligned with my worldview. As a Black American woman born and raised on the South Side of Chicago, James Baldwin's quote from 1965's "The American Dream and the American Negro" has always come to mind when I consider the classic Western film. Baldwin says, "It comes as a great shock around the age of 5, 6, or 7 to discover that the flag to which you have pledged allegiance, along with everybody else, has not pledged allegiance to you. It comes as a great shock to see Gary Cooper killing off the Indians, and although you are rooting for Gary Cooper, that the Indians are you." Still, amid the frenzy surrounding "Yellowstone" and the forthcoming David Oyelowo starrer "Lawman: Bass Reeves," which centers on a formally enslaved man who became the first Black U.S. Marshall (Sheridan serves as an executive producer), I thought it was time I took a look at "Yellowstone." 
The pilot begins with a fatal accident, a maimed horse and a gushing head wound. While the opening scene would be enough to rattle even the most even-keeled person's nerves, John Dutton III (Kevin Costner), stoic patriarch, Livestock Commissioner and owner of the mammoth-sized Yellowstone Dutton Ranch, appears mostly unaffected. As the world around him begins to take shape, centering the (stark white) community of Bozeman, Montana, secrets, desires and all of the horrors John can inflict come to life.
Towering men like John Dutton aren't propped up alone. In the film-length opener, Sheridan carefully peels back the layers of the rancher's life, including his four children. The adopted Jamie (Wes Bentley) is a lawyer who understands the family business but doesn't work the land. Lee (Dave Annable) is a cowboy, but his apathy toward networking and negotiating makes him an ill-suited heir. Kayce (Luke Grimes) is the family black sheep who has distanced himself from his father and the Dutton dynasty to live with his Indigenous wife and son on the nearby Broken Rock Indian Reservation. Finally, there's Beth (Kelly Reilly), the prodigal daughter who may be the only other Dutton as menacing as John.
While the layered intricacies of the Duttons' family history sit at the core of "Yellowstone," Sheridan carefully unfurls the other intense connections shaping this society. A development company, Paradise Valley, is attempting to build condos near Yellowstone, which would be another unsettling erosion in a rapidly gentrifying community. While John is more than willing to wield his influence and money to halt the subdivision, he also finds himself at odds with the people of Broken Rock and the reservation's newly instated and formidable Chief, Thomas Rainwater (Gil Birmingham). Chief Rainwater has no qualms about reminding John what true encroachment really is. By the end of Episode 1, a life-altering confrontation shows how far these men will go to prove a point and maintain strongholds in their respective communities.
"Yellowstone" was always going to be a massive undertaking. Sheridan showcases the world he knows on screen while shifting some focus toward Broken Rock. By highlighting the fundamental inequities and hardships Indigenous communities continue to face, the audience must sit and assess (or continue to deny) American history as it is and has always been. Throughout the pilot, "Yellowstone" manages to keep a certain standard for itself both with its setting and by highlighting what works best about the series: its familial dynamics.
Since "Yellowstone's" debut, Sheridan has become a larger-than-life figure who positions himself as an every-man (despite his mounting millions) with an all-American appeal — in spring 2022, he appeared on the cover of Variety on a horse, and he occasionally appears on "Yellowstone" as a cowboy. Despite the iron-clad control he has over his shows, including Paramount+'s "Tulsa King," "Mayor of Kingstown" and "Special Ops: Lioness," he will undoubtedly pull in millions more fans since "Yellowstone" is now more wildly accessible. A nostalgic moment for fans who have tuned into the Duttons since the beginning, "Yellowstone's" turn at CBS is a chance to revisit their world as it was before its recent descent into disarray. 
Now in its fifth and final season, Sheridan initially planned for six final episodes of "Yellowstone," though he told THR he is now hoping for 10. However, Costner has exited the series amid creative and salary disputes. For his part, Sheridan appears determined to give "Yellowstone" a conclusion, even if it's not exactly the one he originally planned. "I'm disappointed," Sheridan told THR. "It truncates the closure of [Costner's] character. It doesn't alter it, but it truncates it."
While this may be the end of "Yellowstone," as many fans have known it, it is also a rebirth for the show in many ways. CBS has told Variety that the network will air nearly identical episodes to those that originally debuted on Paramount+. Moreover, the "Yellowstone" saga is set to continue. A new spinoff starring Oscar-winner Matthew McConaughey is in the works. Sheridan has hinted that the series, though adjacent to the original, will likely showcase an entirely new cast and location. Since both McConaughey and Sheridan are Texans, the Lone Star state could play a central role in the story. "My idea of a spinoff is the same as my idea of a prequel — read into that what you will," Sheridan said. 
For now, at least on CBS and Peacock, "Yellowstone" exists as it was. Ironically, the show is not streaming on Paramount+ because Peacock's parent company, NBCUniversal, purchased the streaming rights to the series in 2020 before Paramount+ launched in 2021. CBS' re-platforming of "Yellowstone" with a stoic Costner at the center may feel a bit absurd. However, since it will undoubtedly reach a new streaming-weary audience, it is the perfect send-off of sorts to a mountainous character, this branch of the Dutton family tree, and a relic-filled genre. "Yellowstone's" new broadcast home is precisely where the massive and wildly entertaining epic should have been from the beginning.
"Yellowstone" will make its broadcast debut on Sept. 17 on CBS, with episodes airing weekly on Sundays. Seasons 1-5 are currently streaming on Peacock. 
Post source: variety