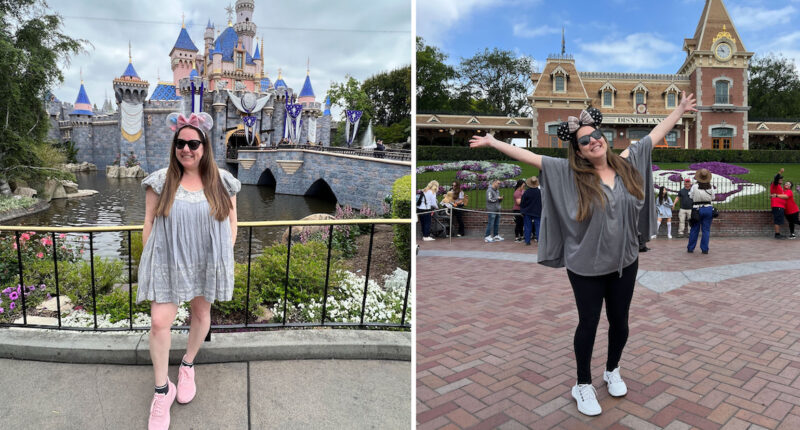 With the Well+Good SHOP, our editors put their years of know-how to work in order to pick products (from skin care to self care and beyond) they're betting you'll love. While our editors independently select these products, making a purchase through our links may earn Well+Good a commission. Happy shopping!
Explore the SHOP
I've been to Disneyland around 300 times in the last eight years (I'll wait for you to pick your jaw up off the floor). Such is the life of a Magic Key Holder (aka, annual pass holder) who only lives 35 miles from the parks. When it comes to the best shoes for Disneyland, I've found some that not only stand the test of time, but stand up to a full day of walking, walking, and more walking. Not to mention standing in lines for rides and watching parades or fireworks. That's a lot of standing—but that's also exactly what will happen during your Disneyland day.
"Our feet are our foundation and serve as our body's shock absorbers," says board-certified podiatrist and foot surgeon Dr. Bradley Schaeffer, DPM. "They can take a lot, but they also need a break from weight bearing and relentless pounding, especially for a long day and night at Disneyland."
In This Article
01

Top factors to consider before buying

02

Best shoes to wear to Disneyland
The best shoes for Disneyland, at a glance:
Best overall sneaker: Kizik, Athens, $129
Best sustainable sneaker: Allbirds, Tree Dasher 2, $135
Best classic sneaker: New Balance Fresh Foam X 1080v12, $160
Best fashion sneaker: Skechers x DVF, Arch Fit in Sprinting Spots, $115
Best affordable sneaker: Pink Lily, Rylee Air, $52
Best neutral sneaker: Reebok, Floatride Energy 5, $88 (originally $110)
Best athletic sneaker: Brooks, Ghost 15, $140
Best fashion sandal: FitFlop, F-Mode Leather Flatform Back-Strap, $130
Best trekking sandal: Teva, Midform Universal, $65
Best sporty sandal: Clarks, Dash Lite Cross, $90
Best recovery shoe: Oofos, Oomg Sport, $140
The amount of steps I get in a day at Disneyland is staggering, but probably not surprising. I average at least 12,000 every time I head to Disneyland and California Adventure. While some of those days have seen upwards of 20,000 steps—that's a sun-up to sun-down type of day with friends or family from out of town—even a "normal" shorter day for me still gains a minimum of 10,000. It stands to reason that the shoes I'm wearing had better be comfortable. Additionally, I broke my ankle seven years ago, and still have residual pain from that. So my sneakers need to take that into account, too.
Luckily, I've found a host of sneakers and sandals that make the Disneyland grade—so all I have to do is slip them on, climb into an enchanted pirate ship, and ride off into starry-filled London with Peter Pan. Read on to find out the best shoes to wear to Disneyland, along with some tips and tricks from Dr. Schaeffer on what to look out for when choosing a pair of sneakers or sandals for a day at the parks.
What are the top factors to consider when choosing a pair of shoes for Disneyland?
In between snacking on churros and riding Space Mountain, you'll do a lot of walking at Disneyland. An average day could be anywhere from 15,000-20,000 steps, which means you need to keep a few important things in mind when choosing the right shoes to take you through the day.
Arch support
The arch provides both support and balance. Arch support is "the most critical feature that affects comfort and can help prevent a myriad of issues," says Dr. Schaeffer. Improper arch support can lead to issues like plantar fasciitis, pain in the lower legs and back, and hammertoe.
Good cushioning
This helps your feet absorb shock and avoid further tissue irritation and damage. But Dr. Schaeffer cautions that your shoes shouldn't overcompensate. "Sometimes, too squishy means less or replaced support," he says.
Proper size
The right shoe size should take both length and width into account. "You don't want your heel or foot slipping around," Dr. Schaeffer warns. He recommends trying shoes on after you've been walking around a store for awhile, and with the same kind of socks you're planning to wear.
Break-in period
Schaeffer says you probably wouldn't want to stand in new heels for hours on end at an event—and that goes for wearing new sneakers to an amusement park like Disneyland, too. "New shoes, whether they fit properly or not, will tend to be stiffer," he says, which "could cause blisters and irritation."
Now that you're armed with info about how to choose the best shoes for Disneyland (or footed, as the case may be), it's time to find the pair that's right for you. Below, discover a few of my favorites.
The best shoes to wear to Disneyland, according to a frequent visitor
Best overall:
Kizik, Athens — $129.00
Available sizes: 5-13
When it comes to sneakers that let you do it all during a day at Disneyland, Kizik's Athens are the way to go. Not only are they designed with the brand's signature Rabbit Foam® on the outsole for slight lift and added cushioning, but the hands-free, slip-on silhouette lets you slide your foot right in with immediate heel bounce back and no lace-up tightness lost. They come in 19 different colors, my favorite being the pretty pastel Pink Lemonade.
During one long Disneyland day, I stood in them for an hour to watch the Magic Happens parade, waited in two different 25-minute ride lines, and walked 12,000 steps, all without a hint of discomfort. And, for anyone worried about a break-in period, that was my first day wearing them! No blisters, no tightness around the toes, just a full day of Mickey-loving fun.
Colors: 19
Easy, slip-on styling
Removable and washable insoles
All-day comfort
Similarly priced to other sneakers
No break-in period required
Available in half sizes
Some people might not like the colors available
Best sustainable sneaker:
Allbirds, Tree Dasher 2 — $135.00
Available sizes: 5-11
Last year, I polled my Instagram followers about their recommendations for the most comfortable sneakers for a full day of walking around the parks. Allbirds won by a mile (pun intended). The Tree Dasher 2 features a no-slip heel fit, a cushy SweetFoam® midsole, and a unique one-piece upper in lightweight, breathable mesh that's made from FSC® certified eucalyptus trees.
I'd recommend breaking them in ahead of your long day at the parks, since the insole's slight rocking feeling made them take a little while to feel right. This disappeared within about an hour, and then they were incredibly light and comfortable. With the aforementioned tree upper, a midsole made from sugarcane-based green EVA, and even shoe laces made from recycled plastic bottles, Allbirds is the most sustainable option for Disneyland shoes.
Colors: 11
Made from sustainable materials, with a low carbon footprint of 6.01 kg CO2e
Lightweight and breathable
Available in half sizes
11 different colors, with both basics/neutrals and fun fashion colors
Need about an hour of breaking in before a long day of walking
Best classic sneaker:
New Balance, Fresh Foam X 1080v12 — $160.00
Available sizes: 5-13
If you're looking for classic sneakers that are as functional as they are comfortable, these ones by New Balance are a perfect option. With availability in both standard and wide widths, and expanded sizing (think whole and half sizes from 5-13), this style stands both the test of time and a long Disneyland day.
They feature midsole mapping, which applies more foam to wider areas of the midsole and provides increased flexibility at narrower points of the foot. The Hypoknit mesh upper makes them supremely soft and breathable throughout long days of waiting in ride lines. While they're offered in a variety of seven different neutral and colorful colors, I'm personally drawn to the neon grapefruit hue, since it stands out even if you're in a more neutral outfit. (People who are into #DisneyStyle, like me, will definitely appreciate this.)
Colors: 9
Out-of-the-box comfort with no need to break in
Comfortable for both walking and standing
Available in both standard and wide widths
Runs a bit big, so you may want to go down a half size
Design may be a bit clunky/outdated for some
Best fashion sneaker:
Skechers x DVF, Arch Fit in Sprinting Spots — $115.00
Available sizes: 5-11
Fans of Diane von Furstenberg and of Skechers will go wild for these sneakers from their latest collab. They feature Skechers' Arch Fit technology, which includes a removable, supportive cushioning insole system—though I personally find the sneakers much more comfortable with the insoles in place.
DVF's iconic animal print adorns the bold, must-be-noticed silhouette. These sneakers stand up well to a day of steps galore. Plus, they'll look great in photos of your Disney day.
Colors: 1
Machine-washable
Fit true to size
They only come in standard/medium width
Best affordable sneaker:
Pink Lily, Rylee Air — $52.00
Available sizes: 5-10
Fun, colorful, bright—Pink Lily's Rylee Air sneakers are definitely ones to watch. Truth be told, I love them as much for their pink and orange colorblocked design as I do for their comfort level. They're easy to slip into and walk multitudes of steps, but photograph well in front of Sleeping Beauty Castle or with a coordinating Dole Whip swirl, so it's a win-win. While they are comfortable right out of the box, they do also run a bit big, so you may need to size down.
Colors: 2
Very affordable
No breaking-in required
Sizing is a bit limited — only 5-10 with no half sizes
Runs big, so may need to size down
Best neutral sneaker:
Reebok, Floatride Energy 5 — $88.00
Available sizes: 5-12
Reebok has long been one of my go-to Disneyland sneaker brands. I have a pair from 2012 that I've basically run into the ground, so I was beyond happy to discover the Floatride Energy 5. These sneakers feature a comfortable, breathable mesh and synthetic upper, and a removable cushioned insole. Reebok's signature Floatride Energy Foam helps provide additional lightweight and ultra-responsive cushioning. They also feature very modest logo detailing, which is nice if you don't like large emblazoned logos. I will caution that they run a bit big, so I would recommend sizing down either a half or full size. Once you find the right fit, though, they're exceedingly comfortable while also matching every single Disneyland outfit you can think of. I'd say that makes them Mickey-approved.
Colors: 2
Crafted with comfortable and lightweight cushioning
Runs a bit big, so size down
Only available in two colors
Best athletic sneaker:
Brooks, Ghost 15 — $140.00
Available sizes: 5-13
I'd been curious about Brooks for awhile, since one of my friends raves about them—in particular, the brand's best-selling Ghost 15s, which are ideal for walking long hours (and running). These sneakers are designed with soft cushioning, including DNA LOFT v2 cushioning in the midsole, for the perfect distribution of bounce and plushness while still feeling substantial.
Crafted with 57 percent recycled materials in the upper and 6.58 plastic bottles diverted from landfills, they're also sustainable. With almost 30 colors to choose from, it's fairly impossible not to find at least one you want to take to Disneyland.
Colors: 20+
Available in both medium and wide widths
Fit true to size
Style may look a bit bulky to some
Not all colors are available in all sizes or widths
On the more expensive end
Best fashion sandal:
FitFlop, F-Mode Leather Flatform Back-Strap Sandals — $130.00
Available sizes: 5-11
Let's face it—sometimes you just want to look a little cuter while walking around the parks. And especially when the weather is warm, you may want something open-toed. On those days, opt for these FitFlop F-Mode flatforms, which blend comfort with style in an on-trend, flatform silhouette. The adjustable buckled back strap stays put without digging in, and the brand's signature Microwaobbleboard™ midsole delivers the utmost in ergonomics and cushioning.
While you may not want to walk a full 20,000 steps in these, they are actually very comfortable for a long park day (with a possible change to sneakers at night). They're especially ideal for days when you want to grab some Disneyland popcorn, stroll through the shops, take some #DisneyStyle photos, and do some people watching.
Colors: 4
Comfortable right out of the box
The buckle is adjustable for a perfect fit
Fit true to size
Only available in four neutral colors
May not be best for extremely large step counts
Best trekking sandal:
Teva, Midform Universal — $65.00
Available sizes: 5-11
I still remember my first pair of Tevas. I was a junior in high school, and my grandparents bought me a pair to wear on summer vacation. While that pair is long gone, the Midform Universal sandals are still my go-tos for long-distance comfort. Whenever I know I have a long park day in extreme summer temperatures ahead, I opt for these.
Two adjustable straps across the vamp and ankle ensure a perfect fit, the rubber outsole has fantastic traction, and the Midform style offers enough height and cushioning in the EVA footbed to keep me going all day and night. I've also found that the straps of the Midform style don't cut into my skin, while the lower Original Universal style offers less comfort. The colors continually update, too, so you can find new ones to love.
Colors: 14
An affordable, everyday option
Fit true to size
The higher midform style keeps straps from digging into skin
Colors sell out and aren't replaced
No half sizes or wide width available
Best sporty sandal:
Clarks, Dash Lite Cross — $90.00
Available sizes: 5.5-11
When it's too hot for sneakers, but you still need the ultimate in comfort, the Clarks Dash Lite Cross is a perfect pick. The open-toe sandals are, in fact, light, while the ergonomic MI-X footbed gives them a supportive, cloud-like fit.
They feature two adjustable Velcro straps and a treaded rubber outsole that keeps you moving without tripping or sliding. I also love the padded underlay at the heel, which ensures that they won't cause rubbing, irritation, or blisters. Something tells me Minnie and Daisy would love them, too.
Colors: 2
A bright and colorful option for a park day
Adjustable straps ensure a perfect fit
Only available in two colors
A bit expensive at $90
Best recovery shoe:
Oofos, Oomg Sport — $140.00
Available sizes: 5-11
Walking around Disneyland for an entire day can be a hot, sweaty experience, especially in the dead of summer. The Oofos Oomg Sport shoes are perfect for days like this, since the closed-cell foam is lightweight, breathable, and machine washable. They feature Oofos' patented OOfoam™ technology and footbed geometry, along with a 4-way stretch upper that conforms to the way you move. It almost feels like you're rocking back and forth, which admittedly can take a little getting used to.
One of my friends who runs many Disney races also loves them as a post-run recovery option. While you may not want to wander the parks in these from sun-up to sun-down, they're great as a mid-afternoon into evening pair. They do also take some breaking in, especially since they conform so well to your feet, so wearing them out of the box and straight to Fantasyland isn't recommended. However, they are a great option for water rides like Splash Mountain and Grizzly River Run!
Colors: 4
Available in a wide variety of sizes
Lightweight and breathable
The rocking feel can be off-putting
On the pricier side
Our editors independently select these products. Making a purchase through our links may earn Well+Good a commission.


Post source: Well and Good