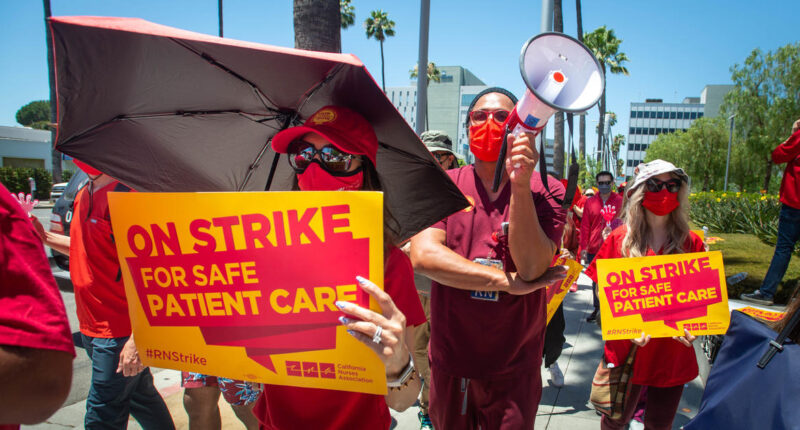 More than 75,000 health care workers could go on strike within days if negotiators fail to reach agreement on a contract that expires Saturday at midnight. If it occurs, the strike would impact Kaiser Permanente facilities in five states and Washington, D.C.
Without a deal, Kaiser Permanente workers including nurses, lab technicians, orderlies, pharmacists and therapists are ready to walk off the job for three days from October 4 to 7. The action would impact hospitals, clinics and medical offices in California, Colorado, Oregon, Virginia and Washington as well as Washington, D.C., according to the Coalition of Kaiser Permanente Unions.
Such a walkout would represent the biggest health care strike in U.S. history, the coalition, which is negotiating on behalf of about 40% of Kaiser's workforce, said in giving notice last week.
The health care workers are on the verge of striking after disagreements about pay and staffing, with some employees telling CBS MoneyWatch that more employees are needed at their facilities to provide adequate care to patients and avoid worker burnout. The disagreements have persisted after months of contract talks between the Oakland-based health care giant and the Coalition of Kaiser Permanente Unions. 
The labor action could be followed by "another longer, stronger strike in November," the coalition said.
The bargaining resumed on Friday and could continue through the weekend if necessary, both sides said.
"Heart-breaking" job
Employed by Kaiser for 27 years, ultrasound technician Michael Ramey said the job he once loved is "heart-breaking" and "stressful" due to a staffing crisis that he and his colleagues argue harms both employee morale and patient treatment. 
"You don't have the ability to care for patients in the manner they deserve," said Ramey, 57, who works at a Kaiser clinic in San Diego and is president of his local union. "We are willing to do whatever it takes to ensure we have a contract in place that allows us to be staffed at the levels where we need to be."
Worker fatigue also takes a toll. "People are working more hours than they want to be working, and even that creates a problem with patient care — if you know you're going to miss your kid's soccer game," he gave as an example.
Interacting with patients, Ramey fields complaints of not being able to schedule medical procedures in a timely fashion. "They are telling you how long it took to get the appointment, and then you have to tell them how long it will be to get results," Ramey said. "There's a breakdown in the quality of care. These are people in our communities." 
Delays in scheduling care
For Stockton, California, resident and Kaiser pharmacy technician Savonnda Blaylock, the community includes her 70-year-old mother, who struggled to get an appointment for an emergency scan of a blockage in her colon. "This staffing crisis is coming into our living rooms right now," Blaylock said. 
"If we have to walk off, it impacts not just my mom but a lot of patients," said Blaylock, 51, who has worked 22 years for Kaiser and, like Ramey, has a seat at the bargaining table. Still, her mom and others understand that "our patients are why we're doing it," she said of the potential strike. 
"Every health care provider in the nation has been facing staffing shortages and fighting burnout," and Kaiser Permanente "is not immune," Kaiser Permanente said in an emailed statement. 
Kaiser and the coalition agreed in prior bargaining to hire 10,000 people for coalition-represented jobs by the end of the year, a goal the company expects to reach by the end of October, if not sooner. "We are committed to addressing every area of staffing that is still challenging," it said.


Post source: cbsnews