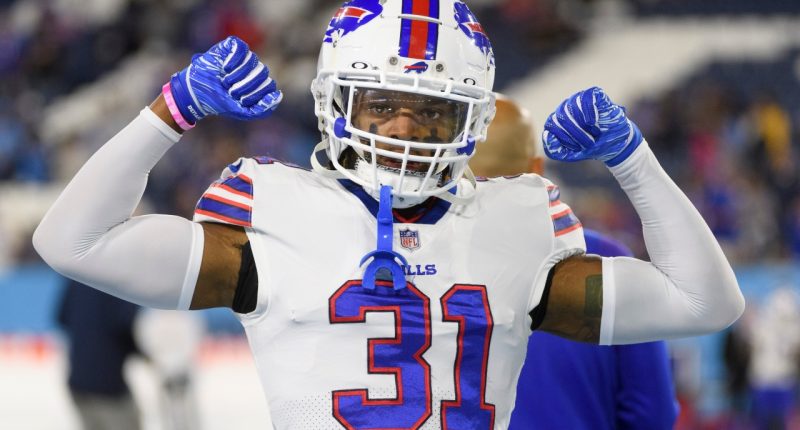 Buffalo Bills player Damar Hamlin says he's on a mission to "help and protect young people," as he pushed for access to automated external defibrillators (AEDs) alongside a bipartisan group of lawmakers on Capitol Hill.
"As I was growing up playing football, I don't recall ever thinking about CPR, or knowing where an AED was in my school or on the athletic field," Hamlin said in a Wednesday news conference in Washington to introduce the Access to AEDs Act.
Introduced by Reps. Sheila Cherfilus-McCormick (D-Fla.) and Bill Posey (R-Fla.), proponents say the legislation would establish grants for CPR and AED training in elementary and secondary schools across the country. It would also authorize the purchase of AEDs for schools, and create awareness campaigns and cardiac emergency response plans.
"With my coaches on the field and my family in the stands, we didn't plan what would happen if sudden cardiac arrest happened to me, or one of my teammates," Hamlin said.
The 25-year-old experienced cardiac arrest during a Monday Night Football game last year against the Cincinnati Bengals. Hamlin collapsed on the field and was hospitalized, and needed to be resuscitated twice. He and his medical team have since credited the use of an AED as one factor that helped to save his life.
"Thankfully, the medical team with the Buffalo Bills was prepared, and they saved my life," Hamlin said, as his brother and a pair of young cousins stood by him.
He and his family, Hamlin said, are "so humbled and inspired by what I feel is the opportunity that God has given me to help and protect young people, based on what I experienced."
"Sudden cardiac arrest happens to more than 7,000 kids under the age of 18 every year in our country," Hamlin said, citing data from the American Heart Association.
"For schools that have AEDs, the survival rate for the children from sudden cardiac arrest is seven times higher," Hamlin said. The bill, the Bills safety said, will "help ensure that schools are just as prepared and trained to respond in a time of crisis as those on the sideline of an NFL game, and it will also support the purchase of AEDs for schools and help create cardiac emergency response plans."
"Every kid should have the same access to a life-saving emergency response that I did, should they need it," Hamlin said.
Sporting Hamlin's Bills jersey that he said was gifted to him by the football star, Sen. Charles Schumer (D-N.Y.) dubbed him, and French Open champion Murphy Jensen, who also spoke to the crowd, the "epitome of resilience, perseverance and bravery."
Schumer quipped that as the Senate Majority Leader, he had a "little bit of clout."
"And I'm going to use that weight to bring my colleagues on both sides of the aisle onboard and get this bill [to] become a law and passed this year."
Copyright 2023 Nexstar Media Inc. All rights reserved. This material may not be published, broadcast, rewritten, or redistributed.