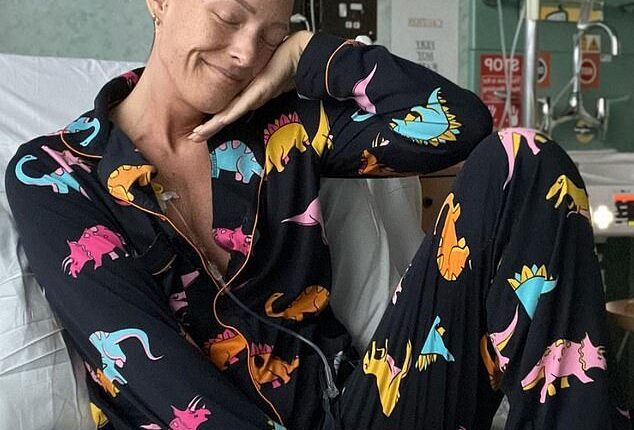 An influencer who inspired Britain with her positive campaigning and brave outlook on life, despite battling stage four breast cancer, has died. 
Known for her catchphrase, 'go grab life', Nicky Newman from Surrey shone a light on the importance of making the most of each day and ceasing every opportunity.
An emotional post shared by Nicky's husband Alex on Instagram told the tragic news that Nicky had passed away this week aged 35. 
The post was previously penned by Nicky in preparation of her death: 'If you're reading this it means I have died, I made it 5 and half years though, not bad for a stage 4 breastie ey.' 
Despite the heartbreaking news, Nicky remained upbeat in the post and continued to pursue her message to viewers: 'GO GRAB LIFE! You never truly know what is coming around the corner – so don't take anything for granted.'
Inspiring influencer Nicky Newman (pictured) has passed away from stage four metastatic breast cancer 
The news has caused waves on social media, since it was just last month that the late influencer shared positive news of progression within her cancer treatment.
Diagnosed with the disease in April 2018, the start of Nicky's journey was rife with tragedy from the start.
She found a lump in her right breast in the shower and knew in her gut that it was bad news, according to The Telegraph.
In the space of a week, Nicky suffered a miscarriage and was diagnosed with metastatic breast cancer.
But for Nicky the real shock came one week after the diagnosis when she was told that the cancer had already spread, and there was no curable treatment.
Regardless, she proceeded to do the unthinkable and channelled her diagnosis into bringing joy to the lives of over 300,000 strangers online.
The star took to Instagram to share her journey with the disease and to inspire others to 'grab life'. 
She maintained a busy life, travelling to exotic destinations with her friends and family and celebrating each milestone, no matter how small.
Nicky was diagnosed with breast cancer in April 2018 after finding a lump in her right breast in the shower 
Nicky's husband Alex (pictured) shared the tragic news on Instagram with a pre-written post by his late wife 
In the years of battling with the disease, Nicky married the love of her life, Alex, campaigned for charities, and captured the hearts of Britain.
It was just last month that Nicky shared positive news about her treatment.  
Taking to Instagram, she said: 'I had prepared myself for progression, but not quite this much. 
'For the first time in 5 years my mets have packed their bags & moved to a new establishment called 'Hotel Liver.' 
Just weeks later, Nicky's husband shared the tragic news of her passing, shocking her adoring fanbase. 
Despite the tragic diagnosis, Nicky proceeded to channel her experiences into bringing joy to the lives of over 300 thousand strangers
Since the diagnosis, Nicky made the most of each moment she had left, and coined the catchphrase 'grab life' 
Taking to Instagram, the post read: 'If you're reading this it means I have died, I made it 5 and half years though, not bad for a stage 4 breastie ey. 
Eight most common signs of breast cancer
• A change in size or shape
• A lump or area that feels thicker than the rest of the breast
• A change in skin texture such as puckering or dimpling (like the skin of an orange)
• A redness or rash on the skin and/or around the nipple
• Your nipple has become pulled in or looks different, for example changed its position or shape
• Liquid that comes from the nipple without squeezing
• Pain in your breast or your armpit that's there all or almost all of the time
• A swelling in your armpit or around your collarbone
'And none of this 'she fought her battle nonsense', I didn't lose anything, the cancer eventually took over & that's okay, we all knew this would happen.
'I don't think we are ever prepared to hear the words, we think we are indestructible and a magic cure will appear, but the truth is we all live this life day to day (we just knew our days are shorter).
'So please promise me to cherish those around you and give your friends and loved ones the biggest squeezes!
'GO GRAB LIFE! You never truly know what is coming around the corner – so don't take anything for granted.
'You have all become a part of my legacy, my 'Instagramily' in MR.G's words and I thank you all from the bottom of my heart for being here every step of the way. 
'There is more to come (with some amazing things in the works) that will aim to continue that legacy, so stick around and keep being the amazing bootiful hoomans you all already are!
'I'm a believer in energies and if people hold on to the positive energy we have created from this and other pages like it, then I will always be with you.
'Mr.G has some words to follow as we both wanted to do this part together x
'Love you all my bootiful hoomans! Nicky.'
Shortly afterwards, her husband shared his own post on her page, writing: 'What can I say that my incredible wife hasn't already in her final post. Nicky asked me to send her message out, along with a few words from me.
'My bean was more than a partner or loved one to me, she truly was my lobster.
'We have known each other since we were 14 and throughout all the years (even when we had time apart) we were always inextricably drawn to each other.
'A truly rare joining of souls that were simply meant to be one.
In the post, Nicky told her fans to 'to cherish those around you and give your friends and loved ones the biggest squeezes'
Even in the post sharing news of her death, Nicky maintained a positive attitude and encouraged her followers to 'grab life' 
'We've been asked before about why it is that we thought Nicky's page here became so popular and that is obviously a very hard question to answer. I told my bean a few weeks ago that I think it is because –
'People instantly love and are drawn to you because ever since diagnosis, at the worst time of our lives, we chose not to mourn the time we are losing but rather to celebrate and cherish the time that we have left – however long that may be'
'Anyone that knew my wife knows this to be true. Nicky never accepted half measures, she took life with both hands and made each moment special and memorable. 
'She has created a legacy here, a place where anyone can see that life is for positivity and smiles and happiness. Even through hardship…even if it seems impossible.
'Nicky has still got some incredible things to share on here and I am hoping you will stick around to see them come to fruition. 
'I will share it with you in her place, just as she would have wanted. I just ask you bare with me a little.'
He continued: 'Last night there was a lightning storm right above our house, my girls way of reminding us to Go Grab Life and make it count.'
He finished his post by writing: 'Love to every single one of you, be safe and be good to each other.'
Thousands of fans of Nicky have flocked to the comment section to pay tribute to the influencer. 
One said: 'Oh my gosh my heart hurts. I have watched you for I don't know how many years and you have been a true inspiration. Nicky was an incredible incredible hooman and I am sending so so so much love.' 
A second added: 'I keep coming back to watch you! Listen to your voice, watch you dance! You really were something else Nicky! 
'The sunshine you were the lightning bolt you were the sunshine you were the rainbow there will never be another quite like you girl!'
Nicky's fanbase have taken to the comment section to pay tribute to the late star and express their 'immeasurable loss' 
A third said: 'I'm so upset right now Nicky you were a very bright light amongst the dark for me, and I will forever be thankful to you. I didn't know you personally, but I felt I did.
'I will grieve for you and miss you like a family member as you honestly just meant so much to us all. 
'Our gorgeous lightening bolt. Shine bright up there, our gorgeous Angel  we love you forever.' 
A fourth added: 'I got stuck on the very first line for so long. Just sat here, frozen. 
'An outcome that we all were told would eventually unfold but still shocked me right to my gut a stranger across an ocean who's light was contagious and message clear: 'Go grab life' What an immeasurable loss to the world and her family especially. We will take it from here, Nicky' 




This post first appeared on Daily mail