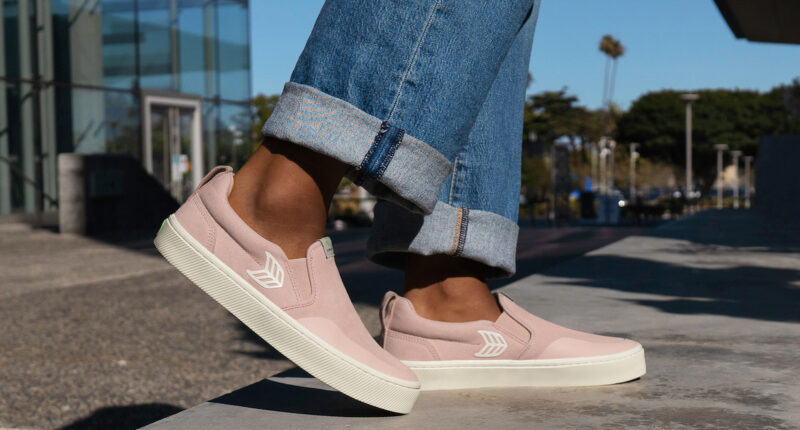 With the Well+Good SHOP, our editors put their years of know-how to work in order to pick products (from skin care to self care and beyond) they're betting you'll love. While our editors independently select these products, making a purchase through our links may earn Well+Good a commission. Happy shopping!
Explore the SHOP
Well, Cariuma has done it again. The sustainable sneaker brand that celebs like Naomi Watts and Helen Mirren can't stop wearing is back with yet another release for fans to drool over. Just a few weeks after introducing three new nautical color ways in collaboration with 4ocean, the brand launched an entirely new silhouette to kick off summer—pun intended. And let's just say, my inner skater girl is living!
On Tuesday, Cariuma released one of its most versatile and highly-requested styles to date: The Slip-On Skate Pro ($85). But no, you don't have to be Tony Hawk to rock these. Though the shoes are designed with skaters in mind, you can totally wear them for any occasion—on a walk, out to drinks, you name it! They're just as practical and comfortable as the brand's original sneakers, just with a few convenient tweaks for a more effortless, easy fit. 
For one, the shoes all have all-over cushioning (aka, lightweight padding throughout the upper and heel areas.) They're also designed with a protective rubber overlay and underlay to create better grip on your board (or, ya know, the sidewalk), plus a rip-resistant toe box to prevent wear and tear over time. So, whether you're ripping a longboard or out for a multi-mile stroll, these slip-on sneaks will hold up. 
And, like all Cariuma styles, the Slip-On Skate Pros are eco-friendly. The upper is made with a mix of organic cotton and natural rubber, while the insole features the same signature cork/organic mamona oil insert that doesn't require a break-in period. Together, these sustainable materials make for a really comfy and easy-to-wear fit. Pair them with some high-waisted jeans and a slouchy tee, or slip them on with your fave summer dress for the ultimate laid back look—no skateboard necessary. 
Just a heads up, some styles are only available for pre-order right now, so be sure to snag your favorites as you see them in stock before they disappear. Currently, there are five colors to choose from in both men and women sizes, including a classic off-white, pretty rose, and an edgy black-on-black combo. To see what's all up for grabs, keep reading below.
Cariuma, Rose Ivory Slip-On Skate Pro — $85.00
The best part of these shoes is how secure the fit is. They have a snug band inside to keep your foot from slipping out and provide better arch support as your feet hit the pavement. That said, this light pink pair isn't just for adding a pop of color to your wardrobe—they're also a great way to add support to your next adventure.
Cariuma, Grey Black Slip-On Skate Pro — $85.00
If you're feeling a bit more sporty, opt for these grey and black slip-ons. The extra padding in the heel and upper provide a more supportive feel for the times you need to walk longer distances.
Cariuma, All Black Ivory Slip-On Skate Pro — $85.00
Who says you can't dress up skate shoes? These slip-ons are pretty casual by design, but the all-black color makes them super versatile. Pair these with some jeans and an oversized denim jacket for an elevated streetwear look.
Want to be the first to hear about the latest (and greatest) SHOP product drops, custom collections, discounts, and more? Sign up to have the intel delivered straight to your inbox.
Our editors independently select these products. Making a purchase through our links may earn Well+Good a commission.
Post source: Well and Good