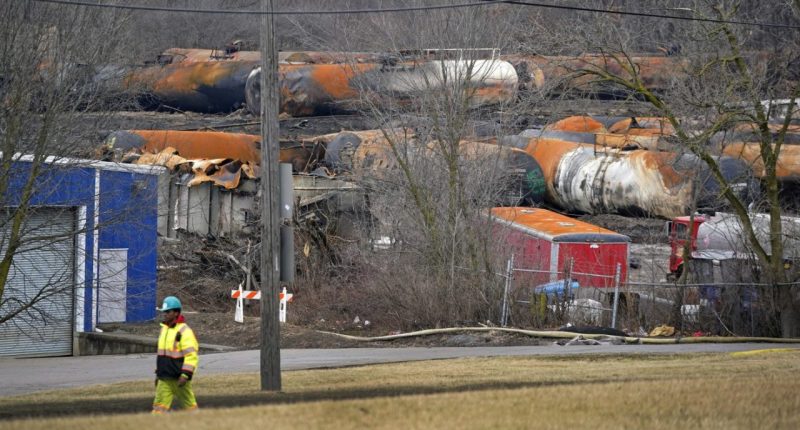 [ad_1]


Members of the Centers for Disease Control and Prevention's (CDC) team studying the effects of the train derailment in East Palestine, Ohio, became briefly ill earlier this month, CNN reported on Friday.
Investigators reportedly experienced symptoms including sore throat, headache, coughing and nausea, which are similar to those that residents of the area reported following the train crash in early February, which allowed hazardous materials to escape into the air, water and soil of the area. 
CNN reported that whether exposure to the chemicals or fatigue caused the symptoms is unclear, but an official familiar with the cases said that the workers were suspicious that they became ill at the same time and had the same symptoms. 
The investigators were taking a house-to-house survey of residents living near the area of the derailment. 
A spokesperson for the CDC told CNN that the symptoms resolved for most team members later in the afternoon and all workers were able to continue their work within 24 hours. They said the affected members have not reported any lingering health issues. 
The Hill has reached out to the CDC for confirmation. 
The derailment to the Norfolk Southern train allowed toxic chemicals such as vinyl chloride, an explosive cancer-causing substance used in certain materials like plastic, to leak out. Officials intentionally burned the substance as part of a controlled release to avoid a potential explosion that would have been more damaging to the region. 
The derailment forced thousands of residents to evacuate their homes for a few days. Officials said they did not detect any chemicals in the water or air that would pose a threat to people's health, but residents reported experiencing symptoms such as difficulty breathing and rashes when they returned. 
Norfolk Southern is facing multiple lawsuits, including a class-action case from East Palestine residents and complaints from the state of Ohio and the Justice Department. 
CNN reported that the affected investigators were a part of the CDC's Agency for Toxic Substances and Disease Registry, which probes the effects of chemical releases on people's health. They ask those they survey about where they have spent time and any symptoms they or their pets have had.
Copyright 2023 Nexstar Media Inc. All rights reserved. This material may not be published, broadcast, rewritten, or redistributed.
[ad_2]

Post Source Thehill