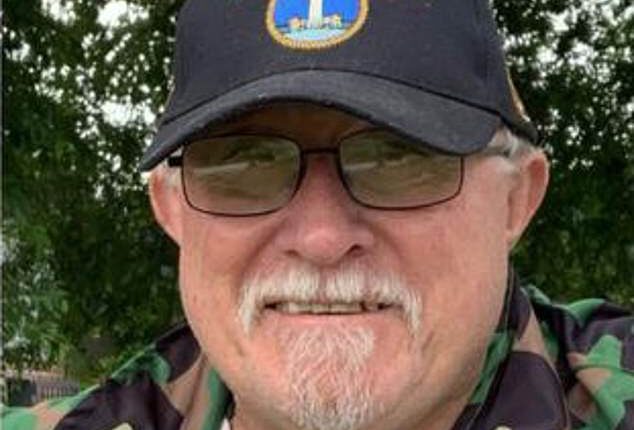 A man suffering from cancer claims his bank told him it was his fault that scammers swindled tends of thousands of dollars out of him.
Sydney man Barry Casey, 69, who has 'three forms of cancer', was cheated out of $40,000 by scammers in May, 2022.
Upon reaching out to his bank of 64 years, the Commonwealth Bank, he claims he was told the money couldn't be recovered and that the loss of funds was his fault. 
The Sydney man had relied on his savings to pay off mounting health costs for his treatments and has been struggling to keep up with his expenses ever since.
The saga started when Mr Casey was on holidays in the Phillipines and he received an email from scammers masquerading as workers from Amazon Prime.
Barry Casey (pictured), 69, who suffers from cancer, lost $40,000 to scammers pretending to be from Amazon Prime in 2022
The email thanked him for signing up for an Amazon Prime account and notified him that $99.99 would be debited out of his account in two weeks.
Mr Casey received these emails daily from that point onwards.
He returned to Australia feeling severely ill with fevers, 'wracking coughs' and sleeping issues.
At one point during his sleep-deprived state, Mr Casey decided to call the number the scammers had sent him in their emails.
A scammer who came on the phone claimed to be from Amazon Prime's fraud team and told him that the person who sent the emails was trying to steal his bank details.
They asked Mr Casey to send over his personal information and confirm his bank details in a bid to catch out the fake scammer.
Mr Casey said the conversation rang 'alarm bells' and he initially tried to back out of the conversation several times.
But the Sydneysider admitted to falling for the man's convincing attitude and 'scare tactics' as he wasn't 'thinking straight'.
The conversation was passed between multiple scammers on the line pretending to be from Amazon's fraud team, where Mr Casey consistently gave out his information to stop the fake scammer.
He has soon provided his personal, bank and device details to the fraudsters.  
'All the while, in the back of my mind, I'm trusting the bank. Thinking they won't allow this to happen. If this is a scam, the bank will recognise it. I had blind faith in the bank – unfounded, as it turned out,' he told 7News.
Mr Casey was told by the scammers not to open his bank details until they conducted their 'investigation' and was asked to fill out a NetBank verification code prompt, which he did. 
A panicked Mr Casey rushed to his local Commonwealth Bank branch but was later told that nothing could be done and the loss in funds was 'his fault' (stock image)
He then went to sleep and shockingly found $40,000 missing from his account via three transactions.
A panicked Mr Casey rushed to his local Commonwealth Bank branch to see if the lost funds could be retrieved. He also filed a police report.
Unfortunately, the bank explained there was nothing they could do to help Mr Casey.
'It was only within 24 hours that the bank got back to me and said, basically, "it's your fault",' he said.
'I just immediately shut down. I berated myself about it and thought, you deserved this because you were so stupid.' 
Customers can report suspected scams to CommBank's 24/7 Cyber Security Centre.
For anyone who has clicked on a suspected scam link, they should contact the bank immediately to let them know so the account can be locked.
The Commonwealth Bank is currently working on new scam detection, prevention and education initiatives to stop their customers being swindled by scammers.
Daily Mail Australia contacted Commonwealth Bank for comment. 
HOW TO CHECK A MESSAGE IS LEGITIMATE
When contacted by an unsolicited third party, it's better to be over-cautious.
 Contact the organisation directly using a phone number from their website (not the email or message) before you reply.
Hover your mouse over a link to see the destination URL (web address), before clicking it.
Carefully read these URLs, as they're often created to look similar to legitimate addresses.
Be suspicious of any correspondence received from overseas, especially if you're being asked to forward money or you're told you've won a prize.
Never open an attachment you weren't expecting, especially when it's attached to a suspicious message.
Source: Commonwealth Bank. 


This post first appeared on Daily mail