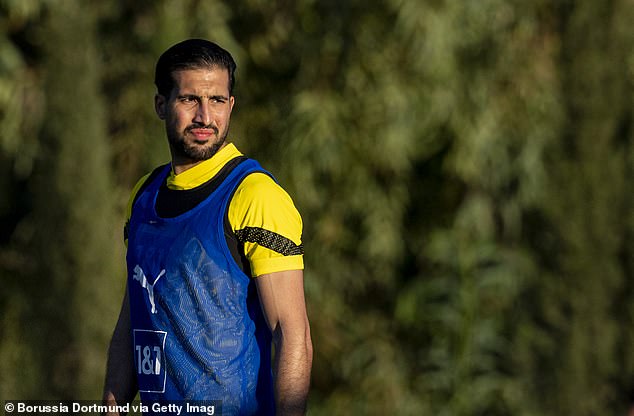 Emre Can reveals he had surgery for thyroid cancer just weeks after he left Liverpool in 2018… as the German midfielder says he will 'always be grateful' to Juventus' doctors for helping to discover the problem
Emre Can departed Liverpool in 2018 after being unable to agree a new contract
Can joined Juventus and spent 18 months there before moving to Dortmund 
He revealed how he had surgery for thyroid cancer weeks after arriving in Italy 
Emre Can revealed he underwent surgery for thyroid cancer just weeks after joining Juventus from Liverpool and said he would forever be grateful to the Italian club's doctors for their diagnosis.
The German midfielder, 29, departed Anfield in 2018 following a four-year-spell after he was unable to agree a new deal at the club.
He had made 166 appearances for the Reds and went on to sign for the Serie A giants.
Emre Can revealed he underwent surgery for thyroid cancer weeks after he joined Juventus
In October 2018, Juventus released a statement announcing that Can faced thyroid surgery, as they said the midfielder would 'undergo clinical tests and investigations for a thyroid nodule that could also require surgical treatment.'
However, Can – who left the Italian club after two seasons to join Borussia Dortmund – revealed the surgery was actual for thyroid cancer which had been diagnosed by club doctors.
'I had thyroid cancer and I needed to undergo surgery urgently,' Can told Football Italia.
Can explained how Juventus' doctors diagnosed the problem and he had urgent surgery
'This has changed a lot in my life. You can have a lot of money, you can have everything, but health is the most important thing.
'It's part of life and I suggest everyone undergo screenings, it doesn't matter how healthy one thinks he is, if you find out about these things in time, you can act.'
The German midfielder returned to action in December of that year but struggled to make an impact with Juventus and left initially on loan to Dortmund in January 2020, before making the move permanent that summer. 
And despite his spell not working out as had been hoped, Can explained how he had no regrets about his move to the Serie A side and claimed it was worth it after they helped to discover his cancer.
Can (R) left Liverpool in the summer of 2018 after being unable to agree a new deal at the club
He added: 'I am so grateful to Juventus doctors. They called me two months after my medicals with the club. 
'I didn't know what was going on, I didn't even know what a thyroid was and I would never imagine I had cancer.
'The move to Turin was worthy, only just for this."
Can joined Dortmund in 2020 but said he would always be grateful to Juventus' doctors
Can, who was a Champions League, Europa League and Carabao Cup runner-up during his time at Liverpool , has since racked up more than 100 appearances for Dortmund.
Eden Terzic's side currently sit fifth in the Bundesliga – but they are just five points behind league leaders Bayern Munich. 
Advertisement


This post first appeared on Daily mail