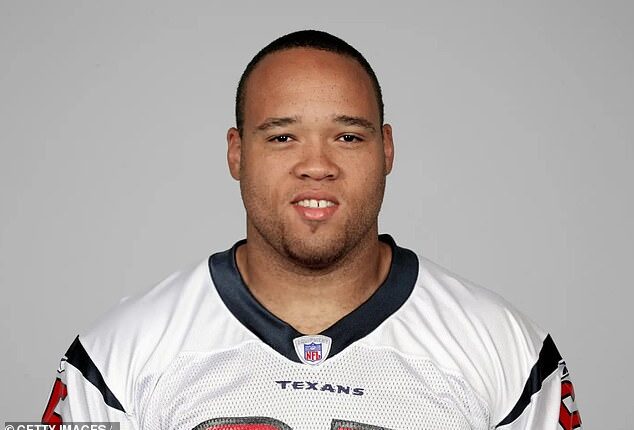 Former NFL player Cedric Killings dies from pancreatic cancer aged 45 as his wife leads emotional tributes, saying it was 'an honor to share life with him'
Killings spent seven years in the NFL before a vertebra injury ended his career
Almost 16 years on from his last game the ex-defensive lineman has passed away
His wife Shavon has paid tribute to an 'all-round great person' on social media 
Former NFL star Cedric Killings has died at the age of 45 following a battle with pancreatic cancer.
Killings, who spent seven years in the NFL before a fractured vertebra brought his career to an abrupt end, enjoyed spells with the San Francisco 49ers, Houston Texans and more.
Almost 16 years on from his final outing for the Texans, the defensive lineman tragically passed away on June 21 from pancreatic cancer, with his wife Shavon paying tribute to an 'all-round great person' while expressing her disbelief at the news.
She wrote in an emotional post on Facebook: 'My love, my best friend, my husband of 21 years is no longer physically with me but he lives in my heart and in the hearts of our three children. 
'I'm comforted in knowing he is resting and no longer in pain, but I'm still at a loss and can't believe this is real.
Former NFL star Cedric Killings has died at the age of 45 following a battle with cancer
Killings' wife Shavon paid an emotional tribute to her 'all-round great' husband on social media
'If you've ever had the pleasure of meeting him then you already know how special he is. Just an all-around great person. I don't just say this as his wife, it's echoed by family, friends, and former teammates. 
'It has been an honor to share life with him and to love and be loved by him. So grateful for it all. Love you for life. Our love will live strong for generations to come.'
Killings played college football for Carson-Newman, starting all 54 games of his career with the Jefferson City team and being named 1996 Defensive Freshman of the Year.
He then went on to sign for the 49ers as an undrafted free agent in 2000, before being released a year later.
Killings spent seven years in the NFL before injury brought his career to an end
Following spells with Cleveland Browns, Carolina Panthers, Minnesota Vikings and Washington Redskins, Killings joined the Texans in 2006 – where his career would come to an end.
During a game against the Indianapolis Colts in September 2007, the Miami-born star suffered a brutal head-to-head collision which forced him off on a stretcher and fractured his vertebra. 
After complaining of a numbness in his lower body, Killings was unable to continue his seven-year NFL career and instead retired from the sport at 29 years of age.
Carson-Newman, the college that inducted him into their Hall of Fame, also paid tribute to their graduate after learning of his passing.
Former team-mate and current head coach Mike Clowney said: Cedric was a fantastic person, player, father, husband, teammate and most importantly, a man of God.
'We are praying for and grieve with Cedric's family during this difficult time.'
In honor of Killings, a foundation has been set up in his memory to continue to inspire future generations. 


This post first appeared on Daily mail