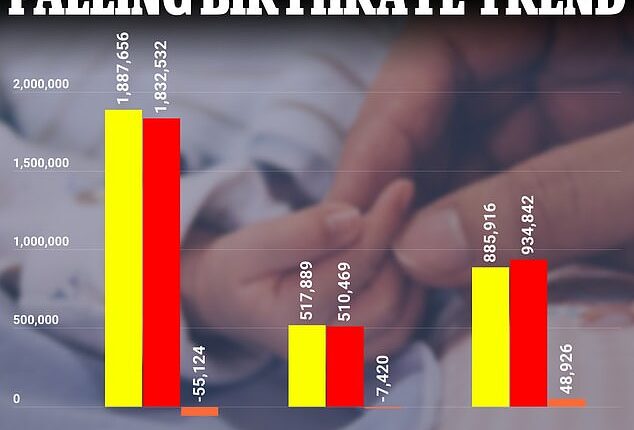 Hispanic women had 50,000 more babies last year than in 2021, as white women had 55,000 fewer, new government data showed on Thursday in the latest sign of America's shifting demographics.
Data from the Centers for Disease Control and Prevention's National Center for Health Statistics showed that America's diversifying population was heading toward a minority white population.
That's estimated to happen at some point in the 2040s.
Overall, US births dipped to 3,661,220 last year from 3,664,292 in 2021, according to CDC's provisional 2022 birth data.
But birth rates varied widely between America's various ethnic groups.
US births dipped to 3,661,220 last year, according to CDC's provisional 2022 birth data. But birth rates varied widely between ethnic groups.
White women had 55,124 fewer babies in 2022 than in the previous year — a 3 percent drop.
Other groups — African Americans and Native Americans — saw smaller declines in their birth rates.
But Asian, Hispanic, and Native Hawaiian women all had more babies.
Hispanic women saw a 4 percent rise in birth rates in 2022, with 48,926 more babies than in the previous year.
Birth rates are a contentious topic. They fuel concerns among some people that the US is becoming too diverse.
Others say that America needs more babies of all ethnicities and even some immigrants to stave off a declining, aging population, with more working-age people to keep the economy vibrant.
The number of births has declined by an average of 2 percent per year from 2014 through 2020, including a drop of 4 percent from 2019 through 2020 at the start of the pandemic.
That year saw the lowest birth rate since 1980.
The total fertility rate in 2022 remained below its replacement threshold — the level at which the population size holds steady.
The fertility rate of the US (green) and UK (orange) rapidly fell in the 1970s, and despite occasional small rebounds have continued a steady decline over the years 
Fertility in the US has plummeted in recent decades (top). The average American woman is now only having 1.6 children throughout her life, well below replacement level of 2.1. It is a 15 percent drop from the rate of 1.9 in 2010. North Dakota, South Dakota and Alaska are America's most fertile states, with more than 65 annual births per 1,000 fertile aged women (center left). Fertility rates dropped the most since 2005 in Utah, Arizona, Colorado, Nevada and California (center right)
The US birth rate has been consistently below the replacement rate since 2007.
The decline in births was widespread last year with 38 states and the District of Columbia experiencing a drop.
Generally, states in the South of the US saw an increase in 2022. Sizable declines were seen in Illinois, New York, Michigan, Pennsylvania, and California.
Meanwhile, Texas added almost 16,000 births and Florida 8,000.
The Covid-19 outbreak changed behaviors and affected birth rates, Phil Levine, a Wellesley College economist, told CNN.
Americans may have had less sex, or used contraceptives more, to put off having children at a time that prenatal care was limited and borders were closed, Levine said.
The provisional data for 2022 is based on 99.9 percent of birth certificates issued.
Agencies contributed to this report. 


Post source: Daily mail