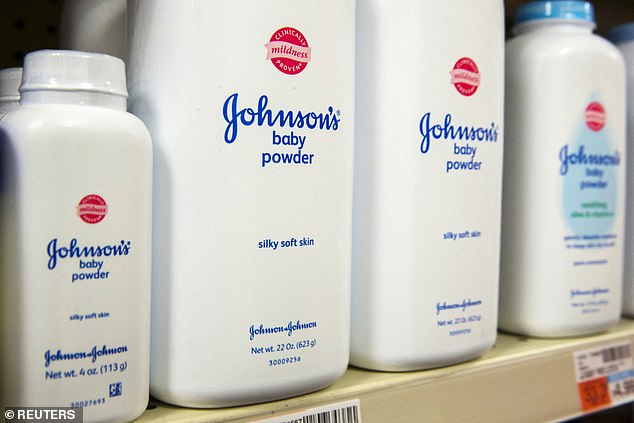 Johnson & Johnson's bankruptcy plan to resolve multibillion-dollar claims over its talc products causing cancer is REJECTED by federal appeals court
J&J faced costs from $3.5 billion in verdicts and settlements over the claims
 The pharmaceuticals company was filing to address more than 38,000 lawsuits
Now, Johnson & Johnson's plea has been ignored by a federal appeals court  
Johnson & Johnson's bankruptcy plan to resolve the company's multibillion dollar allegations that its talc products cause cancer has been rejected by a federal appeals court.  
The decision by the U.S. 3rd Circuit Court of Appeals in Philadelphia on Monday dismissed a Chapter 11 petition filed by a recently created J&J subsidiary in October.
The pharmaceutical company was filing to address more than 38,000 lawsuits from plaintiffs alleging the company's baby powder and other products caused cancer.
Before the bankruptcy, J&J faced costs from $3.5 billion in verdicts and settlements, including one in which 22 women were eventually awarded a judgment of more than $2 billion, according to bankruptcy-court records. 
The pharmaceuticals company was filing to address more than 38,000 lawsuits from plaintiffs alleging the company's baby powder and other products caused cancer
Several major companies, including J&J and 3M Co, have turned to bankruptcy court to manage their mass tort liabilities. 
Plaintiff attorneys have called the cases an improper manipulation of the bankruptcy system, while the companies say the Chapter 11 filings are aimed at compensating claimants fairly and equitably. 
J&J's maneuver is known as a Texas two-step for a state law used to create a subsidiary that shoulders litigation and then declares bankruptcy.
In 2018, a Reuters investigation in 2018 found that the New Jersey-founded firm knew for decades that traces of the deadly carcinogen were found in its baby powder.
Internal records, trial testimony and other evidence showed that from 1971 to the early 2000s, the company's raw talc and finished powders contained asbestos.
In 2019 the Food and Drug Administration (FDA) recalled the powder after finding asbestos in nine of the 43 bottles tested.
It then stopped selling the talc powder over the summer.
Joaquin Duato, Johnson & Johnson's CEO
The Third Circuit's opinion allows talc litigation to resume against the company. J&J said it would challenge the ruling and that its talc products are safe.
Its shares fell more than three percent – the biggest one-day percentage decline in two years.
The New Jersey-based company, valued at more than $400 billion, said its subsidiary's bankruptcy was initiated in good faith and designed to equitably resolve talc claims for the benefit of all plaintiffs. 
J&J initially pledged $2 billion to the subsidiary to resolve talc claims and entered into an agreement to fund an eventual settlement approved by a bankruptcy judge.
The company said in a statement that it will appeal the ruling, rejecting the Third Court's contention that the company did not file the case in good faith.
It said: 'As we have said from the beginning of this process, resolving this matter as quickly and efficiently as possible is in the best interests of claimants and all stakeholders.
 'We continue to stand behind the safety of Johnson's Baby Powder, which is safe, does not contain asbestos and does not cause cancer.' 
A three-judge panel on the appeals court rejected J&J's argument, finding the company's subsidiary, LTL Management, was created solely to access the bankruptcy system and not because it faced financial distress.
'Good intentions – such as to protect the J&J brand or comprehensively resolve litigation – do not suffice alone,' the judges said in a 56-page opinion.
The decision throws into doubt J&J's long-planned strategy for disposing of talc litigation after it lost a bid to reverse a watershed verdict that eventually awarded more than $2billion to 22 women who blamed their ovarian cancer on baby powder and other talc products.
More than 1,500 talc lawsuits have been dismissed without J&J having to pay anything, and the majority of cases that have gone to trial have resulted in defense verdicts, mistrials or judgments for the company on appeal, according to the J&J subsidiary's court filings.
How J&J paid out $4.7billion to 22 women after jury found product contained asbestos leading them to develop ovarian cancer – seven of the women died
The most significant case brought against Johnson & Johnson since evidence first linked the company's baby powder to cancer diagnoses, a jury in St Louis, Missouri decided in 2018 to award 22 women a total of $4.69billion.
It concluded that J&J's talc-based products contained asbestos, causing the women, six of whom died before they got justice, to develop ovarian cancer.
CEO Alex Gorsky said he hoped the decision would be overturned on appeal, but it was upheld in December 2018, encouraging thousands more to come forward.
Krystal Kim, 56 (left), is one of the 22 women who brought the case again J&J in Missouri. Right: Toni Roberts died of cancer just months after the $4.7billion payout
Toni Roberts, who died just months after the decision, told Reuters at the time: 'Justice has been served.
'We have made a difference. We have alerted the public.'
Another of the women, Krystal Kim, said she used J&J baby powder several times a day from the age of ten until her early-50s. 
She put the powder on bed sheets, carpets, her hair, face and body and even on her dog. 
'They call it baby powder to make it seem innocuous,' Krystal said.
During the trial, the company's lawyer, Peter Bicks, said J&J had sympathy for the women, but that J&J was not to blame for their diseases.
'Just because something terrible happened doesn't mean that Johnson & Johnson had anything to do with it,' Bicks said.
Advertisement


This post first appeared on Daily mail