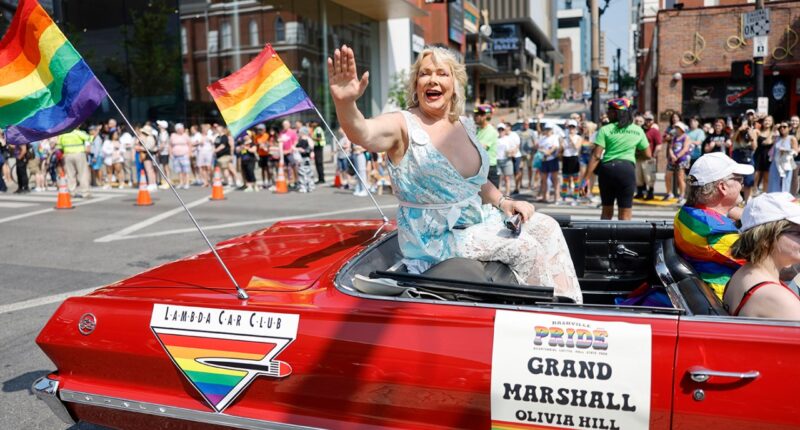 Navy veteran Olivia Hill made history this month as the first openly transgender person elected to public office in Tennessee, securing one of four open nonpartisan seats on Nashville's Metro Council.
Hill, a Nashville native, is still processing the history-making nature of her win and what it will mean to have a seat at the table.
"I have been struggling to get to a point where I can just say, 'I'm there,'" Hill, 57, said in a recent interview. "Sitting in my [council] chair, I realized that I'm here and I made it. I'm on the other side."
Hill's victory is part of a national trend: Openly LGBTQ people are being elected to public office at historically high rates. More than 400 LGBTQ candidates won their elections last November, according to the LGBTQ+ Victory Fund, which supports LGBTQ people running for office, including 37 openly transgender candidates.
But in deep-red Tennessee, a state carried by former President Trump in 2020 with more than 60 percent of the vote and where Republicans control the offices of governor, secretary of state, attorney general and both chambers of the Legislature, Hill's win is emblematic of something greater.
It signals a change in the South — whose political identity is increasingly in flux — being built from the ground up.
"We're on the cusp of something," Hill said.
A record-breaking 84 anti-LGBTQ laws became law this year in states across the country, according to the American Civil Liberties Union. More than half of them were passed in the South.
Tennessee state lawmakers this session sent no fewer than 10 bills targeting LGBTQ rights to Republican Gov. Bill Lee.
That's the most of any state except North Dakota, whose GOP-controlled Legislature also passed 10 bills.
The majority of the bills in Tennessee target transgender people by restricting access to gender-affirming health care, limiting transgender participation in school sports and banning certain drag performances, which LGBTQ civil rights groups have said will allow the state to police how transgender people present their gender identity in public.
Another law signed this year by Lee adopts a narrow definition of sex that excludes transgender and gender-nonconforming people, blocking legal recognition of their gender identity in Tennessee.
Hill knows that meaningful change is not made overnight, but she pushes back on the idea that local politicians have little power to change how their state is run. Local issues often "get funneled up" to lawmakers at the state capitol, she said.
Hill sees her new role as twofold. She wants to make good on a campaign promise to help fix some of the city's infrastructure woes; by trade, Hill is a plumber, pipefitter, welder, high-voltage electrician, diesel mechanic, jet-engine mechanic and boiler specialist. She also wants to educate her new constituents on what it means to be transgender in America.
"So much of the hate that we have received has just been a lack of knowledge," Hill said, recalling conversations with Nashville residents while campaigning for city council. "When I have an opportunity to sit and talk to people, they usually walk away with a different frame of mind."
"If nothing else, I have educated a huge portion of middle Tennessee on trans issues," she quipped.
Recent surveys suggest knowing someone who is transgender is influential in determining views on gender identity. A 2022 Pew Research Center poll found that, among U.S. adults who believe a person's gender identity can differ from their sex assigned at birth, 38 percent were influenced by knowing a transgender person.
A solid majority of respondents who did not know someone who is transgender said whether a person is a man or a woman is determined by their sex assigned at birth. An earlier survey from the group found that roughly 40 percent of U.S. adults know someone who is transgender.
Hill also plans to use her new position to make space for other openly LGBTQ people in politics, she said, especially in Tennessee.
"At a time when the state is saying so much about us, that we don't exist, we don't belong and we should go away, I just kind of proved that we're right here," Hill said. "And I didn't do it by doing anything special, I just did it by being me.
"I didn't run as the first trans woman; I didn't run as a trans woman with good skills — I just ran as a human, and it just so happens that I am trans."
Copyright 2023 Nexstar Media Inc. All rights reserved. This material may not be published, broadcast, rewritten, or redistributed.