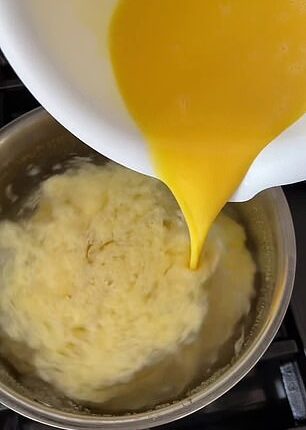 Foodies horrified by cook's scrambled egg 'hack' using boiling water: 'This feels illegal'
Millions confused by scrambled egg hack
Eggs are cooked in a pot of boiling water
Many thought the eggs would be too 'soggy' 
Foodies have been left scratching their heads over a new trend involving scrambling eggs in a pot of boiling water. 
Azure MacCannell, who is known online for sharing handy home hacks, tried the scrambling trick by whisking up eggs then pouring it in boiling water to cook. 
However home chefs were horrified by the hack saying it would make the breakfast favourite 'soggy' and 'watery'. 
'Today I was years old when I learned you can cook scrambled eggs in boiling water,' Azure said in a TikTok video. 
Azure prepared her eggs by mixing them in a bowl a whisking them while bringing a pot of water to boil. 
Scroll down for video 
Foodies have been left shocked by a viral cooking hack for scrambling eggs in a pot of boiling water. Many said the trick would make the eggs 'soggy' and 'watery'
Once the water was boil she used a spoon to gently create a whirlpool in the water and poured the eggs in. 
The eggs cooked almost instantly in the swirling water before serving. 
'It's like poached eggs collided with egg drop soup! Oil/butter free scrambled eggs! Would you eat it?' Azure captioned the clip. 
The divisive video was viewed more than 16.7million times and sparked a heated debate in the comments. 
'Something about that feels illegal to me,' one viewer said and another wrote: 'Hard pass'.
'Looks really soggy at the end,' thought a third and another agreed: 'But I don't want watery scrambled egg'.
'Just cause you can doesn't mean you should,' someone joked. 
But not everyone was put off my the unorthodox egg scrambling method.
'I've actually tried this, you just need to drain it on paper towels, the texture is actually really nice and not as watery as you think,' one person pointed out. 
Some argued the recipe made a simple egg drop soup however other argued the Chinese dish contains any more ingredients like chicken stock, corn starch and sesame oil. 
How to make 'fluffy' scrambled eggs in boiling water 
Bring four inches of water in a saucepan to a simmer over medium heat. Add a few large pinches of salt to the boiling water.
Beat four eggs in a bowl. 
Stir the water with a spoon to create a whirlpool in the pan and then pour in the beaten eggs. 
Cover and let cook for 30 seconds. Remove the lid and the eggs will be floating on the surface of the cooking water.
Lift the cooked eggs from the water with a slotted spoon and allow to drain. We find placing the scrambled eggs in a strainer and a gentle blot with a paper towel absorbs any excess water. 
Place on a plate and add butter, shredded cheese and/or some chopped fresh chives.
The hot water gently heats the eggs causing the air bubbles in the eggs to expand creating that fluffy texture. Plus, it's virtually impossible to burn or brown them leading to perfectly tender eggs every time.
Source: All Recipes 


Post source: Daily mail