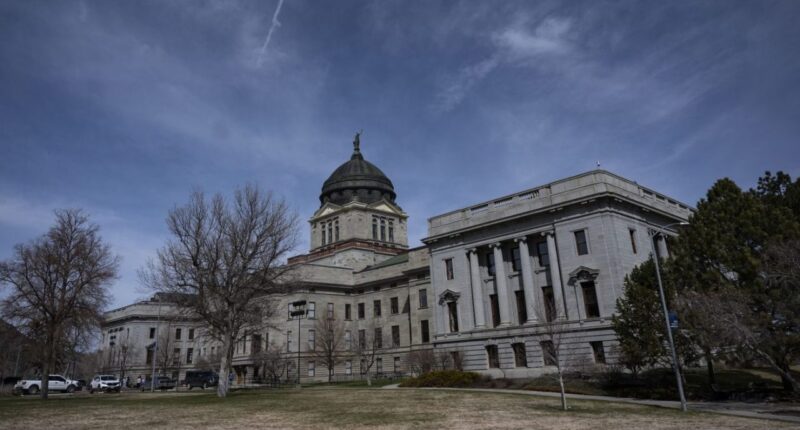 A Montana district court judge has blocked the state from enforcing its ban on gender-affirming health care for transgender minors, adding to a growing list of Republican-led states that have had such bans halted by court orders.
Two transgender minors, their parents and two pediatric endocrinologists sued Montana in May, alleging in a lawsuit filed in Missoula County that the new law, Senate Bill 99, would violate their rights under the state constitution if it is allowed to take effect.
District Judge Jason Marks granted a preliminary injunction Wednesday. He wrote in his opinion that Senate Bill 99 "is unlikely to survive any level of constitutional review" and "barring access to gender-affirming care would negatively impact gender dysphoric minors' mental and physical health."
The law, which had been set to take effect Sunday, states that a person may not knowingly provide minors with gender-affirming medical care including surgical procedures, doses of testosterone or estrogen or puberty blockers. It includes exceptions for minors with a "medically verifiable disorder of sex development."
Medical providers who violate the law may face discipline from the appropriate disciplinary review board and be suspended from practicing medicine for at least a year. The measure grants the state attorney general, Austin Knudsen (R), broad authority to enforce compliance.
Republican Gov. Greg Gianforte signed the bill in April despite protest from his son, who identifies as gay and nonbinary and uses "he" and "they" pronouns. David Gianforte told the Montana Free Press that month he met with his father in March to try to persuade him not to sign the measure, saying they "felt somewhat of an obligation to speak with him about it."
The governor had written earlier in April in a letter accompanying amendments he recommended to the bill that the measure "protects Montana children from permanent, life-altering medical procedures until they are adults, mature enough to make such serious decisions."
State Rep. Zooey Zephyr, a Democrat and one of the body's first openly transgender legislators, was censured by House Republicans this session after she said lawmakers who voted to approve the bill and Greg Gianforte's amendments would "have blood on your hands."
Gender-affirming health care for both transgender adults and minors is endorsed by every major medical organization. The American Medical Association's legislative body at an annual meeting in June adopted a resolution that denounces efforts to levy criminal or legal penalties against individuals seeking or providing care.
Legal advocates who challenged Senate Bill 99 on behalf of the plaintiffs celebrated Wednesday's ruling but acknowledged it is not a long-term solution.
"Today's ruling permits our clients to breathe a sigh of relief," Akilah Deernose, executive director of the American Civil Liberties Union (ACLU) of Montana, said in a statement. "But this fight is far from over. We look forward to vindicating our clients' constitutional rights and ensuring that this hateful law never takes effect."
"We are gratified the judge understood the danger of denying transgender Montana youth access to gender-affirming care as the challenge to this cruel and discriminatory law proceeds," said Kell Olson, staff attorney for Lambda Legal. "Transgender youth in Montana will continue to thrive, and removing this looming threat to their well-being is an important step in allowing them to do so."
Emilee Cantrell, Knudsen's deputy communications director, agreed that Marks's ruling is "a preliminary matter at this point."
"We look forward to presenting our complete factual and legal argument to protect Montana children from harmful, life-altering medications and surgeries," Cantrell told The Hill in an email. "Because of the irreversible and immediate harms that the procedures have on children we will be filing a notice of appeal today."
Twenty-two states since 2021 have adopted laws that heavily restrict or ban gender-affirming health care for transgender minors, according to the Movement Advancement Project, which tracks state legislation on LGBTQ issues. Laws in states including Florida and Missouri also limit care for certain transgender adults.
Federal district courts have blocked the enforcement of bans in Arkansas, Alabama, Florida, Georgia, Indiana, Kentucky, Tennessee and now Montana.
A panel for the 11th Circuit Court of Appeals last month, however, allowed Alabama's felony ban on gender-affirming care to take effect while a legal challenge against it proceeds, and the 6th Circuit Court of Appeals in July lifted injunctions issued by lower courts on Tennessee's and Kentucky's bans.
Copyright 2023 Nexstar Media Inc. All rights reserved. This material may not be published, broadcast, rewritten, or redistributed.