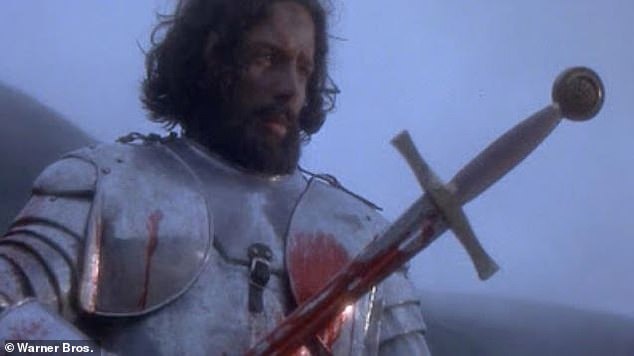 Paul Geoffrey, who starred as Percival in Excalibur and appeared on Better Call Saul, is dead at 68
Geoffrey died on June 3 from cancer
The actor had a pivotal role as Perceval, a key ally of King Arthur, in Excalibur
The English actor moved to New Mexico and became a real estate broke 
Paul Geoffrey, the film and television actor who appeared in Excalibur and had a brief appearance in Better Call Saul, has died.
The actor was 68 at the time of his death on June 3 from cancer, according to an obituary that ran in the Santa Fe New Mexican.
Geoffrey had a string of roles in films and television series throughout the 1980s, before completely sitting out the 2000s.
He returned to acting in the past decade with occasional parts, and his last role was in an episode of the Epix series Perpetual Grace from 2019.
Geoffrey, who was born and raised in England, began a second career as a real estate broker after moving to Santa Fe, New Mexico, though he managed to balance his new profession with his first love later in life.
Film and TV actor: Paul Geoffrey, the film and television actor who appeared in Excalibur (pictured) and had a brief appearance in Better Call Saul, died from cancer on June 3 at 68
Major series: One of his last roles in a high-profile series was in a 2015 episode of Better Call Saul; pictured with star Bob Odenkirk (R)
'A thespian to the core, Paul continued to act for the remainder of his life. He loved French wine and food, had a stunning grasp of history, was a life-long Arsenal fan, and excelled at being the sweetest guy in the world,' read part of his obituary.
Geoffrey's most prominent role was in the 1981 classic Excalibur, in which he played Perceval.
The film takes a dark and brutal view of the Arthurian legend, and director and co-screenwriter John Boorman filled the movie with disturbing, surreal imagery.
The movie also Helen Mirren and Nicol Williamson, and it helped boost the early careers of Patrick Stewart, Liam Neeson, Gabriel Byrne and Ciarán Hinds, among others.
Although some critics were turned off by the dark fantasy elements, it received mostly approval from reviewers and was a commercial success. It also won a prize for best artistic contribution at the Cannes Film Festival.
Geoffrey's role was particularly important, as Perceval is the only survivor after Arthur and his knights have all fallen, and he is tasked with throwing Arthur's sword back to the Lady of the Lake, who once again claims it.
The film may have helped the actor earn a string of subsequent roles, but his career never took of like several of his Excalibur costars.
Geoffrey's next major role was as Lord John 'Jack' Clayton in Ralph Richardson's 1984 Tarzan film Greystoke: The Legend of Tarzan.
Geoffrey would go on to appear as Mr. Lockwood in the 1992 adaptation of Wuthering Heights, which starred Juliette Binoche. 
Star moment: Geoffrey played the pivotal role of Perceval in Excalibur and had a pivotal moment in the film after the deaths of Arthur's other knights, but his career never took off like several of his costars; still from Excalibur
Staying busy: He went on to appear in Greystoke: The Legend of Tarzan (1984), along with a 1992 Juliette Binoche–starring adaptation of Wuthering Heights and a 1995 TV movie of Anna Karenina; still from Excalibur
He also appeared in a 1995 TV movie adaptation of Anna Karenina, starring Jacqueline Bisset and Christopher Reeve.
In the late 1980s, he appeared in an episode of Inspector Morse, and he stuck to the mystery theme with a 1990 episode of Poirot.
One of his last high-profile shows was Better Call Saul, in which he appeared in a 2015 episode as a tailor. The series was filmed in his adopted home state of New Mexico.
Geoffrey is survived by his wife Sue Taylor and their three children: Alex, Oliver, and Daisy. No memorial plans have been revealed 


This post first appeared on Daily mail