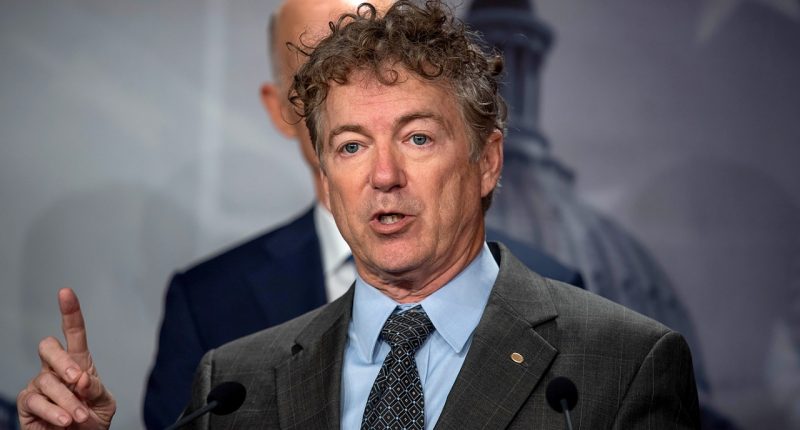 Sen. Rand Paul (R-Ky.) in a Thursday interview on The Hill's Rising said he wouldn't vaccinate his own children for COVID-19 out of concerns about the risk of heart inflammation.
Paul, a vocal critic of pandemic policies who frequently battled with former White House adviser Anthony Fauci during the Trump and Biden administrations, said the risk of myocarditis — heart inflammation — is greater than the manufacturers of vaccines have said. He also argued the vaccine carries an unnecessary risk for young people.
"I, frankly, wouldn't vaccinate my children for COVID," he said. "I think the risks of the vaccine are greater than the risks of the disease. The risks of the disease are almost non-existent."
Studies have estimated that myocarditis occurs in about 1 in 15,000 men ages 16-19 who receive three COVID vaccines, according to the American Heart Association.
COVID vaccine-related myocarditis is almost always mild and patients recover in a matter of days, the AHA said. 
The Centers of Disease Control and Prevention and most health authorities have recommended that people take COVID-19 vaccines.
Paul's remarks to Rising follow a hearing on Wednesday where he accused Moderna CEO Stéphane Bancel of lying to the public about the risk of myocarditis to young men.
"I also spoke with your president just last week and he readily acknowledged in private that yes, there is an increased risk of myocarditis," he said. "The fact that you can't say it in public is quite disturbing."
Bancel said the risk of myocarditis from the vaccine is lower than from a COVID infection.
In the interview with Rising, Paul proposed that young people only take one COVID vaccine dose instead of multiple, citing a study that found that the increased myocarditis risk in young people is mostly after the second dose of vaccine.
"If you want to give them a vaccine and they've already had COVID, why not one instead of three? I think it really is malpractice," he said. "There is room to debate … but I don't think there's any evidence to give three vaccines."
Paul has been consistently skeptical about COVID vaccines, especially for children and young people.
He has said that he personally will not take a COVID vaccine, has advocated for removing vaccine mandates for military service members, and said that vaccines for children are not necessary.
He is also one of the lead voices calling for additional investigation into the origins of COVID-19, an advocate for the "lab leak" theory, and said that senior health officials are involved in a "coverup" regarding the virus' origins. 
Copyright 2023 Nexstar Media Inc. All rights reserved. This material may not be published, broadcast, rewritten, or redistributed.