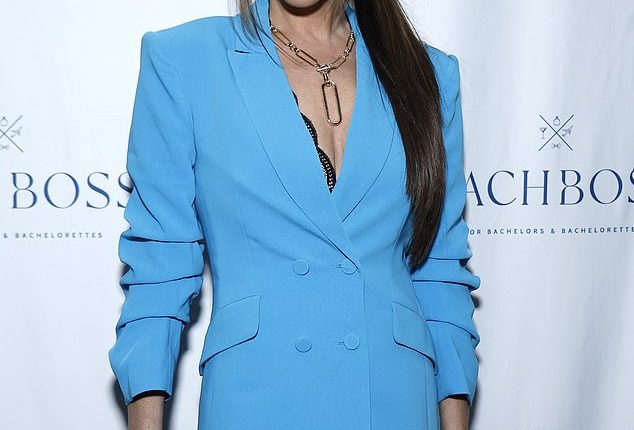 Jennifer Fessler is opening up about her striking new look.
During an appearance on Watch What Happens Live With Andy Cohen on Tuesday, The Real Housewives Of New Jersey star detailed her cosmetic surgeries and use of medications to help aid her recent weight loss.
'I got a glow up!' Fessler, 52, revealed to Cohen when he asked about her makeover, as reported by People. 'What am I on? Well I did have a facelift. I did. Dr. Sam Rizk baby, he's the best. And a nose job!'
The reality star went to boast: 'Yeah, I don't play, I don't play. And I did lose a lot of weight. I took peptides and I don't know if you've heard of medications associated with that that help people lose weight.'
'Like Ozempic?' the asked, in a reference to the diabetes medicine used to help control blood sugar in adults with type 2 diabetes, according to the European Medicines Agency, but has recently made headlines for its weight-loss effect.
Transformative: Jennifer Fessler, 52, confessed she got a a body makeover after undergoing a facelift, nose job, on top of weight loss, following the most recent wrap on season 13 of The Real Housewives Of New Jersey
'You said it, I didn't, Fessler replied, adding, 'But … whatever works, here I am.'
Just about a month ago, the Saddle River, New Jersey native claimed her doctor put her on Ozempic 'without her knowledge" to treat symptoms of menopause.
'I didn't realize what he gave me,' Fessler revealed during an interview with the Daily Mail. 'It's like a bunch of different things, like estrogen pellets. He gave me a mix of peptides, but I found out it's a form of Ozempic.'
Despite the weight-loss effects, Fessler said, 'Listen, I got on it because I went to a doctor for menopause symptoms.'
Fessler's somewhat admission of using Ozempic comes in the wake of recent denials by RHOBH's Kyle Richards and RHOM's Alexia Nepola and Marysol Patton, who all said they haven't used the drug indicated for type-2 diabetes, according to People.
Despite the speculation that she and Patton were using Ozempic, Nepola revealed to Page Six that they were taking in B-12 injections during an episode of the show that aired last month.
'It's for energy, and it has, like, other nutrients,' Nepola, 55, told the publication.
In an interview with New Beauty, Fessler said she researched every doctor in her friend circle, as well as the entire tri-state area, before deciding on Dr. Rizk, a Park Avenue plastic surgeon.
Doing her homework: In an interview with New Beauty , Fessler said she researched every doctor in her friend circle, as well as the entire tri-state area, before deciding on Dr. Rizk, a Park Avenue plastic surgeon
Drastic differences: Fessler's (far left) plastic surgery and weigh loss is very noticeable compared to how she looked at a party hosted by Bethenny Frankel in December 2015 in Paramus, New Jersey
Inspired by his 'natural results', the reality star confessed she was also hoping her plastic surgery would look as good as Sonja Morgan from The Real Housewives of New York City.
'She looks fabulous. I guess that's sort of how it blew up, and deep-plane started to be the new buzzword,' she said.
In the end, Fessler ended up undergoing a facelift after wrapping on season 13 of RHONJ.
'I went in thinking that I needed a blepharoplasty in addition to a facelift and he [Dr Rizk] said no,' she said of one of her consultations. 'He did point out that my nose was droopy, which has bothered me for quite some time. I had considered a rhinoplasty in the past but didn't ever follow through. So for my surgery, I opted for the deep-plane facelift, necklift and a rhinoplasty.'
Fessler was also convinced Dr. Rizk was the person for the job due to his honesty on what she really needed to get the desired results.
'A blepharoplasty would have made her look fake,' he explained. 'What would have stood out after her facelift would have been her nose. It was not proportional and was too wide for her narrow face. She would have noticed it even more after the facelift it also bothered her.'
Fessler first appeared on RHONJ as a guest in season eight in 2018, and only just returned in the most recent season 13 as a friend of the housewives, alongside former housewife Jackie Goldschneider.
Reality world: The Saddle River, New Jersey native first appeared on RHONJ as a guest in season eight in 2018, and only just returned in the most recent season 13 as a friend of the housewives; she is pictured on February 28, 2023


Post source: Daily mail