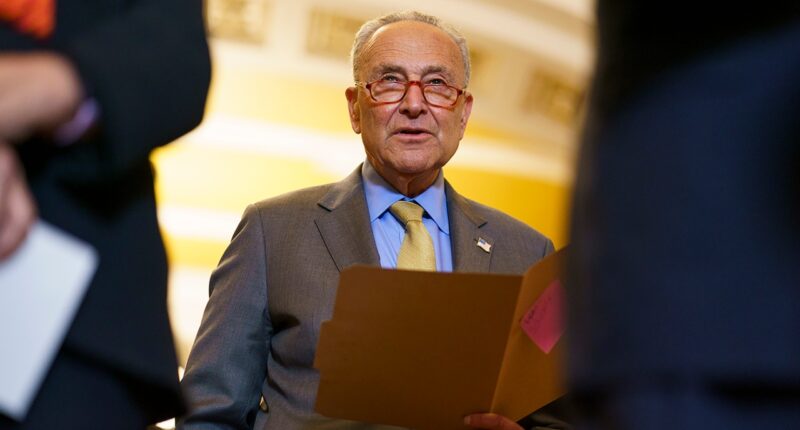 Senate Majority Leader Chuck Schumer (D-N.Y.) called the Canadian wildfires "truly unprecedented," in floor remarks on Wednesday, and warned of the ongoing damage caused by climate change.
"This morning, our nation's capital — and much of the northeast, including almost the whole of my state, New York — woke up once again under a veil of smog," Schumer said. "As we speak, wildfires of unnatural strength continue blazing in Canada, sending toxic air and smoke over the border and over American cities."
His comments come as air-quality warnings have worsened across the U.S., reaching new lows on Wednesday.
Residents in cities and towns across the East coast and in the Great Lakes region are being cautioned against going outdoors altogether – even if they are not among those especially "sensitive" to air pollution.
"These Canadian wildfires are truly unprecedented, and we cannot ignore that climate change continues to make these disasters worse," Schumer said. "Warmer temperatures and severe droughts mean forests burn faster, burn hotter, and burn bigger."
"And the warming is happening at a faster pace in countries with higher latitudes," he continued, adding that "none of this is coincidence."
More than 100 wildfires were deemed out of control in Quebec, which has issued more evacuations of towns and remote villages in the Canadian province.
While wildfires generally begin with human activity or with lightning, as data shows, climate change has contributed tot these environments, where fires can thrive. Quebec and nearby provinces have experienced record-high heat and unusually dry drought periods this year.
In his floor remarks, Schumer touted the Inflation Reduction Act's provisions to advance the transition to clean energy, but he urged both parties to take further action. He called specifically for a "good transmission bill" to bring clean energy to large population centers. 
Copyright 2023 Nexstar Media Inc. All rights reserved. This material may not be published, broadcast, rewritten, or redistributed.