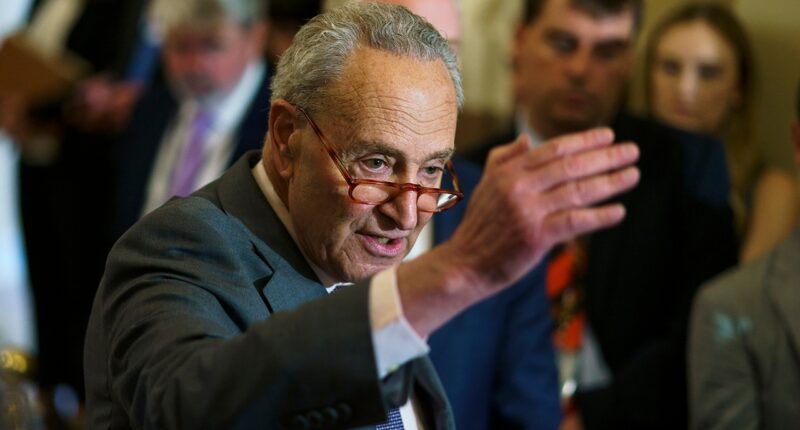 Senate Majority Leader Chuck Schumer (D-N.Y.) on Tuesday voiced his strong and unequivocal support for the deal unveiled over the weekend by President Biden and Speaker Kevin McCarthy (R-Calif.) to raise the federal debt limit through January 2025 and cap spending over the next two years. 
Schumer urged the House to quickly approve the bill and promised he will try to move it through the Senate as quickly as possible.  
"I support the bipartisan agreement that President Biden has produced with Speaker McCarthy. Avoiding a default is an absolute imperative," he announced on the Senate floor. "Nobody is getting everything they want. There's give on both sides. But this agreement is the responsible, prudent and very necessary way forward." 
Schumer warned a default would inflict "enormous" damage on the economy, predicting it would result in a "painful recession," lead to as many as 8 million lost jobs, cause interest and mortgage rates to soar and sink workers' 401(k) accounts.  
"I'm optimistic that the path has been paved. We must pass this as soon as we can. I hope the House moves quickly, and I'll make sure the Senate moves quickly the moment this bipartisan bill is sent to us by the House," he said.  
While the legislation cuts nondefense discretionary spending, Schumer argued it would protect "key investments that are essential for growing our economy, for fixing our infrastructure, for making the U.S. more competitive on the world stage."  
He emphasized the deal will not touch Social Security, Medicare or Medicaid or cut the quality of care for military veterans. 
"This agreement is the responsible, prudent and very necessary way forward," he said.  
Copyright 2023 Nexstar Media Inc. All rights reserved. This material may not be published, broadcast, rewritten, or redistributed.