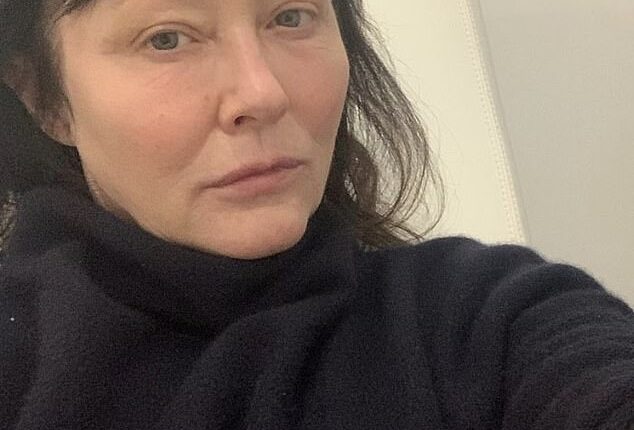 Some of the original stars of the wildly popular teen drama series Beverly Hills, 90210, took a walk down memory lane when they reunited for 90s Con In Tampa, Florida over this weekend.
Shannen Doherty, Tori Spelling, Jason Priestly, Jennie Garth, Ian Ziering, Brian Austin Green and Gabrielle Carteris were all on hand, rehashing about their past experiences together on the hit show, which always goes over well with fans.
But it would be the shift to more present times that produced arguably the most heartwarming moment of the event, that came in the form of a standing ovation.
'Thank you so much,' an emotional Doherty, who has stage four breast cancer, told the crowd as tears flowed down her face. 'You guys know how much I love crying constantly,' she joked, 'And I do, it seems. So, thank you,' according to People.
The audience rose to their feet for the ovation while the actress, who played Brenda Walsh on Beverly Hills, 90210 (1990-1994) and in the reboot BH90210 (2019), discussed her 'fight for my life every day' since receiving her breast cancer diagnosis in 2015.
Looking back: Shannen Doherty, 52, reunited with her old Beverly Hills, 90210 cast mates at 90s Con in Tampa, Florida over the weekend, which comes three months after she revealed her breast cancer has spread and was now considered stage four
The gang: Along with Doherty, the 90s Con reunion also included Tori Spelling, Jason Priestly, Jennie Garth, Ian Ziering, Brian Austin Green and Gabrielle Carteris; only the late Luke Perry, who died in March 2019 at the age of 52, was missing from the reunion of main cast members
The panel discussed the hit series and took questions from fans during 90s Con, which was hosted by People Senior Editor Breanne L. Heldman.
At one point, while Doherty was discussing the initial impact Beverly Hills, 90210 had on her life, the actress recalled how she 'paid off some of my dad's hospital bills' as her first big splurge from 90210 earnings. 
Ultimately, John Doherty Jr. died in 2010 at age 66 after a series of health issues, which included suffering a stroke.
While mourning his loss the actress called her dad the 'greatest man in the world; in a statement issued through her publicist, which was obtained by CBS News. 'I love him with every inch of my being and cannot imagine life without him.'
The 90s Con reunion comes three months after Doherty went public and announced that the cancer had spread to her brain in an Instagram post containing a video of undergoing radiation therapy. 
With the fear of the unknown more than apparent on her face, Doherty begins to shed tears, as the camera focuses in on her face while laying back during radiation therapy.
First diagnosed with breast cancer, which included the presence of multiple tumors in 2015, the Charmed alum had a single mastectomy in May 2016. That was followed by the chemotherapy treatments and radiotherapy, because the cancer was more advanced than previously thought. 
By 2017, Doherty announced that her cancer was in remission. 
Open book: In June, Doherty shared how scared she was when she underwent radiation therapy
Health scare: The actress shared that her breast cancer had spread and was now stage four
Scary: In a heartbreaking moment, Doherty can be seen shedding tears during the procedure
Brave and courageous: Doherty also revealed in June that she had surgery in January to remove a tumor in her head
Reboot: Doherty was among the original Beverly Hills, 90210 cast members to star in the reboot BH90210 for one season in 2019
But in February 2020, she revealed the cancer had returned the previous year, and that she was now in stage four.
'On January 5th, my CT scan showed Mets in my brain,' Doherty captioned the clip from June. 'Yesterday's video was showing the process of getting fitted for the mask, which you wear during radiation to your brain. January 12, the first round of radiation took place.'
She added, 'My fear is obvious. I am extremely claustrophobic and there was a lot going on in my life,' and then revealed how she's been able to take solace in the great doctors and techs at Cedars-Sinai Medical Center in Los Angeles.
Doherty went on to have a tumor removed from her head after the CT scan determined that the cancer cells spread from their original site to the brain.  
'I have a fight for my life, that I deal with every day,' Doherty said, before clarifying, 'I think I am really great.'
Mourning hair loss: Doherty posted photos of herself bald, following chemotherapy treatments after her first diagnosis of breast cancer
Another major life change: The Memphis, Tennessee native has also had to cope with the split from husband, photographer Kurt Iswarienko, in April after 11 years of marriage
In another major life change, the Memphis, Tennessee native has also had to cope with the split from husband, photographer Kurt Iswarienko, in April after 11 years of marriage.
He had been by her side since before her initial cancer diagnosis, and many times could be seen in images posted on her social media platforms when she gave updates on her health.
She has also had the support of her her close pal Chris Cortazzo, who is seen in a number of her Instagram posts regarding her health updates. 
Considered one of the definitive television programs of the 90s, Doherty starred in the first four seasons of Beverly Hills, 90210 (1990-1994). The series continued on without her for another six seasons until 2000.
She was also among the original cast to return for the reboot BH90210, which ultimately lasted one season with six episodes.


This post first appeared on Daily mail