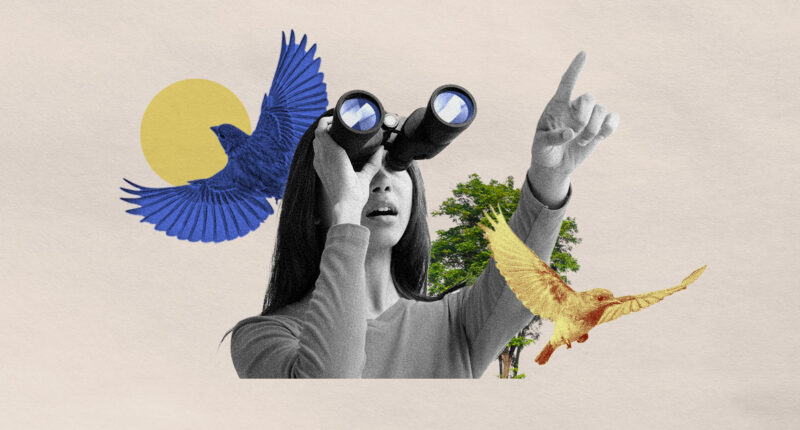 G
rowing up, my mom was enamored with the birds in our backyard. Anytime a new feathered friend would appear, she would grab her binoculars and copy of
The Audubon Society Field Guide To North American Birds
to uncover everything she could about the chirpy visitor
.
Now, years later,
I'm
the one shelling out a chunk of my paycheck in order to keep up with my in-demand backyard bird feeder.
It seems as though many bird-watchers have their origin story—the moment that made them say, "Yep, I get it." For me, it was spotting what looked like a cute little penguin in the pond in my backyard. Considering I live far away from Antarctica, I knew creature couldn't actually be a penguin, though. Turns out, it was a bufflehead duck. But after that moment, I became hooked, and finally understood what the birding buzz was about.
It didn't take long for me to purchase my very own copy of my mom's still-cherished field guide on eBay. Anytime a new bird graces my feeder, I immediately look it up, proudly text my mom, and add it to a list of sightings in my Notes app. While this new hobby sometimes makes me feel like the Pigeon Lady in Home Alone 2, I'm one of millions who have taken up birding in recent years, and I'm happy to soak up the benefits of bird-watching.
The rise of bird-watching among younger folks is tied closely to its benefits
Bird-watching isn't new at all, but there is a new generation of birders making the hobby more trendy and inclusive. Just look at the stats: On TikTok—which draws its largest base of users from folks under 24—the hashtags #birdwatching and #birding have over 1B views and 212M views, respectively. There were also 555,291 estimated global participants in Cornell University's 2023 Great Backyard Bird Count—up 44 percent from the 384,541 participants in 2022. Apps are seeing an increase too, with Birda reporting a monthly growth rate of 30 percent in signups.
The mental-health benefits of bird-watching are a huge part of its appeal for younger generations, says Mya-Rose Craig, a 20-year-old British-Bangladeshi birder and author of Birdgirl who has been birding her entire life.
"I think Gen Z are getting more and more into birding to help alleviate the stresses of living in a digital world," Craig says. "There are a high number of children and young people impacted by anxiety, stress, and depression, as well as a disproportionately high number of people of color. So, connecting with birds is a type of mindfulness to help distract and calm your mind."
During my first few birding trips, I noticed that all the pent-up stress I had before my outing had totally dissolved by the time I made it back out to my car.
There's strong evidence to support the mental health benefits of bird-watching. A study published in Scientific Reports found simply seeing or hearing birds was associated with an improvement of mental well-being for up to eight hours. Another study published in Ecological Economics found being around birds was linked to higher happiness levels. So much so that even an additional 10 percent of bird species in the vicinity increased participants' life satisfaction as much as a comparable increase in income.
I've enjoyed the stress-relief perks of bird-watching myself. During my first few birding trips, I noticed that all the pent-up stress I had before my outing had totally dissolved by the time I made it back out to my car. That sense of happiness and calm typically lasts for hours, even surpassing the effects of my daily meditations.
This is no surprise to Holly Merker, a professional birding guide, environmental educator, and author of Ornitherapy. "I've noticed more people are turning to bird-watching as a form of self care for mental well-being," she says. "Whether this be intentional or a beneficial byproduct of turning our attention toward wild birds as casual observers, the multitude of benefits for our mental well-being are being accessed by more and more people as they discover just how easy and fun it can be to watch birds right outside their own windows or doors."
Birds of a feather are able to bird-watch together
Legacy organizations like the Audubon Society and the American Birding Association have existed for decades to help raise awareness of birds and protect their habitats. (Although the former is grappling with a legacy of racism from its namesake.) But new groups are making strides in ensuring the hobby is more inclusive—something that's enabled more individuals to get outside and experience the magic for themselves.
Three such organizations include the Feminist Bird Club, a birding club for members of the LGBTQIA+ community, Black, Indigenous, and people of color (BIPOC), and women, established in 2016; Flock Together, a UK bird-watching collective for people of color to help marginalized communities reclaim green spaces and rebuild their relationship with nature that was borne during the pandemic; and Birdability, an organization that strives to bring birding to everyone, regardless of disability or other health concerns.
Virginia Rose says she founded Birdability unofficially in 2018, and it became a 501c3 in January 2022. "I started birding when I was 44 and quickly realized that I was finding my best self on the trails and happier than I'd ever been. I also realized that after 20 years of birding, I had seen very, very few disabled people. Where were they?" she says. "I decided that they must just not know about birding, and I decided to find them and introduce them to birding so they, too, could find their greatest happiness. Birdability's mission is to introduce people who have disabilities and other health concerns to birding, to ensure that birding locations are physically accessible, and birding communities are welcoming and inclusive."
A small start can lead to big rewards
It's no surprise that birding's rise in popularity has also come with a high-tech makeover. Want to upgrade your bird feeder? No problem: There's now a TikTok-viral, AI-powered camera option from Bird Buddy ($199 and up) that captures adorable photos of your feathered friends while helping you ID them. That means you'll never miss a special visitor while you're away. The "cool" factor has even come to binoculars, with Nocs Provisions' brightly hued pairs often spotted in the hands of Gen Z birders. (I even got a pair myself, and they're very much worth the hype.)
But Craig and Rose both say that birding is something that anyone can do from wherever they are, adding to its enduring appeal. While you certainly can buy fancy binoculars or schlep out to wildlife sanctuaries on the weekends, all you really need to get started is access to birds—which can happen in your backyard, at a local park, or even on a jaunt around the neighborhood.
"It's really amazing how much is going on around you that is interesting and enriching, and sadly can go unnoticed when we're swept up in the busyness of thoughts or modern life." —Julie Geeting, LPC, counselor and well-being coach
Merker adds that you don't need to know anything about birds in order to benefit from what they offer us. "When we turn our attention toward noticing birds and nature, we engage different areas of our brains, which allow us to tune into something else, shifting the focus off what is in our minds—a distraction by birds, noticing their behaviors, songs or noises, flight. This helps clear our minds, bringing us into the present moment through the birds," she says. "This is an easy way to practice mindfulness, and aids a change of our mental channel."
Julie Geeting, LPC, a counselor and well-being coach at PALM Health in Missouri, says reaping all the benefits of bird-watching is easy. "Start small, if you like, spending five minutes one morning outside," she suggests. "It's really amazing how much is going on around you that is interesting and enriching, and sadly can go unnoticed when we're swept up in the busyness of thoughts or modern life."
How to get started on your birding journey
1. Grab some gear, if you want
While you don't need anything but yourself to bird, Joan E. Strassmann, PhD, author of Slow Birding and the Charles Rebstock Professor of Biology at the Washington University in St. Louis, says you may want to get a pair of binoculars to get a closer look. Check your local thrift store (or scan online) for a secondhand pair, or opt for something new. Nocs Field Issue binoculars ($175) are lightweight, waterproof, and fog-proof, and were made to accommodate smartphone photography through the lens.
Downloading an app or purchasing a book can also be helpful as you're learning different species of birds. "Download the free Audubon Bird Guide App," says Craig. "Also, look in thrift shops for a North American bird field guide book, such as The Sibley Guide to Birds or National Geographic Field Guide to the Birds of North America, both of which I use."
Other free bird apps include The Cornell Lab's Merlin Bird ID (which lets you identify birds through what they look or sound like) and eBird Mobile (which helps you record where and when you saw birds and share them with other folks online).
2. Join a local birding club
With thousands of birding clubs sprawled across the country, chances are you'll be able to find one nearby through a quick Google search. Not only is it an opportunity to learn, but it's also a great way to meet and connect with others who share the same interests.
"You'll meet interesting people who can direct you to—and perhaps join you in—certain classes and/or beginning bird walks led by experienced leaders," Rose says. "These folks know exactly where to go, where to park, what time, and what to bring. They'll also provide quick lessons on using binoculars."
3. Explore different habitats
The best thing about birds is that they're practically everywhere—your backyard, hiking trails, parks, you name it. By heading to different areas, you'll be able to enjoy watching more species. "Watch birds in different habitats like grasslands, forest, or your local park or neighborhood," says Dr. Strassmann. "Are there different birds in different places, and do they do different things?
4. Keep a birding journal
You'll probably start to lose track of all the different birds you'll see on your birding adventures. If you want to be able to look back at the species you've spotted, start jotting them down in a birding journey. Pro tip: If you create a virtual version in a Google Doc or your Notes app, you can quickly paste in photos so it's easy to scroll through all your sightings. (Some apps let you track birds as you identify them, too.)
5. Don't stress about becoming a human bird encyclopedia
Rose wants people to remember birding isn't about having to memorize the name, field marks, and songs of every bird. "Remember, birding is a lifelong hobby. It will take you that long to learn these things," she says. "Be patient with yourself and remember that this is something you enjoy—it's not something new to cause anxiety. Allow for and enjoy the learning."
Our editors independently select these products. Making a purchase through our links may earn Well+Good a commission.


Post source: Well and Good