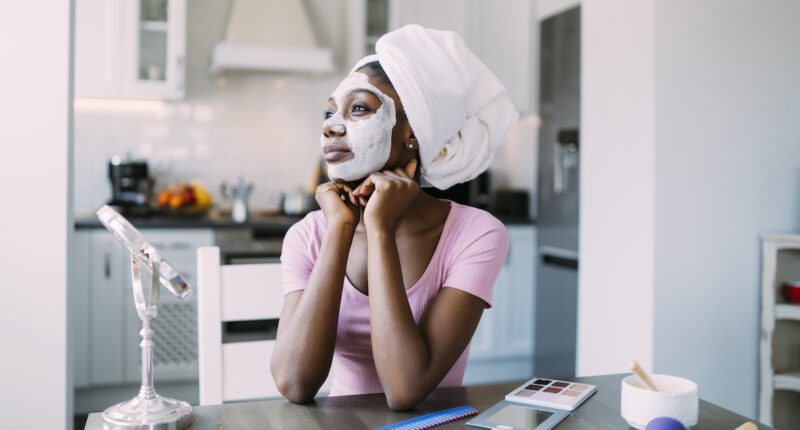 With the Well+Good SHOP, our editors put their years of know-how to work in order to pick products (from skin care to self care and beyond) they're betting you'll love. While our editors independently select these products, making a purchase through our links may earn Well+Good a commission. Happy shopping!
Explore the SHOP
For the past several weeks I've been dealing with some rough patches on the side of my chin and jawline. Although these areas don't itch, they're flakey, and have a lighter pigment than the rest of my face, which makes it harder to conceal them. My first instinct was to exfoliate, because that usually takes care of uneven texture. But it turns out that what my skin really needed was the hydrating powers of the Heritage Store Jelly Face Mask ($15).
Unlike some masks I've used in the past, this one really delivers on its hydration claims. Its formula is pretty simple, but it has two noteworthy ingredients that can help transform your skin: rosewater and hyaluronic acid.
TIP
With the Well+Good SHOP, you can now add products to your cart right from this article page. Just click on the product below and more details will pop up in a new window. Hit "add to cart" and voila! That's it! As you read more SHOP articles, you can keep adding products to your cart and check out when you're ready (look for the cart icon on the right side of your screen).
Yes, rose water is more than just a sweet-smelling substance that you find in some teas or perfumes. It's actually a great source of antioxidants, and contains a ton anti-inflammatory properties—both of which are great for reducing redness and irritation.  And you've also got the aforementioned hyaluronic acid, which is all about moisture and keeping your skin hydrated 24/7. These together help to nourish skin, and give it a refreshed feeling.
And that's exactly what happened when I tested out the mask earlier this week. I was at wit's end trying to find something to help soften my skin, and this mask did so in under 15 minutes. The formula is lightweight and goes on super smoothly. It's also white in color and has a creamy-like consistency that my dry skin just soaked up immediately. And while some masks can feel tight or crack when they dry, this is the total opposite of that effect. The formula absorbs into your skin after a few minutes, making it feel dewy and plump.
Just an FYI, this formula does contain konjac beads. These are small particles in the formula that gently cleanse and exfoliate your skin. They initially make the mask feel a bit sandy when you put it on, but it's not irritating at all (to me, at least—and I have sensitive skin). In fact, it's the konjac beads I have to thank for my skin's increased brightness and even texture. All in all, the mask provided enough of a hydration boost that the rough patches on my skin, particularly on my chin, became smoother with each application.
And luckily, you don't need that much product to see results. I like to use a dime size amount, which is good enough to cover my entire face. I rinse after 10 minutes and bask in the glow. The mask doesn't leave any streaky residue behind, just baby smooth skin. And others agree.
"The Rosewater Jelly mask is such a great product," one Heritage Store shopper commented. "From the very first use, the product felt nourishing and refreshing. Upon removal of the mask, my skin felt soft and renewed. This was a pleasant surprise, as I have very dry skin. I do not follow a specific skin regime, so I was delighted by the instant, positive results that the mask provided. This is a great add on to any skin care routine."
Another five-star reviewer also gushed about how smooth their skin felt after. "Not only does it smell great (like the rest of their Rosewater line), but it left my skin feeling so smooth and hydrated. I enjoy that the formula isn't tacky, slippery or drying—it applies nicely and the small beads provide a gentle massage when applied. I will be purchasing again once I'm out!"
The next time my face is feeling dry, I know where to turn.
Want to be the first to hear about the latest (and greatest) SHOP product drops, custom collections, discounts, and more? Sign up to have the intel delivered straight to your inbox.
Our editors independently select these products. Making a purchase through our links may earn Well+Good a commission.
Post source: Well and Good