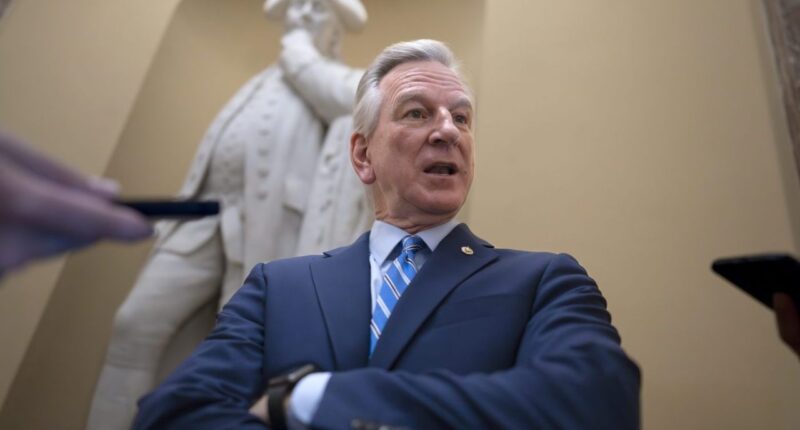 Sen. Tommy Tuberville's (R-Ala.) national security adviser has resigned after a Washington Post story last week suggested he was largely behind the senator's controversial hold on hundreds of military nominations, according to media reports Wednesday. 
Morgan Murphy, a retired Navy reservist and former food writer who once attempted to sell a line of bacon products, told The Post he "explained all his options" to Tuberville when the lawmaker sought to stop a new Pentagon policy that helped service members access abortions.  
But Murphy told Politico he has resigned as of Tuesday out of respect for Tuberville. He said the Post article, though "factual in many respects," overstated his role in Tuberville's hold. 
The Post obtained an email Murphy sent to colleagues Tuesday night in which he said it was his last day of work for Tuberville. 
"Today is my last day with Coach, the best boss I've ever had," Murphy wrote, referring to Tuberville's nickname from his previous job as a college football coach. "It's been an honor to work with each of you these past 2.5 years and I hope you'll keep in touch with me." 
Tuberville's office did not respond to an email inquiring about Murphy's departure. 
The Alabama senator since March has held up the Senate from approving more than 200 Pentagon nominations over the Pentagon's abortion travel policy. 
The policy came about after the Supreme Court overturned Roe v. Wade last summer and numerous states sought to ban or severely restrict abortion access. DOD officials enacted a policy that reimburses service members or their dependents for travel costs and provides leave for those who need to seek the procedure outside the state they're based in. 
Tuberville's blockage has angered Defense officials and lawmakers alike, with Senate Minority Leader Mitch McConnell (R-Ky.) stating he does not support it.  
In its earlier Friday report, The Post recounted how Murphy gave Tuberville multiple options for stopping the Pentagon policy. 
"The goal was to get the secretary to respond," Murphy told The Post. 
Murphy later told Politico that Tuberville "is the boss and calls the shots and always has." 
He added: "I am, was, at the end of the day, a staffer. I didn't take kindly to a perception otherwise." 
Copyright 2023 Nexstar Media Inc. All rights reserved. This material may not be published, broadcast, rewritten, or redistributed.