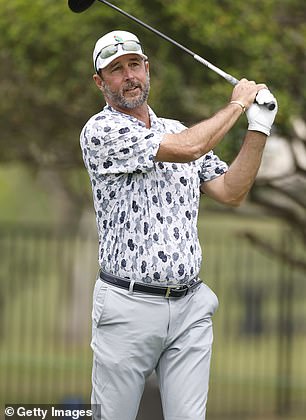 The health status of Tim Wakefield and his wife Stacy was revealed publicly
Curt Schilling was hugely criticized for revealing the couples diagnoses
DailyMail.com provides all the latest international sports news
Red Sox legend Wade Boggs has apologized for spreading the news that Tim Wakefield has cancer, after Curt Schilling revealed the diagnosis without the family's permission.
Schilling said on his podcast that Wakefield has a 'very aggressive form of brain cancer,' and added that his wife, Stacy, has pancreatic cancer too.
And while not realizing that the news was initially meant to be private, Boggs said on Twitter, 'Wow just another punch in the gut. @TimWakefield49 diagnosed with brain cancer you can beat it Brother keep up the fight.'
He later apologized, saying ,'At the time I posted my tweet I was unaware that Tim's condition was not supposed to be public my apologies to Tim and his family.' 
Schilling was widely rebuked for sharing Wakefield's cancer diagnosis, with the Red Sox sharing a statement regarding the former knuckleballer and his wife.
Former Boston Red Sox pitcher Tim Wakefield is said to be battling aggressive brain cancer
Curt Schilling was widely rebuked for sharing the news without the family's permission
Wade Boggs wished the Wakefields well but then apologized for publicizing the situation
'We are aware of the statements and inquiries about the health of Tim and Stacy Wakefield, 'it read. 'Unfortunately, this information has been shared publicly without their permission.
'Their health is a deeply personal matter they intended to keep private as they navigate treatment and work to tackle this disease. Tim and Stacy are appreciative of the support and love that has always been extended to them and respectfully ask for privacy at this time.'
Former US Soccer star Taylor Twellman, who spent eight years near the Red Sox with MLS' New England Revolution, criticized Schilling as well: 'This is NOT your place [Schilling]. It wasn't your news to share. BS,' he said.
The wife of former Red Sox catcher Jason Varitek – another ex-teammate of Wakefield's – also slammed the controversial retiree. 
'F–k you Curt Schilling, that wasn't your place!,' she said.
Wakefield, 57, is a celebrated member of the 2004 Red Sox, who came back from a 3-0 deficit against the rival New York Yankees to win the American League Championship Series en route to the team's first World Series title since 1918.
The Red Sox released a statement  stating that the Wakefields 'respectfully ask for privacy'
Tim Wakefield, flanked by his wife Stacy, wipes a tear from his eye at Fenway Park in 2012
In revealing the news about Wakefield, Schilling said that he'd seen 'power of prayer work.
'I want Tim and Stacy to know obviously we're praying for them, we're thinking of them,' he said. Their children obviously going through some very tough times. 
'I don't want to cliche this, but nobody deserves this. … While both of them are now very sick, they both need to know there are a lot of people out here praying and thinking about them.
Schilling has ostracized himself in retirement by directing hateful remarks toward Muslims, transgender people, journalists and others.


This post first appeared on Daily mail