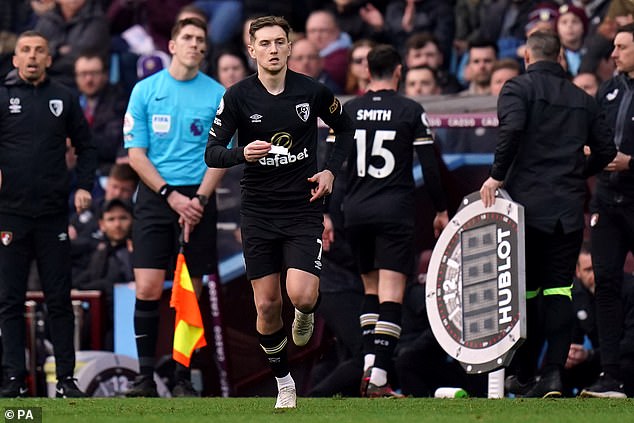 Welcome back, David! Bournemouth star Brooks returns to the pitch 536 DAYS after his last match, as the Welshman comes off the bench at Aston Villa after fighting cancer… with Gary O'Neil 'delighted' winger is back
David Brooks played again for Bournemouth after 536 days out of the game
The Welshman had been out of action since September 2021 with cancer fight
After overcoming Stage 2 Hodgkin lymphoma, he came off the bench to play
David Brooks made his return to football after 536 days in Bournemouth's defeat to Aston Villa on Saturday after fighting cancer.
It was the Welsh midfielder's first appearance since September 2021, after he was diagnosed with Stage 2 Hodgkin lymphoma in October of that year.
Both home and away supporters came together to applaud Brooks as he made his way onto the Villa Park pitch to replace Adam Smith in the 79th minute.
Despite the eventual nature of the 3-0 defeat at Villa Park, Bournemouth boss Gary O'Neil was delighted to see Brooks back on the pitch after fighting cancer.
O'Neil told the BBC: 'I'm delighted for Brooksy, but disappointed he came back in a game we didn't get anything from, but bigger picture it is fantastic for him.
David Brooks came off the bench for Bournemouth to play his first match since fighting cancer
Gary O'Neil was 'delighted' to welcome the Welsh winger back to the game despite 3-0 defeat
'He'll be ready to go again after the international break.'
The joyous celebration of Brooks' return to the pitch was similar to the reception which marked Sebastian Haller's return to Borussia Dortmund after fighting testicular cancer.  
Last week, Brooks was named on the teamsheet for the match against Liverpool. It was the first time since October 2 2021, when he was an unused substitute against Sheffield United. He also stayed on the bench against Jurgen Klopp's Reds. 
This week, he did appear, for the end of the match at Villa Park, when the score was 1-0 after Douglas Luiz opened the scoring after seven minutes.
The home win was secured late on as Jacob Ramsey and Emi Buendia added goals for Unai Emery's side in the final ten minutes.
Brooks was named as an unused substitute last week against Liverpool before his return
The result leaves Bournemouth stuck in the middle of the relegation zone, with Southampton picking up a surprise point by coming from behind against Tottenham, and Leicester City also securing a draw against Brentford. 
O'Neil told the returning Match of the Day programme: 'The performance will be viewed worse because of the result, but at 1-0 we were right in the game and had created chances. We pushed on and were punished. It was not good enough today.
'The players will respond; they will be disappointed because we had situations where we should have done better. The game was right there for us; we weren't outclassed. It wasn't a 3-0 game and it slipped away.'
Bournemouth return to Premier League action after the international break with home games against Fulham and Brighton. 


This post first appeared on Daily mail