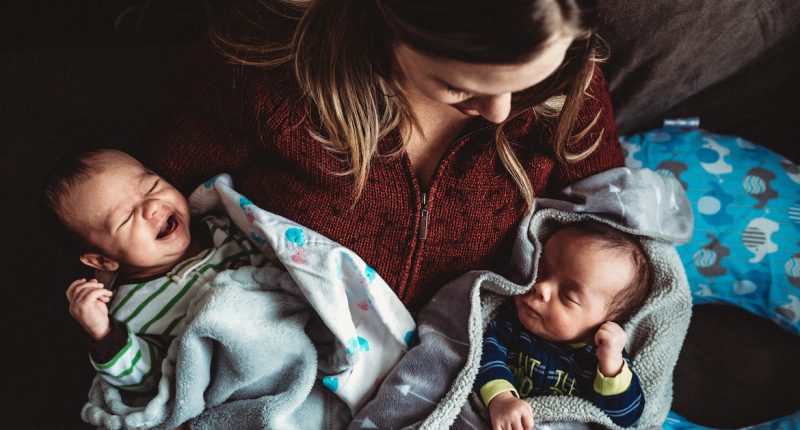 With the Well+Good SHOP, our editors put their years of know-how to work in order to pick products (from skin care to self care and beyond) they're betting you'll love. While our editors independently select these products, making a purchase through our links may earn Well+Good a commission. Happy shopping!
Explore the SHOP
I found out I was having twins about 45 minutes before my husband. I went to the ultrasound and walked out with my first picture of the boys: two distinct blobs right next to one another. When I got home and handed him the crinkly black and white photo, he asked me: "Are those its eyes?" I shook my head and lifted two fingers in shock. Needless to say: Twins often catch us off guard, and the mere thought of having two babies at once usually never crosses our minds until it becomes a reality. What's more: preparing for two little ones (two cribs, two car seats, an abundance of onesies, and countless diapers) can be overwhelming.
About three percent of all babies born in the United States are twins—though those numbers have been inching up in the past two decades, increasing 76 percent from data in the 1980s to 2009, likely due to the more widespread use of fertility drugs. That said, more and more companies are creating twin-friendly products. "While there are some items you'll need to double up on—think car seats, a safe sleep spot, baby clothes, diapers, and wipes—you don't necessarily have to have two of everything," says Karen Reardanz, director of editorial and brand at Babylist, a site that allows you to put any item from any site on your registry. "Some products are made specifically for twins or two kids, like double strollers, dual baby monitors, baby carriers, or breastfeeding pillows for twins."
What's more, the second-hand market for baby and kids' gear is booming, adding to the options for parents with double the headcount. According to research from Mercari, a site that facilitates used items being purchased and sold, secondhand shopping for kids and babies is expected to grow 83 percent by 2030, while saving each secondhand shopper on average 67 percent. "You can score great deals on baby gear at secondhand parenting stores, Facebook marketplace, and online retailers like Goodbuy Gear," says Reardanz. "Just make sure to follow recommended safety guidelines for used products."
With all of that context—what do you need? What should you add to your list? What can you buy secondhand? All of that, ahead.
The stuff for the nursery
The Crib: Nestig Wave Crib — $749.00
"Consider baby gear that grows with your children or is multipurpose," Reardanz suggests. For sustainability measures and helping extend the life of use, many brands—like Nestig—are focusing on creating products that work throughout your child's life. The Wave converts from a mini crib to a full-size crib, to a toddler bed with just a few tool-free alterations. This keeps you from needing to buy a bassinet, then a crib, then a toddler bed, then a real bed over the span of just a few years.
→ Buy the frame secondhand, so long as its in impeccable condition
The Bassinet: Halo BassiNest Twin Sleeper — $485.00
For those cramped on space, or who know upfront that they want to invest in a bassinet to place near their bedside for easy nighttime feedings, you can't do better than this option from Halo. It swivels, adjusts the height to your bed level, and includes soothing features like a nightlight, vibration, and soothing sounds.
→ Can buy it used
The Crib Sheets: Quince Linen Crib Sheets (2-Pack) — $70.00
There are a million options for crib sheets out there, but if you're having twins, finding sheets that come in two packs—like these from the DTC brand Quince—is a good aim. This linen set is woven from European flax and gets softer with every wash.
→ Can buy it used
The Humidifier: Vitruvi Cloud Cool-Mist Humidifier — $229.00
I wish I could write a love poem to this humidifier: It's the only one I've ever owned that doesn't look bulky and plastic-y. Instead, it's a sculptural piece of art that you get to have by your bedside—in this case, the babies' bedside.
Its humidity-releasing spout rotates 360 degrees so that you get your entire room humidified. Because it doesn't use heat, it's safe for babies, and it's also incredibly easy to clean, because you can remove the water bin and simply put it in the dishwasher. Best yet, you can set the run time from eight to 24 hours, depending on how much water you want to be expelled, so it's incredibly customizable and easy to use. Writes one reviewer: "I have had so many humidifiers in my life, and this is remarkably better than any other. Not only does it look better, but it is easier to keep clean and absolutely quiet." I couldn't have put it better myself.
→ Can buy it used
The Glider: Pottery Barn Kids Paxton Pillow Manual & Power Swivel Recliner, from $1399
The one piece of advice I got from my babysitting days that stuck with me a decade later was to invest in a chair that you'd want to sit in (and likely sleep in!) every night. "It's the one thing to invest in," my friend told me. With two babies, I wanted to choose an option that could support them both, and the oversized stature, plus pillows on this chair allow you to support two babies at once.
→ Can buy it used
The Changing Pad: Hatch Grow Smart — $150.00
Fun fact, new moms: Babies go through about ten diapers a day at birth. That's twenty diapers a day for twins, which obviously ups the risk factor for changing table-related messes. This option from Hatch is made from water-resistant foam, so you're fully able to wipe it down. Extra points for an app that allows you to weigh your baby and track their growth.
→ Can buy it used
The Diapers: Freestyle Diapers, $78/mo subscription or $90/box
With twins, one of the keys to staying armed and ready at all times is to put stuff on auto-ship. Registries like Babylist will let you create "funds" for certain expenses—or you can register for them outright. My rec when it comes to diapers is this cheeky brand, which hit the market in 2022 with its "tree-free" diapers that at once are more sustainable and absorb 55 percent better than the number one diaper. At 38 cents for each diaper in the shipment, you're also getting an incredibly premium, soft diaper containing no leaks and no toxic chemicals, fragrances, phthalates, or allergens. As one reviewer put it, "just get them already."
→ Buy it new
The Diaper Pail: Munchkin UV Diaper Pail — $130.00
The second that I saw that this UV-disinfecting diaper pail had been snagged from my registry, I texted my friend who purchased it with a million prayer hand emojis in thanks. It has a self-sealing system, so poo odor doesn't take over the house with double the diapers, and it has four UV lights that kill Staph, E. Coli, and Klebsiella, plus other odor-causing bacteria.
→ Can buy it used
The Bouncy Chair: Maxi Cosi Kori — $140.00
Every parent who I asked for baby registry advice told me: "You're just going to need somewhere to stick them." This dual-purpose bouncy chair functions as a rocker when you need your kid to experience some motion to soothe them and a stationary dock where they can chill while you make dinner or do you for a sec. While you will need to buy two here, the good news is that they fold flat so you can stash them under your bed or couch when you're not using them to reduce the amount of baby gear clutter in your life.
→ Can buy it used
Nanit Pro Complete Monitoring System (2-Pack) — $646.00
The Nanit Pro is one of the most-awarded baby cameras on the market, and it comes in a multiple pack for twins and triplets, so you can buy and set up a single system. It's the only system that allows you to do a split screen for twins or triplets so that you can watch both of your babies at once. Throughout the night, you'll get movement and sound alerts if your babies are moving around, and it has sensor-free breathing monitoring so you can make sure your little one is having a restful, safe night.
→ Can buy it used
The Noise Machine: Hatch Rest — $70.00
The color-changing orb known as the Hatch Rest has dotted my Instagram feed for years and was one of the first things to disappear from my registry from a fellow twin mom. It is app-connected and all at once a sound machine, night light, alarm clock, and sleep story library that you can set and program for your twins' unique needs. It also makes middle-of-the-night feeding easier to manage without flipping on every switch in your place.
→ Can buy it used
The stuff for feeding
The Breast Pump: Willow 3.0 Wearable Breast Pump — $549.00
This is the breast pump for twin moms who do not want to feel like they're always attached to something (a baby, the wall, etc.). The Willow Breast Pump is revolutionary in that it's completely hands-free, but has seven suction levels, all the way up to hospital grade, which helps contribute to 20 percent more milk collection. Its patented continuous latch system allows you to pump in any position, so you can take a quickie nap and pump, you can go for a walk, and hide the pump in your bra (the brand makes one that fits it perfectly, BTW), you can pump while watching TV far, far from the wall and feel your freedom. Best yet, everything is controllable and trackable from your Apple Watch or iPhone so that you can keep track of each session and your overall production. 10/10 recommend.
→ Buy it new
The Bottle Prep: Baby Brezza Formula Pro Advanced — $192.00
You're about to see back-to-back mentions for Baby Brezza, because when it comes to making twin parents' lives easy, this brand is at the front of the pack. The Keurig of bottle makers, this machine allows you to customize feedings with three distinct temperatures and one-ounce volume increments between two and 10 ounces. Best yet? It makes every bottle without creating air bubbles in under a minute, and when time, you can completely disassemble the machine to dishwash it.
→ Can buy it used
The Bottle Sterilizer: Baby Brezza Superfast Sterilizer Dryer — $180.00
In a mere 10 minutes, this new addition to the Baby Brezza line will sterilize your bottles, pacifiers, breast pump parts, and beyond. It does this through a six-minute steam cycle and a four-minute rapid dry cycle, so even though you'll have extra bottles with twins, you can speedily clean them anytime you need them ready.
→ Can buy it used
The Bottles: Philips Avent Glass Natural Baby Bottle with Natural Response Nipple — $32.00
Every body is different. Every breastfeeding experience is different. And whether or not you plan to breastfeed, supplement your supply with formula, or exclusively use formula is a personal choice you should make. My experience: After consulting with a newborn care specialist specializing in twins, I decided to breastfeed and supplement with formula. After researching the best bottles, I realized: There's no clear consensus on which bottle is best; however, the glass option from Phillips shows up on pretty much every list.
→ Can buy it used
The On-the-Go Bottle Warmer: Ember Baby Bottle System — $400.00
The same company that's been keeping your coffee and tea at the perfect temp for years is now here to do the same for your babies' bottles. This set keeps milk (breast milk, prepped formula, etc.) cool until you're ready to use it. Then, it heats it up to a perfect 98.6, with the heating puck holding enough charge for two bottles. One caveat: For twins, the set comes with one thermal dome, so you could have one bottle prepped, but you'd need to make the other on the go (or have breast milk stored in a cool pouch for warming). Regardless, it's a game-changing way to be able to feed your kids on the go, boob-free.
→ Can buy it used
The Formula: Bobbie, from $40
In some corners of the internet, there are loud conversations happening about whether American formulas stand up to those found in places like Germany or the U.K. The only formula to meet both USDA and EU standards, Bobbie, hit the scene hot a few years back, and it's likely to only get hotter as more moms and dads hear about it. Made with grass-fed cow milk, iron, a fatty acid blend of safflower, sunflower, and coconut oils, lactose, whey, and DHA, this formula goes toe-to-toe with some of the world's best options like HIPP and Holle (two European blends that are harder to get in the U.S. and aren't regulated by the FDA).
Bobbie is as close to breast milk as any formula sold in the states, and it can be easier on baby's tummies than options with high concentrations of palm oil. Bobbie allows you to put your subscription on auto-renew so that you always have some on hand.
→ But it new
The Solid-Food Maker: Beaba Babycook Express Baby Food Maker — $180.00
When you're compiling your registry, it's important to think not only of things that you'll need immediately, but down the road. This baby food maker hits the trifecta for twins, saving you time, money, and convenience. It cooks food in as little as 15 minutes, steaming, cooking, blending, reheating, and defrosting foods while also making 23 percent more than the brand's previous solo option. Consider this a no-brainer for twins who are starting to take real foods.
→ Can buy it used
The Nursing Pillow: My Brest Friend for Twins — $75.00
Lactation consultants love this pillow because it encourages good posture while feeding without putting too much strain on your back or neck. And while I'd suggest putting this on your registry for that alone, I guarantee you that almost everyone who shops for you will make a warranted, ridiculous joke about the name at some point.
→ Can buy it used
The High Chairs: Lalo The Chair — $235.00
"Finally, consider baby gear that grows with your children or is multipurpose," says Reardanz," for example, a high chair you can from birth to big kids." This stylish one from Lalo does the trick. It's convertible from a high chair to a booster seat so that when your kid has outgrown the chair, you don't have to buy something completely new, you can simply snag the booster seat conversion kit and keep on keeping on.
→ Can buy it used
The stuff for when you're on the go
The Stackable Stroller Uppababy Mesa + Vista System — $2,140.00
You do not need three strollers, which I want to clarify as you read the next three entries. These are simply options for you to choose from to suit your lifestyle. For people in cities like New York, where maneuvering with a stroller in and out of tight spaces is a daily occurrence, consider a stackable option like this one from Uppababy. What's great about this stroller system is that, with just an attachment, you can stack two of the Mesa car seats on top of one another and be on your way. It also comes with rumble seats, so you can use it well into toddler years, and bassinets, which can function as a place for your babies to sleep when they're not at home.
→ Can buy it used
The Side-by-Side Stroller: Bugaboo Donkey 5 Twin — $1,989.00
For those unconcerned with smaller doorways, this Donkey side-by-side stroller was recommended to me time and time again. It easily fits through most standard doorways and has large puncture-proof wheels, making the ride comfy for your twins. It also comes with bassinets and rumble seats to customize the stroller as your kids age.
→ Can buy it used
The Running Stroller Bob Revolution Flex 3.0 Duallie — $800.00
I inherited the double Bob stroller from my sister-in-law, who used it for her twins' everyday stroller. It has mountain bike-style suspension, so it can take on any terrain, a million pockets so that you can stash water and power gels if you're running (or whatever else if you aren't), and it has UPF 50+ sun protection for long summer days. It's compatible with BOB Gear, Britax, Chicco, and Graco car seats, so you can use it from the youngest days onwards.
→ Can buy it used
The Baby Carrier: Weego Twin — $169.00
There are lots of baby carriers out there for singletons that wrap around you or that simply strap on; this one is one of the best I've seen for twins. It is suitable for babies as little as four pounds and works until the pair reaches a combined weight of 33 pounds. So, if you want to leave the stroller behind, this option could take you far.
→ Can buy it used
The Car Seat: Nuna Rava Convertible Car Seat — $550.00
Reminder: One of the ways to actually save money is to buy things that can be used from birth to infinity and beyond (or, in this case, when your kids no longer need to be in a car seat). The Rava is a convertible car seat that works for babies from five pounds all the way to kids at sixty-five pounds, which means you'll get many miles out of your seats. According to Baby Gear Lab, the Rava is a top-rated convertible option when ranked across measures of crash testing, installation, quality, and ease of use.
→ Can buy it used, but ensure that the expiration date is within range
The Portable Crib: Uppababy Remi Playard — $350.00
There are tons of pack-and-plays on the market, but I love this one because it folds to be incredibly compact and easy to store. With an easy one-handed set-up, you can honestly throw this thing down and click it into place. It comes with an organic mattress on the bottom for your kid to take naps and sleep on the go and a changing table or bassinet up top for them to hang out when they're babies.
→ Can buy it used
The Diaper Bag: Dagne Dover — $215.00
Dagne Dover is known for its gym bags and easy-to-tote carry-ons—but it also offers diaper bags that range in size from small to large. The large size fits all the things you need with twins when you leave the house: your Ember bottle, all the diapers, your water bottle, and snacks galore.
→ Can buy it used
The bath stuff
The Baby Bath: Bumble Beez The Twin Bath — $99.00
This co-bathing bathtub allows you to bathe both of your twins at once from ages zero to six months at the same time. It goes without saying that when you're bathing two babies simultaneously, you have to be extra diligent to ensure they're both safe and happy. Alternatively, opt for a single bath like OXO Splash and Store Bathtub ($70), which collapses down when you finish bathing your kid for easy storage.
→ Can buy it used
The 2-in-1 Body and Hair Wash: Noodle Boo Bulk — $116.00
I buy shampoo and body wash from Noodle and Boo in bulk so that it's always around. It has that nostalgic baby scent but is made without any nasties: parabens, phthalates, sulfates, PPGs, or dyes. It's pH-balanced and pediatrician- and dermatologist-tested, dousing skin with moisture and leaving it clean without stripping it of moisture.
→ Buy new
Our editors independently select these products. Making a purchase through our links may earn Well+Good a commission.
Post source: Well and Good